Local
Victim of Allston elevator accident identified as BU lecturer
"She will be sorely missed."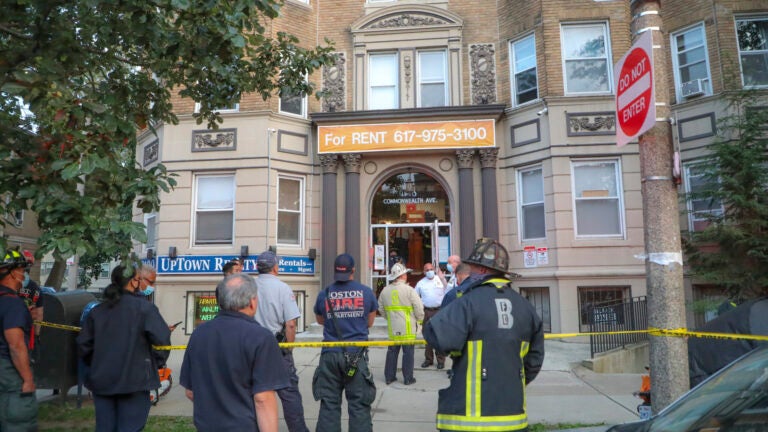 The victim of a freak elevator accident this week in Allston has been identified as a Boston University lecturer who had recently taught at several other local colleges.
Carrie O'Connor, who turned 38 on Aug. 19, had just begun her second year teaching French full-time at BU and was a passionate traveler, according to an obituary posted on the university's website.
"We are fortunate that Carrie found a home here," Stan Sclaroff, dean of BU's College of Arts and Sciences, wrote to the romance studies faculty members Tuesday. "She will be sorely missed."
O'Connor died Monday at her Commonwealth Avenue apartment building after witnesses said an "old-fashioned" elevator collapsed as she was loading a box into the lift.
State officials, who are investigating the accident along with Boston police, say the elevator was "recently inspected" and certified; it remains unclear why it suddenly dropped from the building's first floor into the basement. Neighbors told reporters at the scene they heard a scream and discovered that the elevator had plunged to the bottom level, where O'Connor was found dead. Police said the cause of death was ruled as traumatic asphyxia.
O'Connor grew up in Virginia and was a lifelong learner, according to her mother, Christal O'Connor.
"Once she learned to read when she was just a little one, we used to have to bribe her to stop her reading and get outside," her mother told BU Today.
O'Connor became deeply interested in French in middle school and took college-level classes in the language in high school, which was also when she first visited France — in what was just one of what would become many trips abroad.
"I don't even know all the different countries she's been to," Christal O'Connor told the university website.
O'Connor went on to earn several degrees in French, according to BU's website — a bachelor's degree from Virginia Tech, a master's from Middlebury College, and a Ph.D. from Louisiana State University in 2015.
Since 2014, she taught as a lecturer at several Boston-area universities, including Bentley, MIT, Northeastern, and Tufts.
After teaching part-time for two years at BU, O'Connor became a full-time faculty member before the 2019-20 academic year and was preparing for her second year. According to BU, she sent an email to fellow faculty members and students last month with the subject line "The joy of learning French" about a video of Ta-Nehisi Coates giving a little interview in French at her alma mater, Middlebury.
"I plan to find some way to incorporate it into my classes this fall (I think that it could be used at all levels)," O'Connor wrote. "For me, it encompasses so much of what we have been discussing in the French group (and [romance studies]) about inclusion, diversity, encouragement, and building community for our students."
According to the university, the email was indicative of O'Connor's commitment to learning and inclusiveness. O'Connor's obituary says she is survived by her parents, Cristal and Daniel; her brother, Philip; her sister-in-law, Sara; and her two cats, Artemis and Apollo.
Get Boston.com's browser alerts:
Enable breaking news notifications straight to your internet browser.