Local News
These North Shore students jumped into action when the pandemic hit—now their initiatives are thriving
From supporting hospitalized children to aiding retired seniors, these high schools students spent the past few months working toward positive change.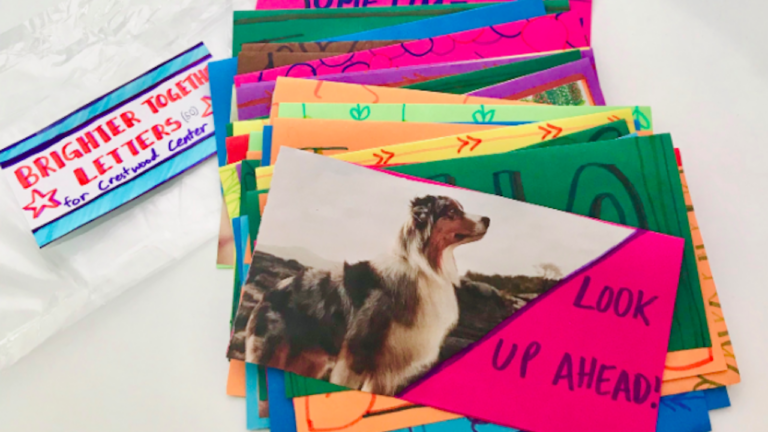 Young people across the Bay State have joined in efforts to make positive change amid pandemic and a racial reckoning — from local choir students sparking hope through a virtual performance, to young activists leading Black Lives Matter demonstrations, to a Lexington teen performing a protest song on allyship. 
And some teens on the North Shore have even turned their ideas into thriving initiatives in their communities. 
Meet Bella Adlah of "Have Fun & Stay Strong" (HFSS), and three Governor's Academy students Eliana Mlawski, Jessica Choe, and Olivia Crisafi behind "Supplies To Aid Retired Seniors," or STARS.
Both Adlah, a 15-year-old Reading Memorial High School student, and the trio of students from the Academy in Newbury founded their initiatives early in the pandemic to support their local communities. 
"I think we were in shock after we got sent home after March break and so we all wanted to do something to help," Crisafi said. 
After many hours of planning, she said the group settled on making care packages filled with personal protective equipment (PPE), oftentimes handmade masks and uplifting cards, for retired seniors in nursing homes.  
For Adlah, the idea for HFSS, which delivers goodie bags to children who are currently hospitalized, struck her late one night. The next morning she pitched her idea to her mom—each goodie bag would be filled with things to keep kids' spirits up during all the uncertainty.
Adlah got support from her aunt and sister who helped spread the word to friends and their community in hopes of garnering donations for her program, while she said her mom has always offered an extra pair of hands. 
"After she finishes her work at five she becomes my helper," Adlah said.  
Using a similar outreach style, STARS works with about 20 student volunteers, in addition to three teammates who tackle international outreach from China, to get the word out to their communities.  
The teens created a STARS GoFundMe page in May and initially received many donations from friends, family, teachers, and international students' parents in China. 
Then, strangers started donating, too. 
"That was a cool feeling because someone thought this was a good enough idea," Crisafi said. "Once that started happening it was like, 'Oh, we've actually kind of made it.'"
Echoing the sentiment, Adlah said HFSS has captivated her headspace all summer. 
"I'm very happy I started it, because if not, I don't know what I'd be doing with myself," she said. 
Since starting HFSS in early May, Adlah said she's delivered over 120 packages — which can include anything from Mad Libs to model magic clay to a mini Etch A Sketch. Most of the packing process happens in her aunt's living room or her garage, where she sprawls the toys, art supplies, and gadgets across the floor in a circle, and adds one of each to a tote bag as she walks from one end of the ring to the other.
Each bag Adlah packs for delivery is tailor-made for kids depending on their age group. As her program has grown, she's partnered with the Wonderfund of Massachusetts, a foster care nonprofit, and 22 hospitals, including many in other states such as Seattle Children's Hospital, and St. Jude Children's Research Hospital. Locally, she's hand-delivered bags to seven hospitals, including Lawrence General Hospital and Massachusetts General Hospital. 
For Crisafi, delivering STARS supplies in person is one of the most fulfilling aspects of the initiative. 
"It's definitely a really rewarding process," she said. "There was one place that had 20 gloves, and we donated hundreds and hundreds [to them], so it was really great to be able to know that we would be helping, even if it was only a small impact."
STARS has delivered to 34 local care organizations throughout the New Hampshire and Massachusetts areas, raised $6,324 for PPE, supplied 5,600 surgical masks, 5,600 nitrile gloves, 300 handmade cloth masks, and 900 handwritten cards of support for retired senior residents. According to Crisafi, the cards — each with its own unique message and design — come from numerous places, including elementary schoolers in Korea, people closer to home in Lawrence, and others from out of state in New Jersey.
"You just hope that on the other end it's making someone's day," Crisafi said. "Sometimes they cannot see their loved one, so we just wanted to give them some kind of emotional support as well."
Crisafi's co-founders agreed on STARS' impact. "We're just really thankful for being in the position where we can give support to those who are in need," Jessica Choe said.
As long as the coronavirus continues, Eliana Mlawski said STARS will focus mostly on delivering PPE donations. After the dust settles on the pandemic, they hope to continue offering emotional support through their cards.
"Even when senior citizens aren't isolated in their nursing homes during the pandemic, they're still sometimes feeling alone, and it's really easy just to write a card," Mlawski said.
As the school year commences, both student initiatives will continue. Mlawski said Academy students have been approved to work on STARS as a community service afternoon program throughout the fall.
Adlah said as her high school reopens, she hopes her HFSS program will reach hospitals overseas, and that she'll be able to apply for certification as a nonprofit. 
"Even if you're not in the hospital and you're just having a rough time, everyone needs [help]," Adlah said. "Kids everywhere should have some joy and smiles."
Get Boston.com's browser alerts:
Enable breaking news notifications straight to your internet browser.