Local News
'This is a very bad situation': Mass. lawmakers paint grim picture of Fort Hood, after death of Sgt. Elder Fernandes
"We cannot ignore the depressed and demoralized experience that servicemen and women are having there."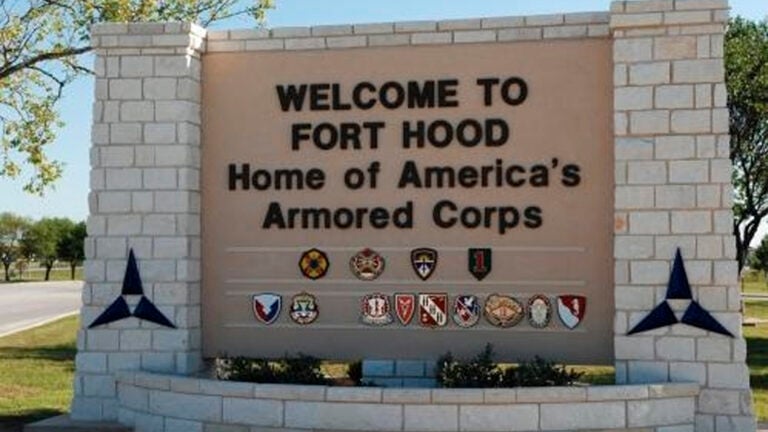 Three members of Massachusetts's congressional delegation have significant concerns about how U.S. Army officials at Fort Hood handled a sexual assault allegation filed by Sgt. Elder Fernandes and his subsequent disappearance before the 23-year-old Brockton soldier was found dead last month.
Reps. Stephen Lynch, Katherine Clark, and Ayanna Pressley, detailing a visit last weekend to the Texas post Wednesday, painted a grim picture of life on the base, with housing filled with rodents and mold and a litany of systemic factors they say play into a toxic culture that perpetuates fear and intimidation against survivors of assault.
"The Army is a learning organization. When they have a problem, you know it and they respond robustly. There's an urgency. There's a well-defined mission, and they get right at it," Lynch, chairman of the Committee on Oversight and Reform's Subcommittee on National Security, said during a virtual press conference, as he described a trip to the fort while Fernandes was missing in August. "I did not see any of that in my first visit to Fort Hood. There was a lack of seriousness, a lack of attention, a lack of focus."
Fernandes, a chemical, biological, radiological, and nuclear speciliaist assigned to the Army's 1st Calvary Division Sustainment Brigade, was found dead on Aug. 25 with his body hanging from a tree in Temple, Texas. The discovery was made after the soldier was last seen on Aug. 17 and reported missing by his mother two days later.
Born in the Republic of Cabo Verde, Fernandes joined the Army in September 2016. In May, he reported he was sexually assaulted by a superior officer the month before. Before his death in August, Fernandes was hospitalized and discharged six days later, and his mother has said the Army will not disclose information about why he was at the facility.
Fernandes's family and others have been left without answers and information about the circumstances leading up to and surrounding his death. He was the 10th soldier to disappear from Fort Hood over the past year, with remains of two missing soldiers found off-base in recent months: Pvt. Gregory Morales in June and Spc. Vanessa Guillen in July.
Guillen was killed at the base by a fellow soldier in April, according to federal officials. Her family has said she was sexually harassed by the soldier who allegedly killed her, although the Army has said there is no evidence of such an incident.
Morales's remains were found during the search for Guillen. He was reported missing in August 2019.
Twenty-eight soldiers stationed at Fort Hood have died this year.
While the Army has said Fernandes's disappearance and other ongoing cases are not connected, the Massachusetts lawmakers said Fort Hood is a troubling outlier for its sheer volume of serious incidents involving service members.
Lynch, whose district includes Brockton, said that based on a high number of calls to his office regarding pending cases, his staff conducted a preliminary survey that found about 150 cases of suicides, homicides, and "various disappearances at Fort Hood" over the past five years.
"This is a very bad situation, and one of extreme concern," he told reporters Wednesday.
Lynch, Clark, and Pressley were among eight representatives to visit Fort Hold on Sept. 18, including California Democrat Rep. Jackie Speier, who, with Oklahoma Republican Rep. Markwayne Mullin, has introduced the "I Am Vanessa Guillén Act."
The bill, if passed, would mandate that decisions on whether to prosecute service members for sexual assault or harassment be made outside the chain of command. The measure would also make sexual harassment a crime within the Uniform Code of Military Justice.
"The past several months have been difficult and challenging at Fort Hood," Maj. Gen. John B. Richardson IV, III Corps deputy commanding general, said in a statement following the delegation's visit last week.
Richardson was made acting senior commander of Fort Hood on Sept. 2.
"Our goal is to provide them detailed information to ensure they have a full understanding of the challenges facing Fort Hood, and what we are doing right now to address the issues," he continued.
Lynch said during their trip officials learned the sexual assault report filed by Fernandes was dismissed "based largely" on the results of a polygraph taken by Fernandes's superior officer accused of the misconduct.
The South Boston Democrat noted polygraph results are not admissible evidence in court proceedings and can fall prey to inaccuracies.
"The very day that I arrived (about a month ago) they made a determination, the Army, that there was no substance to his complaint," Lynch said. "And so, I thought it was rather quick. I thought it was sudden. I doubted the veracity and the process that they had used."
Lynch, who said lawmakers did not speak with witnesses in the case while in Texas, added that his office has since requested documents pertaining to the investigation from the military.
"It seems in these cases that that's a very strange process. We have no idea what the training is for these polygraphs," Clark said. "But what we do know is that the complaint that Elder Fernandes filed was against a superior and we do know that there is a culture at Fort Hood, and I believe throughout the military, of — there's great unease and trepidation and out-right fear about reporting superiors and what that will mean."
Pressley raised concern around the military's practice of moving a survivor, not the accused, of sexual assault from their assigned post in the wake of a claim, which, she said, "perpetuates this stigma as if they did something wrong."
At Fort Hood, the delegation met with female soldiers on the base and many told them they wouldn't likely report cases of sexual assault or harassment, according to Clark.
Another soldier told her "suicides are treated as an inconvenience," she said. Many soldiers had not seen their families for over a year.
"They are suffering trauma, and they need to know that they can get the help they want and there won't be repercussions for their careers," Clark said.
Pressley reported hearing of roaches, rodents, asbestos, and water damage in Fort Hood housing. Soldiers and their families also reported finding black mold, including in one instance where the mold was found in one family's crib and car seat, she said.
Some told lawmakers about suffering multiple miscarriages, Pressley said. Others had "aggressive asthma and other respiratory illness."
"We cannot ignore the depressed and demoralized experience that servicemen and women and their families are having there. One of the military spouses said everyone knew that Fort Hood is where Army careers go to die," Pressley said. "This is about endless wars and multiple deployments — the impact on the family unit, on mental health. This about a base that has a footprint so large that it is ostensibly a city within a city and so it brings with it city challenges, including housing stock that is deplorable. I was ashamed — ashamed."
Lynch called the legislation filed in Guillén's name "an important step" moving forward. Lawmakers must make clear that a situation where a superior accused of misconduct intimidates a reporting subordinate has to be "a career ender," he said.
He also noted the assignment of Richardson and said he sees "the beginnings of a plan — the beginnings of sort of the Army process that I have recognized in the past where they take an issue seriously."
"From my own observations, there's a level of seriousness now there thanks to the arrival I think of my colleagues. … When six or seven members of Congress show up on your doorstep, you sort of pay attention," Lynch said.
Earlier this month Lynch and Speier, who helms the Committee on Armed Services' Subcommittee on Military Personnel, announced both of their subcommittees would jointly investigate if deaths at the base are "symptomatic of underlying leadership, discipline, and morale deficiencies throughout the chain-of-command."
The Massachusetts lawmakers said they see the push for answers and work to reform the system as a needed recognition and investment in the commitment to service made by members of the military and their families.
Pressley mentioned speaking to Fernandes's aunt, who described how the young soldier was a role model to his cousins, "all who looked up to him and aspired to have careers in military service," the congresswoman said.
"Their dreams and aspirations have been completely dashed and undermined — eviscerated — by his tragic death, but also by the greater issues that have been exposed at Fort Hood," Pressley said.
Material from the Associated Press was used in this report.
Get Boston.com's browser alerts:
Enable breaking news notifications straight to your internet browser.