Local
Boston hospital probes cluster of coronavirus cases
The hospital's Infection Control team is investigating the source of the cluster.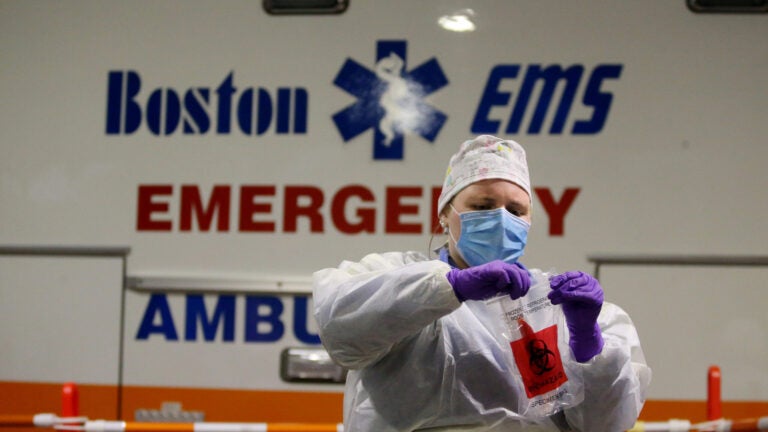 BOSTON (AP) — A major Boston hospital is reporting a cluster of COVID-19 cases that has affected five patients and five staffers.
The cases are connected to two inpatient units, Brigham and Women's Hospital said in a statement posted on its website.
The hospital's Infection Control team is investigating the source of the cluster through contact tracing, testing, and staff interviews, according to the statement.
It is also reaching out to staff and patients who may have been exposed, including patients who have been discharged, to arrange for testing. No additional cases have been detected.
The affected areas have also been thoroughly cleaned.
"We have rigorous protocols in place to create and maintain a safe care environment by testing all patients admitted to the hospital, requiring staff to attest to their health daily before working, requiring all staff, patients and visitors to wear hospital-issued masks while on campus, insisting on frequent hand hygiene, frequently cleaning the environment, and enforcing appropriate physical distancing," the statement said.
___
VIRUS BY THE NUMBERS
Massachusetts reported 15 newly confirmed coronavirus deaths and about 450 newly confirmed cases Thursday, pushing the state's confirmed COVID-19 death toll to 9,150 and its confirmed caseload to more than 126,800.
The seven-day weighted average of positive tests was less than 1%. The true number of cases is likely higher because many people have not been tested, and studies suggest people can be infected and not feel sick.
There were more than 370 people reported hospitalized Thursday because of COVID-19, and more than 70 in intensive care units.
The number of confirmed and probable COVID-19 related deaths at care homes rose to more than 6,000 or about 64% of all confirmed and probable deaths in Massachusetts attributed to the disease.
___
NURSING HOME VISITS
State health officials announced new guidance Thursday aimed at allowing safe indoor visitation to resume at nursing and rest homes and further expanding indoor visitation options in assisted living residences.
The guidance — which builds on previous recommendation to help protect residents and their loved ones who have been disproportionately harmed by COVID-19 — takes effect Friday.
Under the new guidance, indoor visits should occur within a designated visitation space that is close to the entrance of the facility and allows for social distancing. Visitors must be screened for COVID-19 symptoms and have their temperature checked and residents, staff, and visitors must wear a mask or face covering for the duration of the visit.
Visitors must remain at least 6 feet away from the resident for most of the visit, but there may be physical contact between the resident and visitor so long as precautionary measures are followed such as hand sanitation before and after contact.