Local
Gas company delays Weymouth compressor station startup after yet another 'blowout'
The area's congressional representatives want it shut down for good.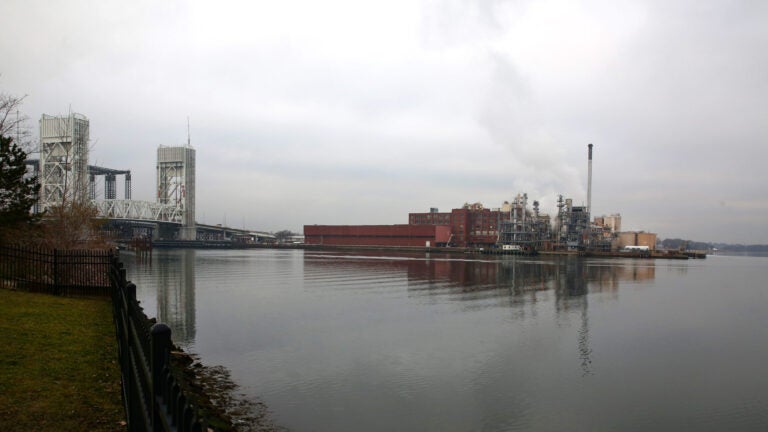 Following two emergency shutdowns in less than three weeks, the energy company Enbridge says it will delay the start of service at its controversial gas compressor station in Weymouth.
"We have decided to temporarily pause the commencement of operations of the station to ensure we can complete a thorough review and be certain the facility is fully ready for service before proceeding," Enbridge spokesperson Max Bergeron said in an email Thursday afternoon. "Safety will always be our top priority."
The decision — first reported by the State House News Service — comes after the energy company disclosed that an unspecified incident triggered the station's automatic shutdown system Wednesday morning and resulted in an "unplanned release" of at least 10,000 cubic feet of natural gas into the area, as WBUR reported. In a separate incident on Sept. 11, a gasket failure caused a similar shutdown and venting of gas at the unfinished station, which had won approval from federal regulators last month to begin shipping gas as soon as Thursday.
The compressor station is part of Enbridge's larger "Atlantic Bridge" plan to connect two existing interstate pipelines in order to increase its capacity to ship gas to New England and eastern Canada. However,  the project has faced vocal protests from local South Shore residents and environmental advocates over safety concerns and opposition to the region's reliance on fossil fuels.
Bergeron said Thursday that Enbridge is gathering information on what caused the latest incident. Massachusetts Gov. Charlie Baker, who has deferred to federal regulators on the project, told reporters Thursday that he supports the decision to press pause.
"We believe that until these issues are completely and thoroughly investigated, and signed off on by the feds, it shouldn't open," the Republican governor said. "And my understanding is the feds made an unqualified statement earlier today saying just that, which we agree with, and support."
But local Democratic delegation members, who have opposed the project's location for roughly a year, are now calling on federal officials to pull the station's permit.
In a statement Wednesday afternoon, Rep. Stephen Lynch said the second "dangerous blowout event" shows the danger of operating in "such a densely residential area."
"While additional details on this latest safety incident are still under investigation, these accidents endangered the lives of local residents and are indicative of a much larger threat that the Weymouth Compressor Station poses to Weymouth, Quincy, Abington and Braintree residents, as well as surrounding communities," Lynch said, adding that he was "extremely concerned for the public's safety."
"I have already asked the Secretary of Transportation to suspend the opening of the compressor station pending a comprehensive review and I am now demanding the Federal Energy Regulatory Commission (FERC) revoke the certificate of approval for the site and suspend operations due to the repetitive occurrence of these extremely dangerous events," added the South Boston Democrat.
In a letter to FERC, the 8th District congressman called for the "immediate termination of this project."
Sens. Elizabeth Warren and Ed Markey had also called on the head of the Pipeline and Hazardous Materials Safety Administration in a letter coincidentally sent Wednesday to halt activities at the station and conduct an investigation into the first "accidental gas leak," which released 169,000 standard cubic feet of natural gas — the equivalent of "the average daily natural gas consumption of nearly 1,500 Massachusetts homes."
After the second incident, Markey tweeted Wednesday that the agency had told him they were "sending an investigator to determine why these disasters keep happening" and  "asking the compressor to stay its operations while this investigation is ongoing."
Bergeron declined to say Thursday whether Enbridge's decision to pause service at the station was related to the PHMSA request.
He said that initial indications from the company's review suggested the conditions Wednesday did not "necessitate" the emergency shutdown. Still, once activated, the shutdown process "safely isolated the station and vented the natural gas in a controlled manner."
"As we continue to gather additional information as part of a detailed review process, we have found no issues which would affect the safety of the station," Bergeron said. "We are committed to placing the compressor station in service only once we are fully confident any issues have been properly addressed."
In a statement Thursday afternoon after Enbridge's announcement, Markey called on the Massachusetts Department of Environmental Protection to conduct a more thorough assessment of the station, expressing confidence that "an open and transparent" review would "clearly show that this station is unhealthy, unsafe, and unnecessary."
"Weymouth Compressor Station operations shouldn't just be paused, they should be permanently stopped," Markey said. "After two recent unplanned releases of gas at the Weymouth Compressor Station, a third time would not be the charm, it could be a disaster."
Get Boston.com's browser alerts:
Enable breaking news notifications straight to your internet browser.