Local News
Frances Choy, convicted in Brockton fire that killed her parents, was exonerated this week. Here's what to know about the case.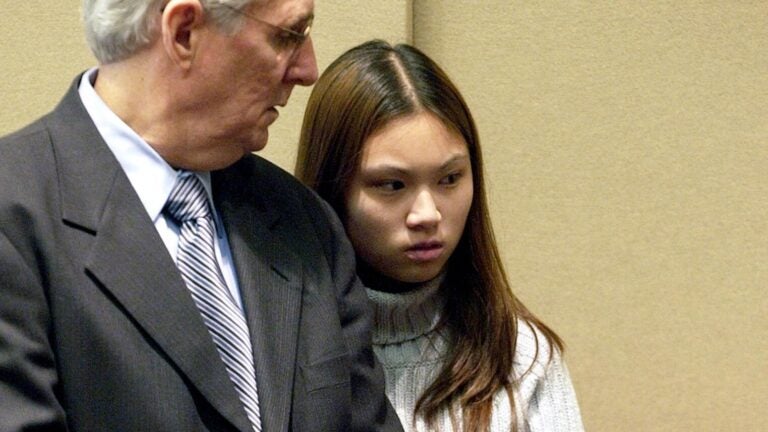 Frances Choy was 17 when she was arrested in 2003 and charged with pouring gasoline around her home in Brockton, Massachusetts, and setting a fire that killed her parents. After two trials ended in hung juries, she was convicted on murder and arson charges in 2011 and sentenced to life in prison without parole.
But last month, a judge vacated the convictions after Choy's lawyers uncovered numerous problems in her third trial, including evidence that Kenneth Choy, the 16-year-old grandson of Frances Choy's father, had set the fire and then blamed Frances Choy.
The judge, Linda E. Giles of Superior Court, also ruled that newly discovered emails had demonstrated the trial prosecutors' "racial animus against Frances and her family."
The prosecutors "exchanged numerous images of Asian people, some accompanied by pejorative comments, and some unexplained," Giles wrote. "They exchanged 'jokes' about Asian stereotypes, and mocking caricatures of Asians using imperfect English."
One of the emails compared Kenneth Choy, who was a key witness against Frances Choy, to the character Long Duk Dong from the movie "Sixteen Candles," Giles wrote. Another suggested that Frances Choy had committed incest with Kenneth Choy.
In still another email, sent on the eve of a hearing before the state's highest court, one of the prosecutors wrote, "I will show up tomorrow wearing a cheongsam and will be the one doing origami in the back of the courtroom."
Giles, who presided over Frances Choy's 2011 trial, wrote that had she known about the emails, she would have declared a mistrial, removed the prosecutors from the case and notified their boss at the time, Timothy Cruz, the Plymouth County district attorney, of the "racially and sexually degrading emails."
Giles released Frances Choy from prison in April, pending an appeal. But Choy had remained under house arrest until Cruz's office filed a court motion Tuesday saying he would not prosecute the case further.
With that motion, Choy was officially exonerated and freed after 17 years in detention, according to her lawyers, John J. Barter and Sharon Beckman, a professor at Boston College Law School and director of the Boston College Innocence Program.
Exonerated! BC Innocence Program helps uncover police and prosecutor racist misconduct that frees Frances Choy, woman accused of murdering her parents in a fire https://t.co/VuZD7tI8Uy pic.twitter.com/610AC9I2PB

— Boston College Law (@BCLAW) September 30, 2020
In a statement, Choy, 34, thanked her lawyers, her family and her friends "for always believing in my innocence."
"It has been a tough and long journey, but their support helped me stay strong and never give up hope," she said. "Nothing can erase the pain of losing my parents and how they suffered. I miss them every day. Even in prison I tried to live my life in a way that honored them. I'm relieved that the truth has been revealed and to have my life back beyond prison walls."
Cruz said that after reviewing the case, including the discriminatory emails, the ineffective representation provided by Choy's trial lawyer and other misconduct by prosecutors, "we believed it was fair to agree to vacate the conviction."
"We hope that this case is an example for our community of how we handle misconduct," he said. "We always choose right over wrong, fairness over bias, and justice over injustice."
At the time the emails were discovered, Cruz said, neither of the prosecutors worked for him. One of the prosecutors, John Bradley, was fired in 2013, he said, and the other, Karen O'Sullivan, left voluntarily.
"Immediately after we became aware of the inappropriate emails, we hired an independent investigative firm, Guidepost Solutions, LLC, to conduct a detailed review of over 380,000 emails and attachments issued and received by our staff over an approximately 11-year period," he said.
"Nine emails, all of which had been previously made public, were identified as racially disparaging," he said. "Guidepost found no evidence of a culture of racism in our office after concluding its review of the email system."
Bradley could not be immediately reached for comment. O'Sullivan is now a prosecutor in Bristol County, Massachusetts. She did not respond to a phone message Thursday, and her lawyer, Michael E. Mone Jr., declined to comment.
Thomas M. Quinn III​​, the Bristol County district attorney, defended O'Sullivan and attributed the overturning of Choy's conviction to her first lawyer's failure to properly investigate and present witnesses at trial, as well as a new defense expert who called into question the prosecution's forensic evidence.
"I have gotten to know Karen during the past eight years and have found her to be a person of high moral character and integrity," Quinn said.
Choy was a college-bound high school senior looking forward to prom when she was arrested after the fire that killed her parents, Jimmy Choy and Anne Trahn Choy, Chinese immigrants from Hong Kong and Vietnam, Choy's lawyers said. Prosecutors argued that Choy had killed her parents in a scheme to collect life insurance and spend more time with her boyfriend.
Kenneth Choy, who also lived in the home, was tried on murder charges but was found not guilty in 2008 and then left for Hong Kong just days before the start of Frances Choy's third trial in 2011. The police had found notes near his bed that described plans to set fire to the house, but he claimed the fire was Frances Choy's idea and that she had told him to write the notes.
At Frances Choy's trial, prosecutors presented evidence from a State Police chemist that the sweatpants Choy was wearing when she was rescued from the fire tested positive for gasoline residue. They also presented statements from Frances Choy that they characterized as admissions of guilt and testimony from the police and firefighters that Frances Choy was "calm" and "emotionless" after the fire, Giles wrote.
Because Kenneth Choy had left for Hong Kong, prosecutors read aloud his testimony from Frances Choy's second trial, denying Frances Choy's trial lawyer the opportunity to question his testimony, Giles wrote.
After Choy's conviction, an analytical chemist hired by Choy's legal team concluded that there was no gasoline residue on her sweatpants, contradicting the testimony of the State Police chemist, Giles wrote.
The judge also said that Frances Choy's trial lawyer had failed to call as a witness a friend of Kenneth Choy's who later submitted a sworn statement saying that Kenneth Choy had admitted that he started the fire and that he "did it in revenge." The friend's statement also said that Kenneth Choy had bragged about being found not guilty.
Giles vacated Frances Choy's conviction on Sept. 17, finding that prosecutors had agreed in court filings that "justice may not have been done."
While in prison, Choy obtained her bachelor's degree, magna cum laude, from Boston University, received certificates in cooking and cosmetology and trained service dogs for disabled veterans, her lawyers said.
"Her wrongful conviction resulted from racism and other official misconduct and systemic failures," Beckman said. "Frances can never get back the 17 years the criminal legal system took from her, but we are overjoyed at her exoneration and hope her case will inspire meaningful reform."
Get Boston.com's browser alerts:
Enable breaking news notifications straight to your internet browser.