Local
Worcester bans trick-or-treating this year due to high risk of COVID-19
The state's second-largest city joins a small but growing list of communities that are calling off the annual door-to-door Halloween activity amid the pandemic.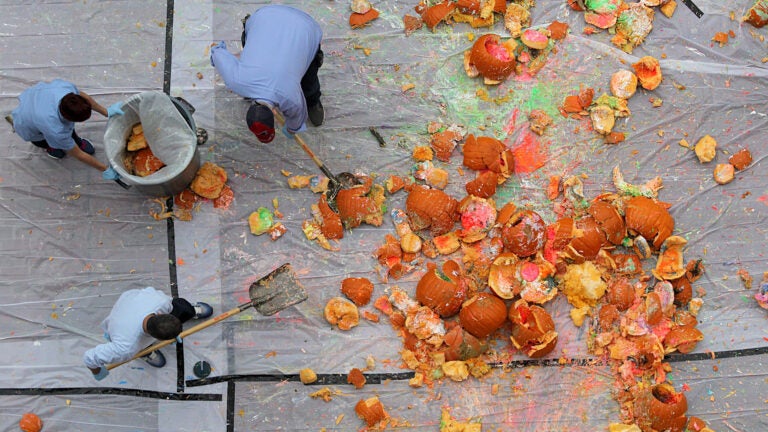 Halloween will look notably different across Massachusetts this year due to COVID-19, especially in the state's second-largest city.
Worcester will prohibit door-to-door trick-or-treating in the city, which remains in the state's red category indicating a high risk of COVID-19 infections, city officials announced Friday, citing holiday guidance from the Centers for Disease Control and Prevention listing door-to-door trick-or-treating, "trunk-or-treat" events, costume parties, and indoor haunted houses as "higher-risk" activities.
They suggested residents instead participate in lower-risk alternatives, such as a carving pumpkins, holding a Halloween movie night, doing a themed scavenger hunt, and walking the neighborhood to admire neighbors' holiday decorations from a distance.
Worcester is at least the fourth community in Massachusetts to cancel trick-or-treating this year. Lawrence, Haverhill, and Springfield — which also are in the red high-risk category — have also called off trick-or-treating in their cities this fall.
"We are dealing with a pandemic here," Springfield Mayor Domenic Sarno told reporters last month, noting evidence that children can quietly spread the disease.
Worcester's announcement comes after Rhode Island issued statewide rules and restrictions for Halloween festivities this year in an effort to limit the spread of COVID-19.
Massachusetts Gov. Charlie Baker said last month that the holiday is "on our radar" and that the state plans to coordinate with local officials. The administration put out a list of tips for safely celebrating Halloween, which emphasized health experts' guidance around social distancing, mask wearing, and hygiene:
Tips for a Safe and Healthy Halloween

As a reminder, the following COVID-19 prevention and mitigation standards apply to all activities in Massachusetts, including Halloween activities. Residents should adhere to each of the following:

Wear a face mask or face covering. For more information on face masks and face coverings, please see the state's Mask Up MA webpage.
Observe good hand hygiene, including hand washing and use of alcohol-based sanitizers with at least 60% alcohol. Carry hand sanitizer and use it often, especially after coming into contact with frequently touched surfaces and before eating candy.
Refrain from touching your face.
Stay home and refrain from Halloween activities, including handing out Halloween treats, if:

you feel unwell;
you have tested positive for COVID-19;
you have been exposed to someone with COVID-19; or
you have traveled to or from a state that is not classified as lower risk within the last 14 days.  For more information on lower risk states, please see the state's COVID-19 Travel Order webpage.

Maintain social distancing of at least 6 feet of physical distance from all other participants who are not members of the same household.

Halloween Activities

Residents and communities should follow the Halloween activity guidance released by the Centers for Disease Control and Prevention to understand alternative ways to participate in Halloween that may limit the risk of exposure to COVID-19.  As a reminder, any Halloween activities are subject to the current gathering size limits as well as applicable sector-specific workplace safety standards.
The City of Boston has not yet announced its plans for trick-or-treating this year.