Local
A N.H. man lost his class ring skipping stones in 1967. His wife set out to find it 53 years later, and she did.
"I always thought, 'Well, we can probably find that if we went looking,' and it was always something I wanted to do."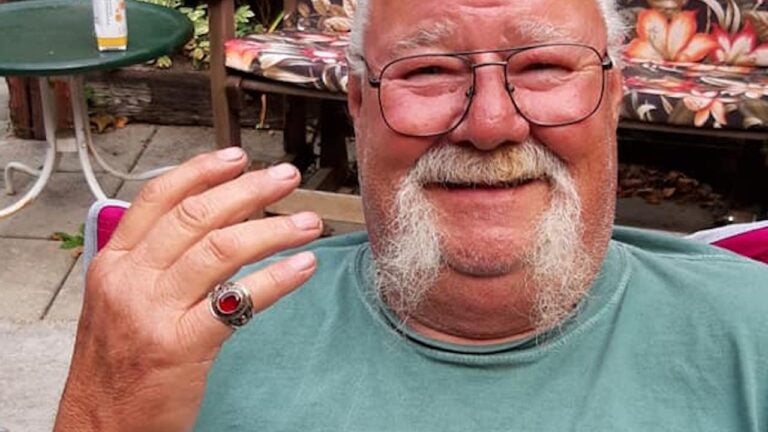 Since Kathy Rowell has known her husband Steve of 31 years, she said she's also known the story of how he lost his high school class ring.
Back in 1967, Steve Rowell was 16 and a sophomore in high school. He had had the ring, which he'd paid for himself, for just weeks before it slipped off his finger while he was skipping rocks with his brothers at Drew's Pond in Barrington, New Hampshire.
Upset, he tossed his bike into the water, too, Kathy said. His brothers retrieved the bike, but the ring was gone.
Until now. 
The ring hadn't seen the light of day until Sunday, Sept. 27, when Kathy and a friend with a metal detector pulled it from the pond's murky depths.
"I always thought, 'Well, we can probably find that if we went looking,' and it was always something I wanted to do," Kathy said in an interview with Boston.com.
In the past she's helped others find things they've lost, and she was "determined" to find Steve's ring.
Kathy and her daughter decided last year they would begin searching for it, but life got in the way and they didn't have the time until recently. Kathy had also mentioned her idea to a friend, noting that she thought using a metal detector could help.
"And he said, 'I have a metal detector, I'd love to go with you,'" Kathy said.
The team went a few weeks ago and searched for about 3 ½ hours to no avail. It began to rain; they marked off where they had concluded their search for the day and went home.
Then, a week ago Sunday, the search was back on. Kathy noted that the environmental conditions were in her favor. While Steve had said the pond water was probably 6 feet deep where the ring landed decades ago, the drought had put the water at about 2 feet in that location.
"My husband came with us for a few minutes and kind of showed us the location he thought it was in," she said.
A New England Patriots fan, he soon left to go watch the game.
After searching for a bit, among a "bunch of junk" in a bucket pulled from the pond was Steve's ring, red stone intact.
Kathy returned home and presented it to her other half.
"He couldn't believe it," she said. "I had it on my finger. He was just blown away."
That particular day, Sept. 27, also holds a significance to the couple as it's Steve's late father's birthday.
"It was just heartwarming," Kathy said. "I still get chills thinking about it."
Steve, now 69, can slide the ring down just a bit on his pinky finger. While Kathy said her friend joked that Steve's hands are now "pudgy," Kathy has a gentler answer.
"I tell him, 'Oh honey, maybe it shrunk in the water,'" she said.
Get Boston.com's browser alerts:
Enable breaking news notifications straight to your internet browser.