Local
Farm rebuilds hay bale sign after original was set on fire
The original sign was for Democratic presidential nominee Joe Biden and his running mate, Sen. Kamala Harris.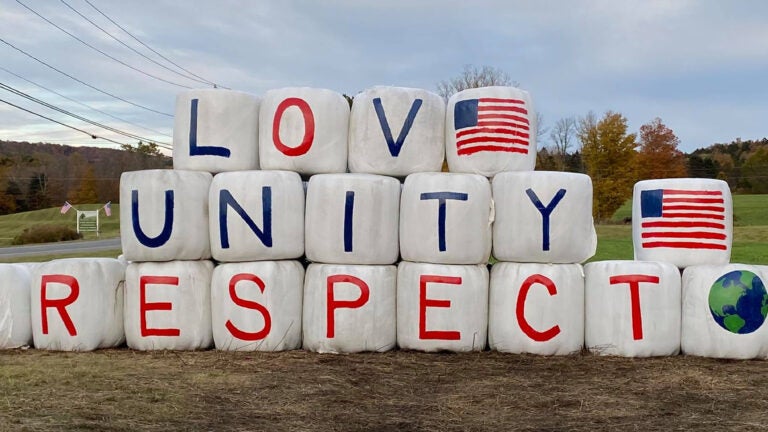 A farm in Western Massachusetts had its political sign, which was painted on hay bales, torched over the weekend, and now a man is facing an arson-related charge.
Dalton police and firefighters were called to Holiday Brook Farm on Route 9 around 6:42 p.m. Friday for a reported fire. There, they found the farm's recently constructed "Biden/Harris" sign, made out of stacked hay bales, on fire, according to authorities.
Following an investigation, Lonnie Durfee, 49, of Dalton, was arrested and charged with burning personal property. His arraignment was set for Tuesday in Central Berkshire District Court, police said.
Despite what happened, farm staff have set up a new sign, which reads, "Love, Unity, Respect," set on three tiers of stacked hay bales. One bale also has the word "vote," while two others have American flags and one has the Earth painted on it.
The new sign has already gained a lot of attention, according to Dicken Crane, who owns the farm.
"We really didn't want to increase the divisiveness around the election," Crane told The Boston Globe in a phone interview on Monday. "It's a message that we really hope this country is about. If we respect unity and love, it makes the names on the political message less important."
While Crane has said people want to make donations to the farm, he's asking people instead to donate to the American Civil Liberty Union's Voting Rights Project, according to the Globe. The farm has also set up a special GoFundMe campaign for people to make donations to the ACLU based on what happened at the farm. As of Tuesday, it has raised nearly $3,000.
"The nicest thing has been the number of Trump supporters who actually said they respect what we're doing," Crane said, according to the newspaper. "There's obviously some people that don't agree with us, but it's just nice to know they agree with our right to do what we're doing. I think that's what this country is supposed to be about."
Get Boston.com's browser alerts:
Enable breaking news notifications straight to your internet browser.