Local News
Charlie Baker is letting the Massachusetts eviction moratorium expire. Now what?
"What is scary for us is that there is, for a fact, going to be people who will fall through the cracks."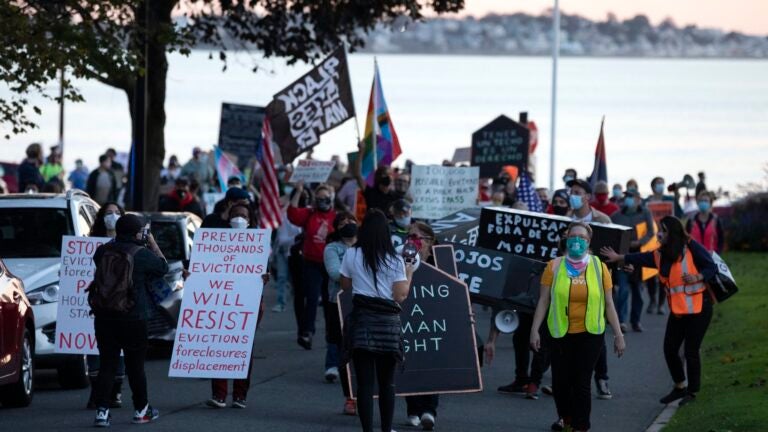 Gov. Charlie Baker's moratorium on evictions and foreclosures in Massachusetts is ending this weekend, even if the coronavirus pandemic is far from over.
And despite new efforts to provide additional protection in its wake, housing advocates and social workers are warning that the patchwork of initiatives aren't enough during the twin public health and economic crises.
"What is scary for us is that there is, for a fact, going to be people who will fall through the cracks," Kimberly Mendoza Iraheta, a care navigator at East Boston Neighborhood Health Center, who has heard directly from patients voicing concern about the end of the moratorium, told Boston.com.
According to a report last week by the Metropolitan Area Planning Council, a combined 80,000 households in Massachusetts will have trouble covering housing costs and other basic needs this October. This week, Baker announced $171 million in new funds aimed to help those households: financial assistance for renters and landlords alike, rehousing programs, and services.
But as Iraheta notes, the moratorium forestalled the possibility that residents would be forced into such precarious need.
"This moratorium was sort of a little breather," she said.
Now, with the ban set to expire at midnight Saturday, she's holding her breath.
What does the end of the moratorium mean?
The moratorium — first implemented in April before being extended until Oct. 17 by Baker over the summer — blocked "non-essential" residential evictions and foreclosures, as well as small business evictions. That meant that landlords and banks could not move to eject residents and businesses for not paying rent during the pandemic, and they could only send eviction or foreclosure notices in cases involving alleged criminal activity or lease violations affecting the health or safety of others.
The temporary statewide halt on evictions and moratoriums also goes further than a national moratorium imposed last month through the end of the year by the Centers for Disease Control and Prevention, which applies to cases that would "likely render the individual homeless" or force them to move into close quarters with others (the federal moratorium is also susceptible to differing interpretations from place to place).
Landlord groups opposed the Massachusetts moratorium, arguing that it forced them to provide housing for free, though they can seek back rent. Some have even engaged in unofficial eviction tactics, such as pressuring tenants who fall behind on payments to leave, according to a WBUR report Thursday.
When extending the moratorium, Baker acknowledged that it would impact "many small landlords who rely on rental income to pay their own expenses."
Still, both the Republican governor and housing advocates said it provided needed relief to many residents during a period of staggering economic instability. Massachusetts, which had the nation's highest unemployment rate, saw more than a million new unemployment claims this past spring. According to the MAPC report last week, more than 330,000 people in Massachusetts — or about one in every 10 workers — remained on unemployment insurance last month.
In addition to providing housing security, officials have also said keeping people in their homes was an important part of stopping the spread of COVID-19. As the MAPC report illustrates, the communities where the need for housing relief is highest are also the places where COVID-19 infection rates have been highest.
"People from these communities are working the essential jobs, they're unable to take time off or unable to work from home, and are the most impacted negatively when they get sick or they lose their jobs," says Iraheta, whose patients include residents of East Boston, Everett, Chelsea, Revere, and Winthrop.
"The housing crisis obviously began way before COVID-19, especially here in Boston," she said. "What we are fearing is that there will be sort of huge repercussions when it comes to this housing moratorium lifting."
According to the MAPC report, the expiration of the moratorium means that "more people may find themselves homeless or living in overcrowded housing—circumstances that contribute to the spread of COVID-19 and may extend the length of the pandemic." 
"Small landlords unable to cover mortgage payments due to lost rent may be forced to sell their rental properties, accelerating the consolidation of the rental real estate market under the control of large corporate owners and trusts," the report added.
According to recent U.S. Census survey data, an estimated 160,000 households in Massachusetts currently owe back rent and 60,000 of those fear "imminent" eviction. However, while landlords could begin serving notices as soon as Monday, renters won't immediately be forced from their homes. The eviction process will still take weeks, if not months, in housing court — especially considering the pre-pandemic statewide backlog of 11,000 cases, according to WBUR.
On the other hand, that may not be much solace for evictees, according to the MAPC.
"Removal of the state moratorium now could result in evictions beginning as soon as January," the group said in a statement earlier this week. "This may force displaced tenants into overcrowded housing situations, placing them at risk of contracting and spreading COVID-19. Worse, it is likely to increase homelessness at the harshest possible time of year, the middle of winter, when weather and flu risk are most severe."
So why is Baker letting the moratorium expire?
The law under which Baker enacted the moratorium gives him the unilateral authority to repeatedly extend the temporary ban in 90-day increments while the COVID-19 state of emergency remains intact.
However, the governor signaled last month that he wouldn't do so. Following a lawsuit by landlords, a federal judge also said he would likely overturn the moratorium if Baker extended it further.
During a press conference Tuesday, Baker suggested that the main reason he decided to let the moratorium expire was the problem of allowing back rent and mortgage payments to mount, especially as the Massachusetts economy continues to slowly reopen during the pandemic.
"The longer the moratorium stayed in place, the deeper the hole would become that everybody would have to find a way out of," he said. "And the uncertainty and the difficulty of continuing to just let that problem fester, from our point of view, was the wrong move at this time. When we put this moratorium in place with the legislature last spring, there was somewhere around 500,000 more people out of work than we have out of work today."
Baker's comments came on the heels of the announcement Monday of his $171 million Eviction Diversion Initiative to "manage the end of the moratorium."
The funds include $100 million for the state's Residential Assistance for Families in Transition (RAFT) program to increase the maximum financial aid available from $4,000 to $10,000 per household and would allow landlords with less than 20 units to apply for assistance. The initiative also sends millions to programs offering "rapid rehousing" for those at risk of homelessness, legal services, case management, mediation, and outreach.
The Baker administration is also providing funds to the Massachusetts Trial Court system to recall retired judges to help handle the caseload and mediate disputes outside of court. In a statement, Baker said the strategy is "designed to be user friendly and easily accessible" with the goal of keeping people in their homes.
"We do have resources that are available to help create stability for homeowners, for renters, and for landlords — and especially for smaller landlords and especially for tenants, who are both feeling incredibly uncertain about what's going to happen now," Baker said Tuesday.
Will those resources be enough?
Not everyone is confident that those resources are sufficient and available enough to address the crisis.
Iraheta, an East Boston native, who says she was the only member of her family to keep her job during the pandemic, says the bolstered RAFT funds are a "good first step." But she says that, even at up to $10,000, they can be quickly depleted when a household loses their source of income, especially if they owe months of back rent.
"Thankfully I have this job at the clinic and was able to stay here and provide for my family," Iraheta said. "But had I lost it, we would have been way over $10,000 in debt."
And as the Boston Globe reported earlier this week, both housing advocates and landlord groups agree more funds would help.
"One hundred million dollars is certainly something," Lew Finfer, the executive director of the Massachusetts Community Action Network, told the Globe. "But it's far short of the need at a time of worsening economic conditions and a worsening pandemic. It's sort of an inadequate response to a huge, catastrophic problem."
Baker's initiative does include a multilingual public awareness campaign available online and through the state's 211 information hotline. But Iraheta still fears that — despite the best efforts of community groups — many will not know to take advantage of the new resources, due to potential language and technology barriers. Even the CDC's moratorium requires tenants to print or email a signed copy of a form declaring they qualify for eviction protection to their landlords.
"It doesn't protect the people who are unable to get connected to people like us who guide and help navigate patients through this application process," she said.
Iraheta added that the administration's move to rehire the judges to speed up the eviction process as winter approaches was "disappointing" and "cruel."
Critics of Baker's approach have rallied around a bill — backed by more than 100 cosponsors in the Massachusetts State House and Senate — that would effectively ban evictions up until one year after the COVID-19 state of emergency is over. More than 100 demonstrators even staged a rally Wednesday outside Baker's home in Swampscott calling on the governor to support it. As the Associated Press reported, the legislation would temporarily halt "no fault" evictions and rent increases, guard against foreclosure, and bolster forbearance protections to allow homeowners and landlords with up to 15 units to pause their mortgage and move missed payments to the end of their loan.
The bill received a favorable report out of the legislature's Joint Committee on Housing earlier this month but has not advanced since.
Rep. Mike Connolly, a Cambridge Democrat who sponsored the bill, has been calling on Baker and House Speaker Robert DeLeo to at least pass an extension of the moratorium through the end of the year while the administration's initiative gets up and running. According to the state's website, several of the new programs to connect tenants with mediation and legal help will not be operational for "several weeks."
"Most of the key pieces of the governor's initiative that will help tenants and even help landlords aren't in place yet, the legal representation, the community mediation," Connolly said Thursday after trying an unsuccessful effort to pass an emergency extension of the moratorium, according to the State House News Service.
Baker could still ostensibly extend the moratorium at the last minute; in a statement Thursday afternoon, Rep. Ayanna Pressley wished he would.
"With a stroke of a pen, Governor Baker could prevent the looming eviction tsunami in the Commonwealth this Saturday—or he could fail to act and stand by as thousands of families impacted by the public health crisis and economic fallout lose their homes," Pressley said.
Baker has given no indication that he plans to change his mind. In the meantime, it'll be up to state agencies and community providers to help those at risk of eviction to the resources to further the common goal of keeping people safely housed. Iraheta says it'll be "extremely difficult" given the expected wave of cases.
"People are stressed. People are scared. And then there are long wait times when they actually do call. I was on the phone yesterday and had seven people on hold," she said. "Once the housing moratorium lifts and people are told 'OK, we're taking you to court' to get evicted, there's going to be a lot more people asking for help."
Get Boston.com's browser alerts:
Enable breaking news notifications straight to your internet browser.