Local
Activist ordered to stay away from Charlie Baker's home after leaving used needles outside
"I'm afraid of being physically hurt in one way or another," Massachusetts First Lady Lauren Baker said in court testimony.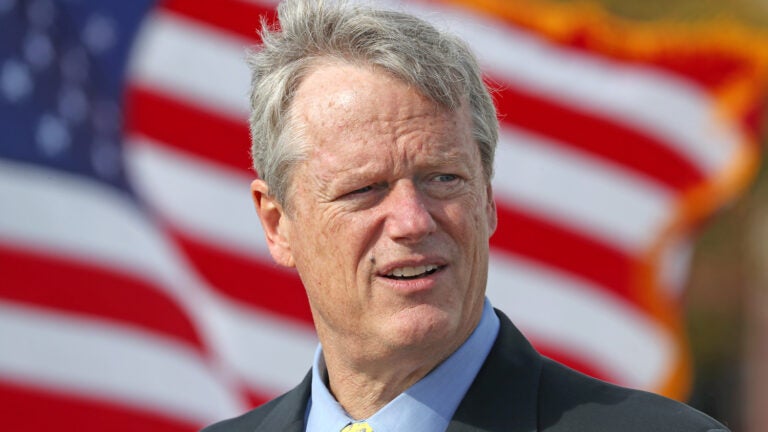 A Lynn District Court judge Monday upheld an order mandating a Boston activist who left used hypodermic needles outside Gov. Charlie Baker's Swampscott home earlier this month to stay away from the residence.
Domingos DaRosa was among a group of demonstrators from the group South End-Roxbury Community Partnerships 2.0 who stood outside the governor's house to raise awareness about issues facing communities surrounding Mass. and Cass — the swath of Massachusetts Avenue in Boston that's home to numerous substance use treatment facilities, he told Boston.com Tuesday.
The protestors advocated for services "we are in dire need of," he said. He noted that while the issues impact that particular area of Boston, the scope of the problem goes far beyond the city and should be handled by the state.
"We are looking for the support of our elected officials, including the governor, to make this a state of emergency," DaRosa said. "This is a health crisis that folks who live in the area are facing, folks who are looking for support are facing … there are multiple levels of how this one situation affects the masses."
In court testimony Monday, Massachusetts First Lady Lauren Baker detailed how the incident left her concerned for her safety, WBZ-TV reported.
"I'm afraid of being physically hurt in one way or another," she told the court.
The group placed needles on the sidewalk in front of the Bakers' home, the news outlet reported.
"That's incredibly frightening to me," the first lady said. "Are they trying to make me come outside and step on the needles or interact with the needles? I'm afraid of that."
According to the news station, a judge determined DaRosa's right to protest did not include leaving needles on someone else's property.
"They are trying to get their message across to the governor, and they're not getting, they're not hearing from him, and so they think by calling me out by name and getting to me, they might be able to intimidate me into getting him to take some sort of action," Lauren Baker said.
Asked about the first lady's safety concerns, DaRosa apologized to "anyone that is offended" by how he decided to display his advocacy.
But he added, "This affects all of us. … If I need to bring attention to something that needs full attention, sometimes you have to be a little open-minded to how people go about" doing that.
DaRosa said he will honor the court's order.
The Baker residence has seen quite a bit of activity lately as the backdrop to other protests this year, including a rally against coronavirus pandemic-related restrictions issued by the governor, a "die-in" demonstration for justice for George Floyd in June, and a march for housing protections last week as the state's eviction moratorium was set to expire.
Separately, a man allegedly broke into the home earlier this month in the middle of the day and left an envelope inside.
Lane Forman pleaded not guilty and was ordered to undergo a competency evaluation last week.
Get Boston.com's browser alerts:
Enable breaking news notifications straight to your internet browser.