Local
Massachusetts is moving forward to allow a controversial new type of marijuana delivery business
"This is a giant step forward."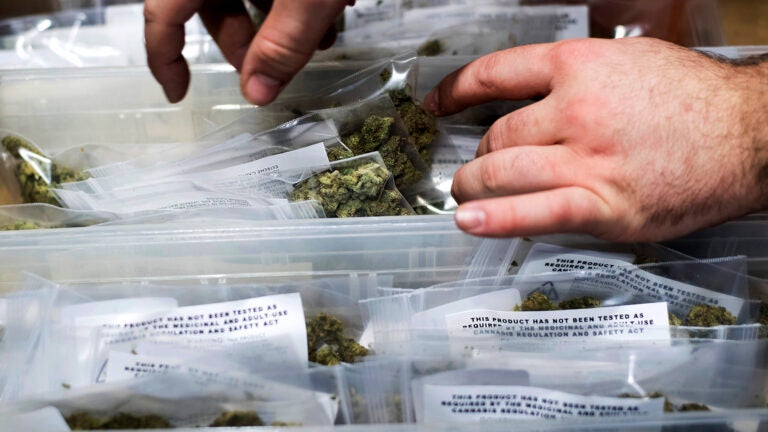 Despite pushback from some lawmakers and local municipalities, Massachusetts marijuana regulators are moving forward with plans to allow a new class of weed delivery business.
During a three-hour meeting Tuesday, the state's Cannabis Control Commission approved some "contentious" changes to its draft regulations, allowing standalone recreational marijuana retailers without storefronts to deliver products to customers' doorsteps.
Massachusetts already allows the delivery of medical marijuana. And allowing any recreational marijuana delivery, which was approved last year, has already proved somewhat controversial. However, advocates argued — and the CCC ultimately agreed — that it would help licensed businesses compete with the many black-market operators (who effectively offer delivery for free) and also further the state's goals of promoting small and minority-owned companies, since a delivery business involves fewer start-up costs than a brick-and-mortar retail store.
This past spring, the CCC began accepting applications for what it now refers to as a "courier" license for adult-use marijuana delivery. But that license type only allowed third-party companies to deliver purchases from dispensaries — basically following the same model as food delivery apps, like GrubHub or DoorDash, but with far more restrictions.
As The Boston Globe reported in August, many prospective businesses argued that the small fee they could charge for transporting customers' purchases from (mostly white, corporate-backed ) dispensaries was not worth the price of adhering to all the regulations, even if some preferred the model's otherwise low upfront costs.
The new delivery license allows an operator to act as a standalone company, buying their inventory from wholesale suppliers and storing it in their own warehouse.
For a minimum of three years, both the courier and delivery licenses will only be available to applicant's in the CCC's equity programs, which aim to help communities disproportionately impacted by marijuana prohibition gain a foothold in the new industry.
Not everyone is cheering the changes, as CCC Chairman Steve Hoffman noted at the beginning of the meeting Tuesday.
"This is a very important issue," Hoffman said. "It's a very contentious issue. It's a very difficult issue."
The new delivery license faced opposition from established dispensaries, which argued they were being cut out (though equity applicants would have the option of applying for their own courier or delivery license). David Torrisi, the president of the Commonwealth Dispensary Association, told the Globe that his group was "very disappointed" with the decision Tuesday.
"I don't think the commission has done enough analysis to determine the impact on the supply chain and the marketplace," Torrisi said.
The Massachusetts Municipal Association, which represents city and town governments, also spoke out against the new "direct-to-consumer" model last week, as did a bipartisan group of 19 state lawmakers.
"The draft regulations create a shadow direct to the consumer marketplace not governed by the licensing requirements and regulations of marijuana retailers," the lawmakers wrote in a letter to the CCC, according to the State House News Service. "These draft regulations also significantly change the landscape for cities and towns after many had already engaged in intensive community-wide conversations about the number and types of marijuana establishments their communities wished to host."
As a compromise, the CCC's new rules restrict delivery service to the licensee's host community, communities that already allow recreational marijuana dispensaries, and municipalities that explicitly give the company permission. Regulators also capped the number of courier or delivery licenses one company can own to a total of two and restricted delivery licensees to operate out of a single warehouse, so a well-funded entity couldn't "dominate the market" with several warehouses positioned around the state, as Hoffman put it.
While the CCC did not place a limit on the number of vehicles a licensee could have, commissioners also voted to prohibit the so-called "ice cream truck" inventory model, meaning that all products being transported must be tied to a specific, individual order "to prevent entities from operating as mobile warehouses or retail stores."
Regulators also rejected a motion by Commissioner Jen Flanagan to delay all adult-use delivery types until 2023. Fellow CCC Commissioner Britte McBride acknowledged that the new model involves some "unknowns," but argued delivery importantly advances two objectives: putting a "dent" in the illicit drug market and uplifting the communities that were hardest hit by marijuana criminalization.
"We still have a lot of work to do on equity, but I would say this is a giant step forward," McBride said. "I hope it's a giant step forward."
The slate of changes were ultimately approved by a 3-1 vote. The CCC will vote to approve the final regulations during its next meeting on Oct. 29.
Get Boston.com's browser alerts:
Enable breaking news notifications straight to your internet browser.