Local
'No one should die like that': Family of man shot to death by police after pursuit calls for independent investigation
Juston Root, 41, was shot 26 times by police in February following a confrontation outside of Brigham and Women's Hospital.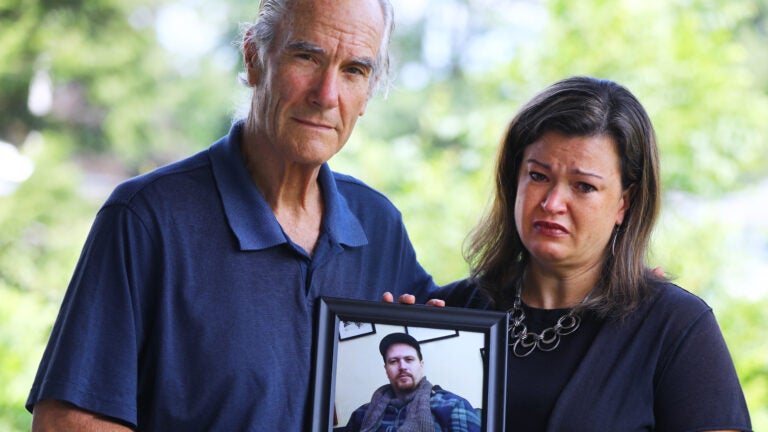 In the months since the police shooting death of 41-year-old Juston Root in February, his sister, Jennifer Root Bannon, has combed video footage and statements, searching for an answer to a simple question: Why?
Root was killed when police opened fire on him outside a shopping plaza in Brookline following a pursuit that began near Brigham and Women's Hospital. Root had reportedly shown a member of hospital security what they thought appeared to be a firearm, though it looked transparent, according to The Boston Globe; it was later found to be a plastic paintball gun. The security guard notified police.
Now, the Root family is calling on Gov. Charlie Baker and state Attorney General Maura Healey to open an independent investigation into the circumstances surrounding his death. Root Bannon told Boston.com in a recent phone interview that after reviewing video footage and statements, she believes details were left out of the report by Norfolk District Attorney Michael Morrissey, who reviewed the police's use of force that day, and said it was justified.
An online petition calling for this reexamination of the case has gathered nearly 700 signatures as of Friday morning. The family also filed a wrongful death lawsuit in August.
Root had suffered with mental illness for most of his adult life and, while he would sometimes go years without going into a crisis, on Feb. 7 he was on the verge of one, and desperately needed help from his therapist, his sister said.
That's why Root Bannon says her brother was outside Brigham and Women's Hospital that day – he was headed to the Massachusetts Mental Health Center next door.
"There'd be no other reason for him to be down there," Root Bannon said.
Root had a long history of mental illness, his family has said. In their lawsuit, they noted that he was diagnosed with bipolar and schizoaffective disorders. Carrying a fake firearm was also a habit he had, according to Globe.
But Root wouldn't see his therapist that day. After police arrived on scene, one shot Root after he was confronted by them and he didn't drop what appeared to be a weapon. A valet for the hospital was also struck in the gunfire.
A car pursuit ensued and authorities caught up with Root in Brookline. Video footage obtained by the Globe shows Root hobble out of his vehicle toward the sidewalk near a shopping plaza. After police shout for him to get to the ground, gunfire rings out. Over 30 shots were fired, and Root was hit 26 times.
In the weeks following his death, D.A. Morrissey called the use of force by the responding officers – five Boston officers and one state police trooper – justified in a report released about a month after the incident.
Root's family, however, has since challenged this. Just after Morrissey's report was released, Root's family said in a statement that they had "many questions" and "significant concerns."
From what Root Bannon knows of, and has researched on, what happened to her brother, she feels officers could have taken a different approach that day.
Moments before police fatally shot Root, a woman called a "female patron" in the report had rushed toward Root in an attempt to help him, but police ordered her away, according to the DA's report.
In an interview with the Globe, in which she remains unidentified, the woman, a former EMT, told the newspaper that she thought Root was having a heart attack. He was holding his chest, he made a gurgling noise, and she thought he was about to die.
Before she took off running, as ordered by police, she spoke to Root.
"I just held his cheek as I was letting go," she told the Globe. "And I said, 'I'm sorry.'"
For Root Bannon, she believes this speaks to the condition Root was in just before he was fatally shot.
One officer was also said to have kicked Root before he was shot, according to Bannon Root, as well as the Globe's review of the circumstances.
"They were so close to him," she said. "If you can kick him, you can handcuff him."
Baker and Healey's offices had not returned requests for comment from Boston.com as of Friday morning.
In examining the events of that day, Morrissey's office considered the U.S. Supreme Court case Graham v. Connor, which rules on police use of force, noting that only criminal responsibility could be assessed, according to David Traub, a spokesman for the office.
"That case specifically says that the investigator cannot apply hindsight, meaning that we could not consider that what Mr. Root had shown, then reached for, was not a real gun," Traub said in a statement to Boston.com. "Officers believed that they were interacting with an armed assailant."
When Root Bannon thinks about her brother, she said she thinks of his kind nature, his boundless creativity, and his laugh that would fill a room. The two youngest of three siblings, they grew up together and were very close.
"My brother, when he was at his best, he was kind, caring, he was an uncle to my boys who miss him dearly," she said. "He had so many friends, so many of his friends helped me clearing out his apartment."
Root's creative streak showed itself in music and spoken word poetry, his sister said.
"His life revolved around creativity," she said. "He was funny. He had a really large laugh, a contagious, loud laugh."
She also thinks about the manner in which he died.
"For his last moments to be like that, no one should die like that," she said. "No one."
Get Boston.com's browser alerts:
Enable breaking news notifications straight to your internet browser.