Local
Swampscott rallies have included KKK robe, man in blackface, Confederate flag
"It's shocking, and it's incredibly disturbing."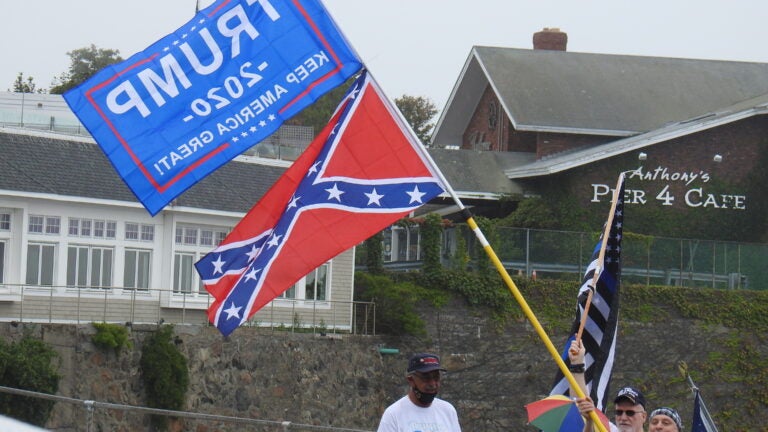 This story has been updated with additional context on some of the racist imagery on display.
Over the past few months, dueling protests with supporters of President Donald Trump across the street from Black Lives Matter supporters have taken place in Swampscott every Thursday morning, and some have included racist symbols and explicit language.
Around two weeks ago, a man wore a white Ku Klux Klan robe and held a "KKK for Dianna" sign; last week, a man in blackface held what appears to be a KFC bucket and a sign that read, "[N-word] for Dianna," using a version of the racist slur.
Both signs were in reference to Dianna Ploss, a New Hampshire conservative talk radio personality fired in July from hosting her show on WSMN 1590 after shouting at landscapers in Nashua to speak English. Ploss has helped to organize multiple pro-Trump rallies throughout Massachusetts and New Hampshire, her professional Facebook page shows, which includes live-recorded videos of the events.
The Daily Item reported Stephen Schafer was the man in both racist outfits — a New Britain, Connecticut, man "whose political-protest antics have landed him in local news headlines for years," the newspaper said.
"Although he insisted he's a staunch supporter of Ploss, demonstrators on both sides of the street say Schafer repeatedly attempted to provoke Ploss and her supporters by jumping in front of them and weaving throughout the crowd while shouting profanity and using sexually explicit language primarily directed towards Ploss," the paper reported.
Swampscott has seen roughly 40 protests and demonstrations over the last few months, Sean Fitzgerald, Swampscott's town administrator, told Boston.com.
They've taken place near King's Beach and Monument Avenue downtown between 10 a.m. and noon, Ploss indicates on her Facebook page.
Considering the nature of the demonstrations, the racist symbols, and the provocative language, Fitzgerald said the town has tried to get both Trump supporters and the BLM supporters across the street to move away from a nearby school — Hadley Elementary School is located just a block or so away.
"Our young citizens and students, they really have been impacted by some of the foul, vile language from the Trump supporters," Fitzgerald said. "I mean it really has been awful."
But the Trump supporters have refused — Ploss's refusal can be seen on one of her videos from Oct. 15.
It's a delicate line the town treads, according to Fitzgerald. Along with the language, many of the Trump supporters can be seen not wearing masks, but the right to protest and free speech is protected under the First Amendment.
"Of course, we want people to enjoy their constitutional rights and feel safe and protected," he said. "But we're in a pandemic."
Fitzgerald called the lack of following mask guidelines "frustrating." Town police and firefighters have been sent downtown in an attempt to educate the public, and hand out masks to the maskless. Some said they weren't aware and were grateful; others said they have a medical condition.
"We've taken the position that we really want folks to enjoy their constitutionally protected rights, but we also want them to behave in a manner that helps mitigate the risk of this deadly virus," Fitzgerald said.
The Trump side has also included the flying of a Confederate flag. Ploss, using a microphone, also chants "Burn, Loot, Murder," in reference to the Black Lives Matter supporters.
"It's shocking, and it's incredibly disturbing," Fitzgerald said of the overall scene. "I think there's a sense out there that people have license to do and say things that are incredibly racist and upsetting, and I do think it's part of the tactic to be very disruptive."
When asked via email for her response to those concerned about the flags and symbols displayed at the rallies, Ploss said she's concerned with Black Lives Matter, which she referred to in her email as "Burn Loot Murder," also calling it a Marxist group. She also said she's worried about communism "flourishing" in the state, and that Black Lives Matter is in solidarity with communism and is attempting to "suppress Free Speech."
"I am very concerned that the American people and the Media have strayed away from the United States Constitution," she wrote.
For those on the Black Lives Matter side, Jim Walsh of the Nahant Democratic Town Committee who has attended and helped organize the protests said their side has attempted to hold signs peacefully and not engage with the Trump supporters. This included telling several young women of color who crossed the street to confront the Trump group when one of them used the N-word a few weeks back not to engage with the Trump side.
"It's deeply concerning to see them waving the Confederate flag around," he said.
When asked to move down the street as to not be so close to the school, Walsh said the BLM group agreed.
"We cooperated," he said. "We really want to avoid problems."
He said one of the difficult aspects of the demonstrations has been that the BLM group is willing to work with the town while the other side appears to refuse to comply.
Thursday at 10 a.m. is the final demonstration prior to next Tuesday's presidential election.
"Who knows what's going to happen," Walsh said. "I hope nothing terrible."
Fitzgerald has been in contact with Walsh, he said, noting that he shares "a lot of the concerns."
"It's difficult, and I do appreciate those that are helping us mitigate the cacophony that is disruptive to the school that is in close proximity here," Fitzgerald said.
Fitzgerald said that the peaceful demonstrations are "a reflection of good citizenship" but noted that it's "unfortunate" that others "want to make a political stance that puts us into a deeper conflict in the middle of a pandemic."
"These are difficult times, and certainly Swampscott has been having a conversation about race and racism, and it's incredibly upsetting to see that type of behavior," he said. "It also illustrates the importance of having broader conversations about race and the values we have as an inclusive and welcoming community. It stands in really stark contrast with a lot of the important values that we have."
Get Boston.com's browser alerts:
Enable breaking news notifications straight to your internet browser.