Local
Dunkin' Brands to be bought by Inspire Brands for 11.3 billion
The deal announced Friday takes Dunkin' Brands, a publicly-traded company, private.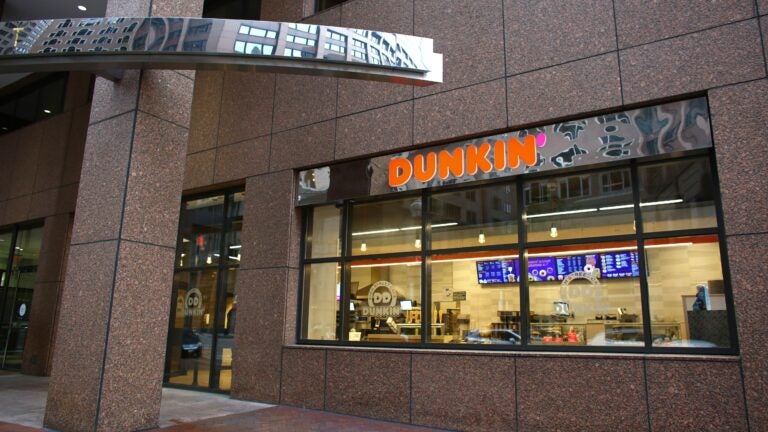 The parent company of the Dunkin' and Baskin-Robbins brands will be bought by a restaurant conglomerate in a deal valued at $11.3 billion, the companies announced Friday night.
That means Canton-based Dunkin' Brands will join Atlanta-based Inspire Brands and its portfolio of more than 11,000 Arby's, Buffalo Wild Wings, Sonic Drive-In, Rusty Taco, and Jimmy John's restaurants globally.
"Dunkin' and Baskin-Robbins are category leaders with more than 70 years of rich heritage, and together they are two of the most iconic restaurant brands in the world," said Paul Brown, chief executive of Inspire Brands, in the press release.
Get Boston.com's browser alerts:
Enable breaking news notifications straight to your internet browser.
With the addition of the Dunkin' and Baskin-Robbins brands, the restaurant giant will control about $26 million in sales across more than 31,000 restaurants, the companies said.
The New York Times first reported that Dunkin' Brands was in talks about a potential merger Sunday, suggesting the deal would be worth just under $9 billion.
On Thursday, Dunkin' reported its earnings for the third quarter, showing its stores have been able to recover despite the ongoing pandemic. Sales at Dunkin' in the US were up about 1 percent from the same period last year, while in the previous quarter, sales were still down nearly 19 percent.
"I am particularly proud of our actions since March of this year," said Dave Hoffmann, chief executive of Dunkin' Brands, in a press release. "During the global pandemic, we have stood tall. We've had each other's backs and are now stronger than ever."
However, the company said Thursday sales are still lagging in stores located in dense areas, like Boston and New York, where office buildings have yet to fully reopen.
According to Second Measure, a firm that analyzes transaction data, Boston's city-level Dunkin' sales were down over 50 percent in September compared to the same month last year, while in the city and surrounding suburbs, sales were down only 6 percent.
There are more than 9,100 Dunkin' locations in the US — about 1,100 in Massachusetts — and more than 2,400 Baskin-Robbins. Dunkin' Brands' business model is fully based on franchises, so the company has about 1,100 corporate employees globally, including roughly 670 based in Massachusetts.
The deal announced Friday takes Dunkin' Brands, a publicly-traded company, private. But it won't be the first time the company will be headed by private equity owners.
In 2005, Dunkin' Brands was acquired for $2.4 billion by a trio of private equity firms — Bain Capital, Carlyle Group, and Thomas H. Lee Partners. The group acquired Dunkin' Brands from wine and spirits company Pernod Ricard and then took it public in 2011.
Inspire Brands is acquiring Dunkin' Brands for a premium of about 20 percent based on its closing stock price last Friday. The acquisition is expected to close by the end of the year.
Bob Luz, the president of the Massachusetts Restaurant Association, said the price of the $11.3 billion deal is "very strong in any time, eye-opening during a pandemic."
Luz said he expects more consolidation to happen across the restaurant industry since that is common during turbulent times. And while technically Dunkin' will be getting an Atlanta-based owner, he doesn't think that will completely alter its local charm.
"It is always troubling to see [Massachusetts] lose a homegrown brand; albeit a publicly-traded brand," he wrote in an e-mail to the Globe Friday night. "The good news is Inspire Brands has a strong record of letting their individual brands operate autonomously."
William Rosenberg started the coffee and donut chain in 1948 when he opened a shop in Quincy under the name"Open Kettle." He changed the name to "Dunkin' Donuts" in 1950, and the first franchise location opened in Worcester five years later.
Last year, Dunkin' Donuts shortened its name to "Dunkin'," a change pushed by Dunkin' Brands CEO Dave Hoffmann, who stepped in during 2018.