2020 Election
Bill Galvin calls Trump's push to stop ballot counting after election night a 'criminal' attempt to disenfranchise military members
"These are people who serve our country and to suggest that somehow they should be deprived of the right to vote ... is simply unacceptable."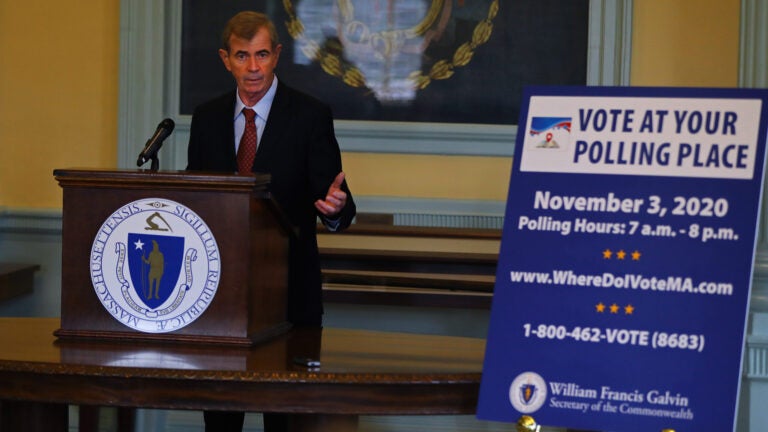 Massachusetts Secretary of State Bill Galvin ripped President Donald Trump's argument that ballots should not be counted after the night of the Nov. 3 election, calling the suggestion an "appalling, disturbing, and really criminal" affront to the traditional democratic process — and especially to members of the military.
With polls favoring Democratic presidential nominee Joe Biden, the Republican president has recently begun arguing that the courts should invalidate mail-in ballots received after Nov. 3, despite laws in some states that allow absentee, overseas, and other forms of mail-in ballots received by local officials several days — and, in some cases, up to several weeks — after the election to be counted as long as they are postmarked by election day.
"The Election should end on November 3rd, not weeks later!" Trump tweeted this past Friday, after telling reporters earlier in the week that he hoped "various courts" would prohibit states from counting ballots after Nov. 3.
His comments come as election data — both in Massachusetts and across the country — show Democrats utilizing expanded mail-in voting, in the wake of the COVID-19 pandemic, at a higher rate than Republicans. However, during a press conference Monday morning, Galvin said that Trump's gambit would also disproportionately disenfranchise members of the military.
"Here in Massachusetts, it has been our practice for many, many years that members of the military, if they voted and had their ballot postmarked by the date of the election, their ballot will be counted, even if it was received up to 10 days later," Galvin said.
"To suggest that somehow this is criminal or this is improper or this is illegal, is disgraceful and criminal," the Boston Democrat added. "These are people who serve our country and to suggest that somehow they should be deprived of the right to vote, because through no fault of their own, their ballot is not received by the close of the polls is simply unacceptable."
Massachusetts is hardly alone. More than two dozen other states count overseas ballots received after election day as long as they arrive by a certain date (depending on the state, the deadline ranges between two and 17 days after the election), from Republican-leaning states like Alabama and Texas to swing states like Pennsylvania to deep-blue states like California.
Galvin said Monday that he's "confident" that election administrators will stand up for the time-honored practice "irrespective" of their political party.
Roughly 2.3 million ballots have already been cast in Massachusetts through the state's expanded early voting and vote-by-mail options this election. Due to the pandemic, the state expanded early in-person voting to two weeks and sent mail-in ballot applications to every registered voter for both the state primary and general election.
"I'm very pleased with it," Galvin said Monday.
Galvin also said that he expects an additional 1.3 million people to vote in person Tuesday, based on voter registration data. So far, 55 percent of the state's Democrats have voted and 37 percent of Republicans have already voted, he noted.
"We've seen a tremendous uptick in interest, even among people who are in areas of the state where we generally don't see that," Galvin said, adding that suburban voters had disproportionately cast early ballots.
"That means significant numbers of urban areas — many of our larger cities, many of our fairly mid-sized cities — have not really participated at the same percentage," he continued. "In fact, in many of those places, less than a quarter of the eligible voters have taken advantage of early voting or vote by mail. That means they'll be coming out tomorrow."
Polling places will be open across the state from 7 a.m. to 8 p.m. on Tuesday.
Galvin added that he's been very pleased with the expanded voting options this year, which were implemented through a one-time emergency law. And he said he expects "some form" of mail-in voting to continue in future elections.
Get Boston.com's browser alerts:
Enable breaking news notifications straight to your internet browser.