2020 Election
Here's what Marty Walsh says to expect on Election Day in Boston
"Many jurisdictions, including ours, will be counting mail-in absentee ballots for several days."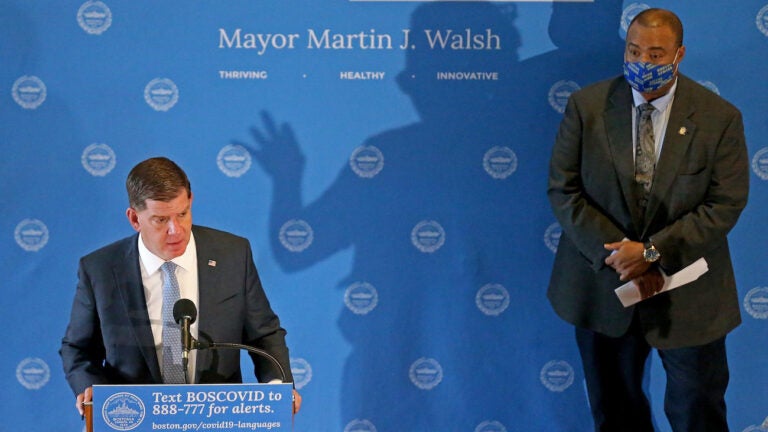 A day ahead of what's expected to be a highly-contentious presidential election, Mayor Marty Walsh affirmed city officials stand poised to combat any effort to intimidate Boston voters, and called for civility and patience once a potentially days-long ballot counting process ensues.
With concerns of potential voter intimidation at polling places swirling nationally, Walsh said the city had no information about any local threats to voters. Boston police, as per usual protocol during any election, will have an officer stationed inside each of Boston's polling places.
"We are committed to making sure that voting is safe and accessible," Walsh said. "It's the cornerstone of our democracy and the right to self-determination that we believe in. So we are doing whatever it takes to protect your rights and our safe access to ballot boxes here in the City of Boston."
In fact, many, or just over 36.5 percent, of the city's 432,000 registered voters had already cast their ballot ahead of Tuesday's election. Walsh anticipated Boston would "at least meet, if not shatter," the turnout total recorded in 2016, when 66.75 percent of voters took part.
For those who plan on casting their ballot in-person, several officials maintained Monday that any effort to intimidate voters at the polls — verbally or physically — would not be tolerated.
"No matter who you are voting for, it's important that you have the right to vote freely and safely and that your vote is counted," Suffolk County District Attorney Rachael Rollins said in a statement. "My Office is here to ensure that this right is protected for everyone."
Rollins's office announced the launch of the Suffolk Voter Hotline — 617 619-HELP (4357) — which will be staffed by trained civilian investigators to answer questions on voting rights and election access. Callers can also speak to an assistant district attorney, if needed, according to Rollins's office.
Boston Police Commissioner William Gross asked voters to report any suspicious activity at polling locations. While police will be present, he vowed that voters will not "see an overwhelming show of officers."
"We don't want anyone to say that they're being intimidated by police presence in this city or across our great commonwealth," Gross said.
Here's what else Mayor Walsh said to expect on Election Day:
On mail-in ballots and in-person voting
Walsh encouraged voters planning on filling out their ballot at home to bring their completed ballot to one of the 17 drop boxes through out the city. (Locations can be found by calling 311 or visiting boston.gov/elections.)
Ballots deposited in drop boxes will be collected through when polls — which open at 7 a.m. — close Tuesday at 8 p.m., according to Walsh. The city will also accept mail-in ballots that local elections officials receive by Friday so long as the ballots are postmarked no later than Tuesday, Nov. 3, he said.
Voters will not be able to submit mail-in ballots in-person at polling places on Tuesday, Walsh said. Those who bring a completed ballot to a polling location will be asked to vote in-person, and poll workers will make sure the completed mail-in ballot is disposed of, the mayor said.
Polling places will be at the same locations as they were during the state's September primary Election Day, when locations for 20 precincts were changed, Walsh said.
English, Spanish, Chinese, and Vietnamese language ballots will be available, and poll workers will be able to assist voters who speak other languages, according to Walsh.
A city-run voter hotline for Election Day questions and concerns is available at 617 635-VOTE (8683).
On coronavirus and polling locations
Every polling location in Boston will follow coronavirus safety guidelines, including incorporating physical distancing protocols, Walsh said.
All election workers will have personal protective equipment, and locations will be cleaned several times throughout the day, according to the mayor.
He urged voters to be patient and respectful.
"Don't try and make a political statement tomorrow by going in to vote without a mask," Walsh said. "I'm asking you to wear a mask, have courtesy for the poll workers, have the courtesy for the people around you, the people in line."
On when to expect election results — and respecting the outcome
Walsh said the tension around this election is "more than I've ever seen or I've ever felt in my lifetime" — and much of it surrounds the results.
"Many jurisdictions, including ours, will be counting mail-in absentee ballots for several days," Walsh said. "But I want to make it clear that mail-in ballots do not fundamentally change the process or cause the problem. They are handled like traditional absentee ballots."
The process of counting and certifying ballots always takes several days to complete, he said.
"Tomorrow night we'll be posting unofficial results on Boston.gov as usual like we always do," Walsh said. "But we won't have all of the mail-in ballots counted for several days. A similar process is taking place nationally. We should not be surprised if we don't hear a clear national result tomorrow night, or Wednesday morning, or for several days. That does not mean that the voting process is broken or compromised in any way. This is normal."
He urged voters to remain calm and "practice self-care" while the nation awaits the outcome. People should think through how they will react, he said.
"Whether we like the results or not, there will be strong emotions on all sides tomorrow. It's OK to have emotions, there's a lot at stake," Walsh said. "But we must take care of ourselves, our families, our communities, and we must respond peacefully."
Responding to a question at Monday's press conference, Walsh said he has heard some business owners have opted to board-up their windows as a precautionary measure to protect against any unruly response to the election in the streets.
City officials have "no reason to believe" there's cause for concern, Walsh said.
Gross said police have extra patrols at the ready, if needed, but declined to discuss specifics of any potential law enforcement response.
"We know that this is going to be one of the most contentious presidential elections in most recent times," Gross said. "With that being said we do have assets in place if things do go to the side of civil unrest or violent protest that we're still going to protect the city."
Gov. Charlie Baker has signed an order to active 1,000 members of the Massachusetts National Guard should cities and towns need to "maintain public safety or protect opportunities to exercise first amendment rights during large scale events," state officials said.
Walsh said he spoke with Baker Sunday and planned to speak with him again later Monday.
"Let's not go to the negative … we're already talking about demonstrations, and protests, and concerns. I'm not going there today," Walsh told reporters. "We have an election tomorrow. We're asking everyone to come out and vote, exercise your right. And then we'll be prepared for whatever happens after the election."
Get Boston.com's browser alerts:
Enable breaking news notifications straight to your internet browser.