Local News
Question 2 supporters concede defeat in effort to bring ranked choice voting to Massachusetts
"We were attempting to do something historic in Massachusetts and fell short."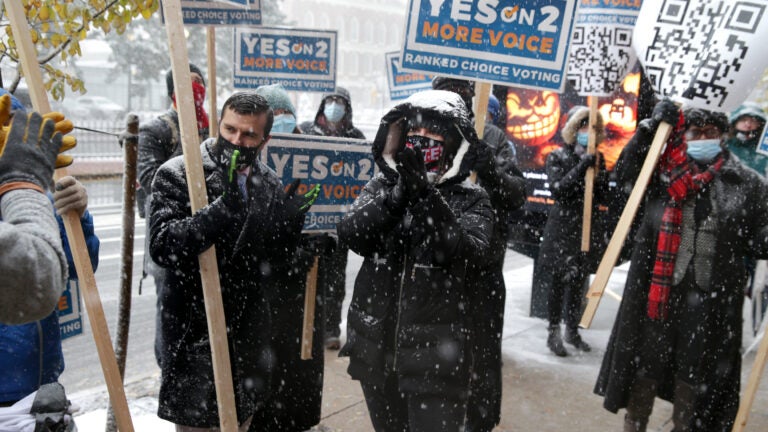 Despite support from the state's top-ranking elected Democrats, a massive fundraising advantage, and an army of volunteers, the ballot effort to implement ranked choice voting in Massachusetts says it fell short Tuesday.
Down by a margin of 55 percent to 45 percent with 80 percent of precincts reporting, the Yes on 2 campaign conceded defeat Wednesday morning at 12:30 a.m.
"We came up short in this election, and we are obviously deeply disappointed," Cara Brown McCormick, the Yes on 2 campaign manager, said in a statement, expressing gratitude to the effort's staff and 7,400-person network of volunteers.
"We were attempting to do something historic in Massachusetts and fell short, but the incredible groundswell of support from volunteers and reformers that assembled behind this campaign is reason enough to stay optimistic about the future of our democracy," McCormick said.
If passed, Question 2 would have implemented ranked choice voting for state and federal elections in Massachusetts beginning in 2022, with the exception of presidential elections.
Under the system, in races with three or more candidates, voters are able to rank candidates by preference instead of voting for just one, and candidates must receive at least 50 percent of the vote to win. If no one gets a majority after the first-choice votes are counted, the candidate with the fewest votes is eliminated and their votes are reallocated to the other candidates based on who their voters ranked as their next choice. That process is repeated until someone reaches the 50 percent threshold.
After a series of crowded Democratic primary races in Massachusetts yielded a winner who received just a fraction of the overall votes cast, ranked choice voting supporters say the system would ensure candidates earn some degree of support from the majority of votes in order to win. They also say the system eliminates the fear of "spoiler" candidates, allowing voters to pick the candidate they truly prefer without worrying it could hurt a more viable but "lesser of two evils" candidate.
Question 2 was endorsed by the state's most well-known Democrats, including Sens. Elizabeth Warren and Edward Markey, former Secretary of State and Massachusetts senator John Kerry, former Gov. Deval Patrick, Attorney General Maura Healey, and Reps. Ayanna Pressley, Joe Kennedy, Katherine Clark, and Seth Moulton. The effort also outspent the No campaign, by a margin of nearly $8 million to less than $2,000, according to their most recent campaign finance filings.
Massachusetts would have become the second state in the country to adopt ranked choice voting, after Maine voters approved it in 2016 and used the system for the first time in 2018. A similar ranked choice voting measure is also on the ballot this year in Alaska.
Opponents, however, argued that the system would make elections more complicated — both for election officials and voters (though research on its impact on turnout has been mixed at best). Following the measure's apparent defeat, the No on 2 campaign tweeted that they were "heartened to know that the people of the Commonwealth heeded our warning against this unfair and complicated system."
"The results of this election show that, even against an overwhelming avalanche of money, a clear and honest message can rule the day," said the group, which was mostly backed by local Republicans.
Public polling had showed a tight race in the weeks leading up to the election — with Massachusetts voters breaking down by party and age group. According to a WCVB poll, Democrats and younger voters overwhelmingly supported Question 2, while Republicans and older voters strongly opposed it.
A week before the election, the state's popular Republican Gov. Charlie Baker also came out against the measure, expressing "worry that question two will add an additional layer of complication for both voters and election officials, while potentially delaying results and increasing the cost of elections."
"We believe the system we have now has served the Commonwealth well," the incumbent Massachusetts governor said in a joint statement with Lt. Gov. Karyn Polito.
Get Boston.com's browser alerts:
Enable breaking news notifications straight to your internet browser.