Local
The MBTA will begin cracking down on people who refuse to wear a mask
Those who refuse to wear a mask won't be denied service. But it will cost them.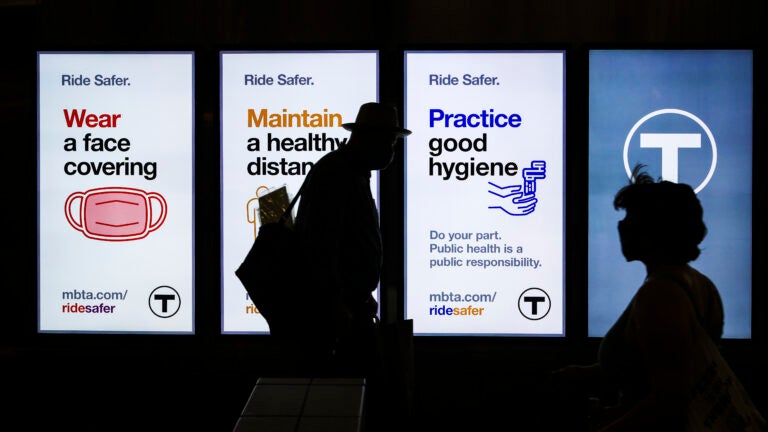 It's been exactly six months since the MBTA began requiring people to wear a face covering when using the public transportation system.
Now, transit police will begin fining those who refuse to comply.
MBTA officials announced Friday morning that they will begin enforcing the requirement that everyone over the age 5 wear a mask or face covering to prevent the spread of COVID-19, consistent with a new statewide order mandating people in Massachusetts wear a face covering at virtually all times while in public, which also took effect Friday.
According to the T, the revised order authorizes MBTA Transit Police to issue $300 fines to those who refuse to wear a face covering onboard MBTA vehicles — such as trains, buses, and ferries —  as well as at stations, stops, and other waiting areas.
Officials say that customers observed not wearing a face covering will first get a reminder of the rules. If they do not "immediately" put on a mask or face covering following that reminder, the observation will be reported to the agency's Operations Control Center, which will "report and coordinate next steps with Transit Police."
That said, individuals who are "unable to wear a mask or cloth face covering" due to a medical or disabling condition do remain exempt under the new order, and won't be required documentation of their condition.
The MBTA also requires its employees to wear a mask in public. Amid reports that some MBTA workers weren't 100 percent adhering to those rules, the agency encouraged customers Friday to report any workers seen not wearing a mask.
Unmasked riders will first be reminded of the requirement, but Transit Police will issue citations up to $300 to those who refuse. Children under 5 and riders with certain medical conditions are exempt.

Full details: https://t.co/oFtZzg2Eis

— MBTA (@MBTA) November 6, 2020
According to the Centers for Disease Control and Prevention, people experiencing symptoms of COVID-19 should avoid using public transportation.
Amid the rise in cases this fall, the CDC also issued new national guidelines "strongly" recommending masks across all modes of transit (airplanes, ships, ferries, trains, subways, buses, taxis, ride-shares) in order to keep people who are pre-symptomatic or asymptomatic from spreading the virus that causes COVID-19 to others.
Gov. Charlie Baker's new order gives permission to businesses and other facilities to deny entry to people who refuse to wear a mask for non-medical reasons.
However, T officials have previously indicated that they would not refuse service to people who did not comply with the order — to the consternation of the agency's employees union. And in fact, that doesn't change under the new order, a T spokesman confirmed Friday; refusal to wear a mask will simply make the ride significantly more expensive than the T's standard fare.
Get Boston.com's browser alerts:
Enable breaking news notifications straight to your internet browser.