Local News
Beware the bird: An 'aggressive' turkey attacked a woman on her way to Dunkin' in Hyde Park Sunday
Liz Poulette said she was able to fend off the bird by hitting it with her purse.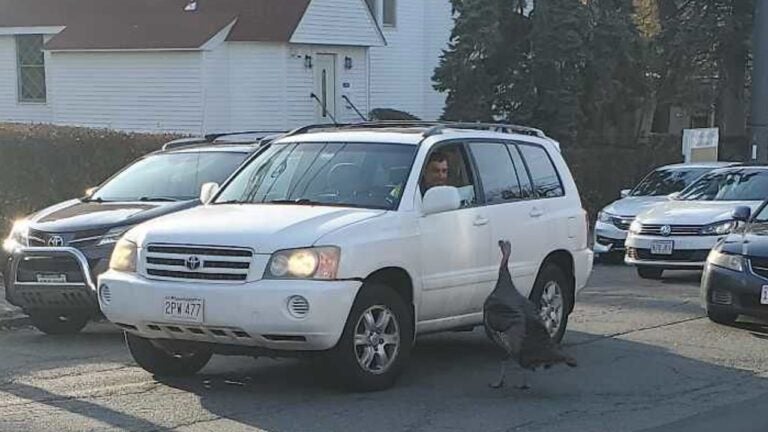 With a walk to Dunkin' in Hyde Park that included an attack by an aggressive turkey, Liz Poulette's Sunday afternoon has all the makings of a New England classic.
And luckily Poulette can laugh about it, having escaped the turkey's wrath with just a bruise and a couple scratches after hitting it with her purse a few times to get away.
It all started in the early afternoon, Poulette said in an interview with Boston.com. She and her husband were walking to Dunkin' when they spotted the large fowl at an upcoming intersection. Poulette said she's seen turkeys in the neighborhood before, but when this one started running toward her and her other half, she knew this encounter might not be friendly.
A neighbor started throwing ice cubes in an attempt to distract the bird, and Poulette and her husband kept walking, trying to just reach the end of the street. 
Then, Poulette put her arm out, and the turkey went on the attack. She was able to successfully fend off the fowl by hitting it with her purse a few times. The scratches, she said, came from the turkey's spurs – pointy parts attached to a male turkey's scaly legs.
Luckily for Poulette, she said she was able to treat her wounds with some antibiotic ointment and soap. She said she hopes city Animal Control can relocate the offending turkey.
"I can't imagine he's having a good time in the neighborhood," she said. "It's not his natural habitat."
Meanwhile, the bird has been reported to city authorities using its 311 system. One of the reports was from Poulette, but an official who went to the area responded that they weren't able to find the turkey after driving around several times.
The other included photos from Saturday, and in them, the turkey can be seen peering into the driver's side window of a Toyota traveling on Arlington Street.
"Wild turkey, very aggressive, causing traffic problems etc.," the report said.
For Poulette, she said she's "excited" for Thanksgiving.
"Thanksgiving is going to be that much sweeter," she said. "I'm going to really enjoy it this year."
Get Boston.com's browser alerts:
Enable breaking news notifications straight to your internet browser.