Local
Jason Momoa calls Marshfield boy (and Aquaman superfan) fighting cancer
Oh, to be called a beautiful boy by Jason Momoa...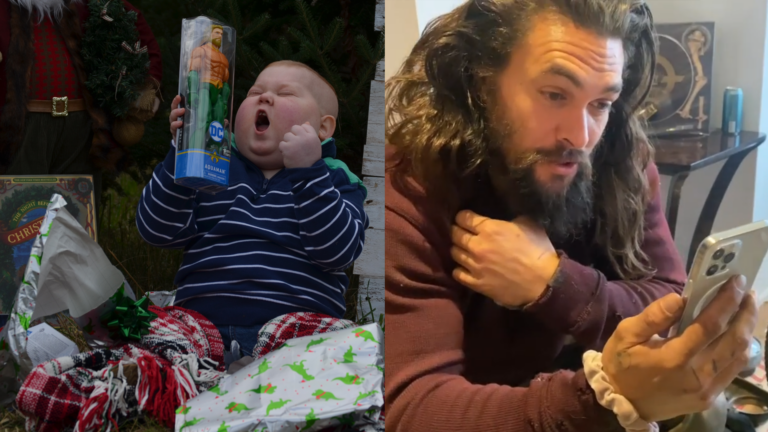 What's the only thing better than getting an action figure of your favorite superhero? Getting to meet the superhero himself.
Seven-year-old Danny Sheehan went viral this week because of his sheer exuberance after unwrapping a gift of a toy Aquaman during a family holiday photoshoot.
"Oh my gosh, my favorite one!" the Marshfield boy exclaimed, followed by a jubilant "AQUAMAAAAAAAAAAN!!!"
(Trust us, that written emphasis hardly does his excitement justice.)
I'm sure no other child has squealed with such glee during a holiday photo session.😂 Thank you to Corey Taylor (Corey Taylor Photography), The Farm at Raven Brook, and, of course, Aquaman for a special afternoon! The past few nights have been hard for D because of new spinal pain but today he shined with excitement and pure joy! Thank you!!

Posted by 4TheLoveofDanny on Sunday, November 15, 2020
The clip was uploaded Sunday on a Facebook page providing updates on Danny. He was diagnosed with Pineoblastoma, a rare form of brain cancer, when he was 4 years old.
Danny's excitement over his gift apparently made waves so strong that they reverberated through the depths of the sea and landed on the radar of Aquaman himself.
Movie star Jason Momoa, who portrays the human-Atlantean hybrid in the DC Extended Universe, was inspired to give Danny a call. He shared footage of their video chat on Instagram Wednesday evening. (There are two clips from the call in the post below, so make sure to click through for the second one.)
"Hi, Aquaman!" Danny said.
"Hi, beautiful boy!" Momoa replied.
After some small talk, Danny told Momoa "something very important" — he loves dolphins — and introduced him to his beloved Aquaman action figure.
"I've been riding on dolphins and it's super fun, we should try that sometime," Momoa responded with a chuckle. "Would you ever swim with sharks with me?"
It's unclear whether Momoa will be able to actually deliver on that offer, but the movie star did encourage his 15 million followers to donate to Danny's GoFundMe fundraiser.
"My mom heart is bursting with joy, thankfulness, and love," wrote Natalie Sheehan in a Facebook post.