Local News
The sad case of the quickly-removed Brighton Christmas tree
"I know times are tough, but that tree should not have even been delivered."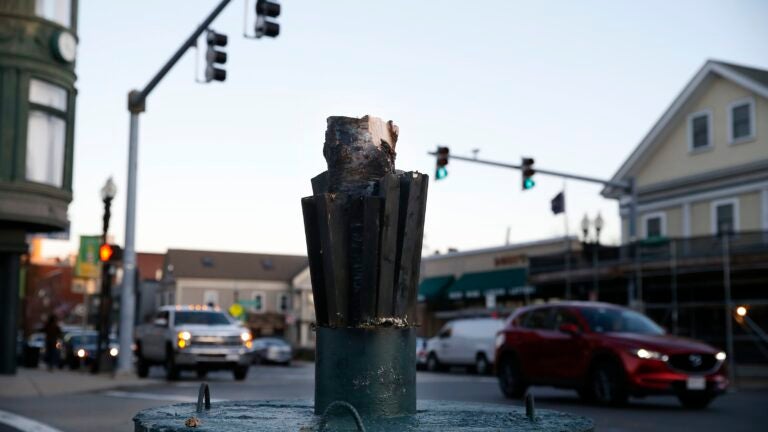 When a disheveled Christmas tree with browning needles and brittle branches was put up for display outside a busy intersection in Brighton Center, some residents focused on its charm, dubbing it the "Charlie Brown tree," while most others met the not-so-festive fixture with sarcasm and scrutiny. 
The City of Boston chopped the bedraggled tree down Wednesday following a string of complaints posted to the BOS:311 website and social media. 
all hail the Brighton Center Christmas Tree pic.twitter.com/QLfIe291hR

— nick benevenia (@nickbenevenia) November 18, 2020
"Brighton's Christmas tree…. are you serious?" one person objected. "We are part of Boston, you know"
Another person chimed in with a snarkier analysis: 
"A visibly sick tree has spread [its] roots in Brighton center. Science has yet to confirm nor deny plant to human spread of covid-19," they wrote. "Please remove immediately and cite the tree for not wearing a mask in public."
A spokesman for Boston's public works department said the tree was one of 41 others that had been delivered from Nova Scotia and put on display in neighborhoods across the city to celebrate the holiday season.  
"To prevent any damage during the transport and installation phases, each tree is packaged in a protective string," a city official noted in a statement. "After having adequate time to settle after installation, it was apparent the Christmas tree in Brighton Center was not satisfactory."
This Christmas tree in Brighton was supposed to bring some "xmas" cheer but instead is creating some Christmas jeers. Listen to my reports on @wbznewsradio. https://t.co/6D5Y6tAkT3 pic.twitter.com/WkXnc9zfRu

— James Rojas (@JamesRojasWBZ) November 17, 2020
In a post to a Facebook page designated to pictures of the Brighton-Allston area, locals traded comments berating the tree, declaring it "deader than dead," and reckoning with the quality of what was meant to be a cheery addition to the neighborhood. 
"If 2020 was a tree," one person remarked. "Maybe we can get a local artist to spray paint it for us." 
Another person referred to the browning tree as a "fire hazard," while someone else noted that even erecting a fake tree would be a better option. 
"I know times are tough, but that tree should not have even been delivered," one person retorted. 
On Twitter, another resident questioned whether the tree had just been a leftover remnant of last Christmas. 
"Um…that is last years tree, did you forget to get a new one? It's all half dead," the person wrote. 
Drove through Brighton center today and saw the Christmas tree they put up. Um…that is last years tree, did you forget to get a new one? It's all half dead 😢 #brightonma

— Wendy A. Holmes (@wendysartroom) November 16, 2020
The city said plans are now underway to replace the tree, which only survived 11 days before its removal, as soon as possible. 
But for now, all that's left behind is a small stump, and the reminder of what's to come.
Get Boston.com's browser alerts:
Enable breaking news notifications straight to your internet browser.