Local
Massachusetts is still looking at the possibility of 'managed lanes' to reduce congestion. Here's where.
"I don't want to give the false impression that this is a slam dunk."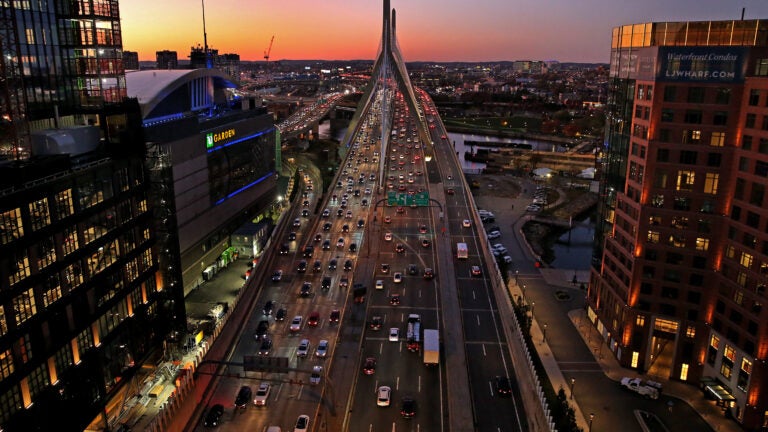 Massachusetts traffic has yet to return to its ignominious pre-pandemic levels.
State officials are still preparing for the day that it does.
During a Massachusetts Department of Transportation meeting Monday, officials identified the stretches that were potentially suitable for "managed lanes," where drivers could pay a toll to use a separate lane that runs parallel to the main roadway in order to relieve traffic congestion.
The concept had been recommended for further study last year by Gov. Charlie Baker's administration, when traffic congestion was a pressing issue for the Boston region and the disruption of COVID-19 was still more than six months away. That work is still far from over, but the early analysis Monday presented specific corridor segments within the I-495 circle where it was technically feasible to put in a priced lane — one way or another.
Perhaps most simply, the analysis found that the two existing high-occupancy vehicle (HOV) or carpool lanes on I-93 — one running southbound from Medford toward Boston and a zipper lane in Boston and Quincy — could be converted into high-occupancy toll (HOT) lanes.
Officials also said it would be feasible to construct an additional managed lane on I-93 between the Braintree Split and the I-95 interchange, as well as on the I-93 section that runs between the I-95 exit in Woburn and the I-495 exit in Andover.
Route 24 between Brockton and Randolph, Massachusetts Route 3 between Pembroke and Weymouth, and the entirety of Route 3 from Burlington to the New Hampshire border were also identified as segments where new additional priced lanes could be added. However, officials cautioned that the study was purely a physical assessment and did not assess the effects — positive or negative — on traffic flow.
"I don't want to give the false impression that this is a slam dunk," Carrie McInerney, a transportation technologies manager for MassDOT, said during the meeting. "New managed lanes construction has a lot of constraints associated with those, whether it be bridge reconstruction or reconstruction at interchanges. This screening study just merely looked at 'could it be possible.'"
The study also found that it would be potentially feasible on most highway corridors within the I-495 circle to add a managed lane by removing a free lane, though Baker has expressed opposition to that idea.
It would also be possible to repurpose the shoulder for bus use on every highway included in the study, with the exception of the I-93 stretch from Braintree to Boston, I-90 from Newton to Boston, and Route 1 from Peabody to Boston. Officials said they even have federal approval for a potential bus-on-shoulder pilot of I-93 southbound north of Boston.
Officials cited evidence from other cities that managed lanes could mitigate traffic, but still plan to conduct an equity analysis and additional research of how traffic patterns continue to develop in a post-COVID-19 world.
While travel has rebounded significantly since its dramatic plunge in the spring following Baker's business shutdown orders in response to the pandemic, statewide daily traffic volume was still down 9 percent to 21 percent last month compared to 2019 levels. McInerney said some parts of I-90 closer to Boston were still down at least 50 percent compared to the previous year, as many people continue to work from home.
Transportation Secretary Stephanie Pollack noted that incentivizing remote work was one of the recommendations proposed by the Baker administration last year to address traffic congestion. At the time, a tax break for companies who let their employees work from home did not get much traction, Pollack noted.
Of course, the pandemic proved to be a more effective incentive. As of August, roughly 20 percent of people with jobs in the United States were estimated to still be working from home — and some companies plan to make the shift permanent.
"The data we had was that on any given day in Greater Boston [before the pandemic], maybe 5 percent of workers were working from home," Pollack said, floating the possibility that traffic simply does not return to its pre-pandemic "tipping point" on some roadways.
"If you think about a future in which that number is simply 10 percent, which, compared to COVID, seems low, but is double what it was before COVID, it could make a difference," she said
At the same time, officials expect — and transit advocates fear — that many public transportation riders may shift to driving due to concerns about COVID-19 or reduced service levels.
Joe Aiello, the chair of the MBTA's Fiscal Management and Control Board, also noted that, based on his private sector experience, the process of creating managed lanes takes up to 15 years. For that reason, Aiello argued that they should continue to pursue the concept in case congestion does return.
"We're all trying to guess the future — and what work from home is going to look like, how quickly the recovery is going to happen … I would not use the uncertainty to not advance these projects," he said.
Get Boston.com's browser alerts:
Enable breaking news notifications straight to your internet browser.