Local
Tobacco-Free Generation: Brookline passes new restriction aiming to phase out tobacco sales to young smokers
The first-in-the-nation policy would prohibit the sale of tobacco to anyone born after Jan. 1, 2000.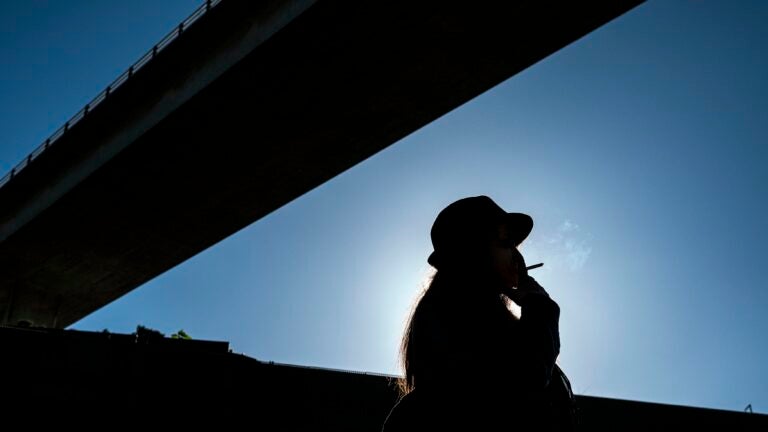 Brookline has long been a trailblazer in implementing tobacco bans, increasing restrictions, and pushing for tobacco-free policies in Massachusetts. 
As one of the first places in the country to eliminate smoking inside restaurants, bars, and lounges, the town was also quick to raise the age limit for purchasing tobacco from 18 to 19, then from 19 to 21, which eventually became the national standard. 
Over the last several years, the Boston suburb has required retailers to have licenses before they can sell tobacco products and the number of those licenses is capped. In 2019, Brookline also passed a bylaw banning the sale of flavored tobacco products, including JUULpods and menthol-flavored cigarettes. 
By June 2020, the whole commonwealth had followed suit.
And on Thursday evening during a special Town Meeting, local officials took another step forward by passing Article 14, which prohibits the sale of tobacco to anyone born after Jan. 1, 2000, in hopes of reducing the potential impacts in the community, helping those that want to quit, and preventing nicotine addiction in new users. 
The first-in-the-nation Tobacco-Free Generation policy passed with 139 in favor. While 11 members sustained, another 78 voted no. Now, the measure is awaiting approval from Maura Healey, the Massachusetts Attorney General.
Kate Silbaugh, a co-petitioner for the new measure, Brookline resident, and Town Meeting member, said she was "over the moon" when the regulation passed. 
"Brookline has long engaged in incremental reform to limit the availability of tobacco products, and this is not anything close to an outright ban, but it sets a vision for one," Silbaugh said. "It sets a vision for an outright ban by incrementally creating one, even if it takes decades to arrive, while having a minimal impact on retailers."
Crafting the concepts for Article 14 took her and primary petitioners — Anthony Ishak, Maura Toomey, and Nancy Daly — about a year to finalize.
#TobaccoFreeGeneration #Brookline just became the first place in the world to pass the Tobacco Free Generation policy 139-78-11. Honored to have great mentor @TommyVitolo and co-petitioner @kbsilbaugh https://t.co/XtZMqIsO6z

— anthony ishak (@therealaishak) November 20, 2020
"Everyone knows how harmful nicotine products are, and if there's a local reform like this that could model a future without tobacco users," she said, "that seems worth our policy time." 
The idea behind the worldwide movement for a tobacco-free generation, Silbaugh explained, is to incrementally phase out the availability of nicotine and tobacco products. While a few other states and cities have considered the policy, she said Brookline became the first jurisdiction ever to adopt it on Thursday. 
Contrary to an age restriction, the new regulation allows people who can already purchase tobacco products to continue to do so while slowly phasing out the development of new markets.
Enacting this policy, Silbaugh said, allows retailers and local businesses to keep the market they have without further developing it. 
"And it has to go so slowly that they have ample time to adapt by substituting different kinds of products to meet different consumer needs," she added.
Before last week's meeting, the Advisory Committee had called for no action on the measure by a 20-6 vote. In an article explanation, members said "petitioners did not do basic research into how many businesses would be affected by the changes nor their economic impact. While the petitioners are well-intentioned, the major change proposed in this article … is a radically different approach from prior efforts that no other community or state is known to have attempted and, according to [the] Town Counsel's office, is likely to be struck down by the Attorney General."
The Select Board also voted for no action on Article 14, stating that although members agree "that tobacco is a health problem that not only affects the consumer but the community, this article does not address the underlying causes of why people smoke in the first place." 
The board also shared concerns from retailers who felt that in a post-COVID-19 pandemic economy, now was not the time to "add an extra burden to small business owners." 
Town Meeting member Marissa Vogt tweeted during the town hall about how disappointed she was to see the board and committee reports "focus on the potential detrimental effect on our local businesses instead of celebrating the public health benefits." 
I was also extremely disappointed to see the Select Board and Advisory Committee's reports on WA 14 focus on the potential detrimental effect on our local businesses instead of celebrating the public health benefits. #BrooklineTownMeeting

— Marissa Vogt (@vogt4brookline) November 20, 2020
She noted that while she was glad the new restrictions passed, she still voted no. 
"I strongly disapprove of the type of age-based differential treatment that will be encoded in our bylaws by WA 14," Vogt explained.  
Offering another opposition, board members also raised the question of whether the town should be banning something for an adult that they can still legally purchase. 
"But that ignores both the addictive qualities of nicotine, and the fact that 70% of nicotine users would like to stop," Silbaugh said. 
According to a report from the Centers for Disease Control and Prevention, about two thirds of adult cigarette smokers want to quit. 
"Whether you want your latte with or without trans-fat milk is more of a consumer choice," Silbaugh said as a comparison. "But if that many nicotine users wish not to be using nicotine, a question mark opens up over the real freedom of that choice."
I worked w @therealaishak to bring a completely novel, 1st in nation warrant article to Brookline town meeting, prohibiting the sale of nicotine/tobacco to anyone born after 1/1/2000. We just succeeded 139-78-11! @BrooklineTAB @TobaccoFreeKids Brookline leads on tobacco control.

— Katharine Silbaugh (@kbsilbaugh) November 20, 2020
Some residents still saw the measures as detrimental to the town's economy. 
"It's a shortsighted article founded in pseudoscience that will significantly negatively impact the small businesses in Brookline that rely on tobacco sales," Ean Towsner said, as reported by the Brookline Tab. "It would also be a significant loss of tax revenue for the town as individuals can easily go across the town border to Boston to purchase [tobacco products]."
Resident Andrei Krivtsov also pointed to how "prohibition did not stop people [from] drinking." 
But the product, Silbaugh stressed, can be deadlier than alcohol and this new policy could increase people's chances of successfully quitting. 
Each year, according to the Campaign for Tobacco-Free Kids, 9,300 adults in the Bay state die from smoking. And whether a smoker or not, Mass. households pay $950 annually as part of the state and federal tax burden from smoking-caused government expenditures, the non-profit reported. 
Silbaugh said passing article 14 then, may also come with a financial benefit. 
"The vast majority, like 99% of people who use nicotine products, began using it before they turned 26. Adults don't really initiate the use of nicotine, so if you can prevent initiation in a generation, you will prevent use," she said, adding that "The policy reform has to respect people who are already users, and this one does."
Petitioners stated in their article explanation that the smoking rate in Brookline is currently 6.8%, or about 3,200 smokers. The rate for high school students is reportedly at 5%, though most people who begin smoking become addicted when in their teens. 
Now that it's passed, the bylaw will ultimately be determined once it lands on Attorney General Healey's desk.
Though Silbaugh said she hopes that having Brookline take the step it did Thursday night allows for neighboring locales like Boston, Somerville, and Cambridge to consider the same reform. 
Eventually, she's hopeful the policy will fully live up to its name. 
Get Boston.com's browser alerts:
Enable breaking news notifications straight to your internet browser.