Local
After two recent emergency shutdowns, Weymouth compressor station plans to begin service in early December
Ed Markey is still pledging to keep up the fight against it.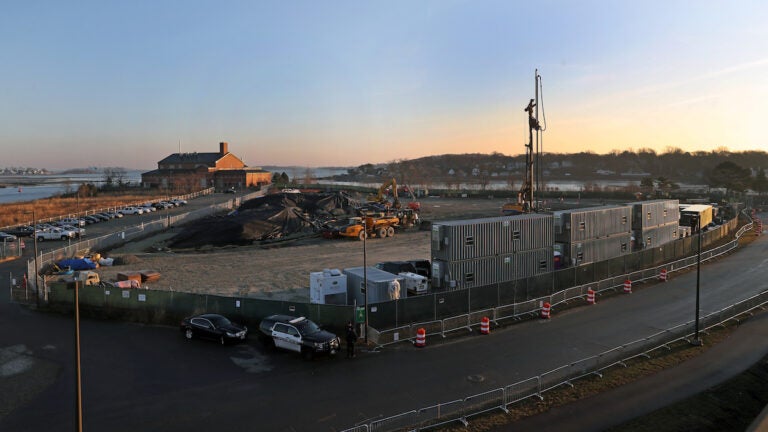 Despite opposition from some local officials, the energy company Enbridge says it is moving forward with plans to begin service at its Weymouth natural gas compressor station next month.
Max Bergeron, a spokesman for Enbridge, said Wednesday evening that the company will begin putting the station in service in early December, after receiving approval from the Pipeline and Hazardous Materials Safety Administration.
"The compressor station will methodically be placed in service in accordance with applicable regulations and with oversight from PHMSA," Bergeron told Boston.com in an email. "To ensure awareness, we will be communicating further with our neighbors, state and municipal officials, and first responders."
The news comes after two emergency shutdowns in September forced Enbridge to delay the start of service at the station, which is part of the Canadian gas distributor's "Atlantic Bridge Project" to increase its capacity to ship gas to New England and the Maritime provinces in Canada. According to Enbridge, the two shutdowns were caused, in one case, by an improper O-ring on a piece of equipment and, in the other case, an electrical issue.
In a letter Wednesday, the PHMSA approved Enbridge's plan to restart operations at the station at up to 80 percent of the operating gas pressure before the second shutdown. However, the letter noted that the federal agency, which is still looking into the previous shutdown, "may again restrict operation of the facility pending completion of any needed corrective actions."
The project has faced vocal opposition from South Shore residents and environmental advocates over safety concerns and opposition to the region's reliance on fossil fuels. Enbridge's plans were first publicly announced Wednesday afternoon by Sen. Ed Markey, who has said the station should be "permanently stopped."
"This project is a threat to public safety, health, and the environment, and I will continue to fight it," Markey tweeted.
I've just been informed that operations at the Weymouth Compressor Station will be allowed to restart following an investigation into two gas leaks. This project is a threat to public safety, health, and the environment, and I will continue to fight it. #NoWeymouthCompressor

— Ed Markey (@SenMarkey) November 25, 2020
The station — and especially the previous two emergency shutdowns — has also elicited concern from Sen. Elizabeth Warren and Rep. Stephen Lynch, who represents Weymouth and much of the South Shore in Congress. Lynch's office did not immediately respond to a request for comment Wednesday evening.
Bergeron said Wednesday that its existing pipeline system through New England has "provided access to reliable, affordable natural gas for homes and businesses in the area for decades" and that the Weymouth station will help homes and businesses "switch from higher-emitting fuels to cleaner-burning natural gas."
"We are committed to being good neighbors and operating the compressor station safely and reliably," Bergeron said.
While natural gas does produce less carbon dioxide and other air pollutants compared to coal, researchers say its rising production has emerged as an increasingly large contributor to greenhouse gas emissions and also threatens to undercut investment in wind, solar, and other cleaner renewable energy.
Get Boston.com's browser alerts:
Enable breaking news notifications straight to your internet browser.