Local
Rachael Rollins says Sean Ellis's case 'is not over' following release of Netflix documentary
"I think it's a brand on our city, and not a good one."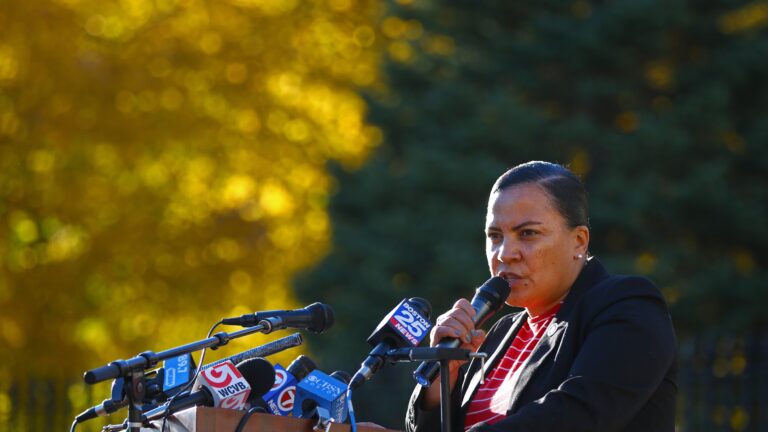 As viewers of the new Netflix docuseries, "Trial 4," take in the story of Sean Ellis and the 1993 Boston murder that sent him to prison for over two decades, Suffolk County District Attorney Rachael Rollins says she is also reviewing the details of the contentious case.
Appearing on WBZ's "Keller At Large" Sunday, Boston's chief prosecutor said she was "deeply disturbed" by the corruption carried out by detectives who investigated the death of one of their own, Det. John Mulligan, who was shot and killed in a Walgreens parking lot in Roslindale.
"We're going to look at whatever it is Sean's lawyer files in this case, but Sean Ellis is not over," Rollins said.
Ellis, a Dorchester native, was 21 years old when he was convicted of first-degree murder and armed robbery in 1995 after two mistrials.
In 2015, a court ruling reversed the convictions, and Ellis was released on bail. Ellis has continuously expressed his innocence.
Three years later — and shortly before Rollins took office — prosecutors dropped those two charges against Ellis, pointing to how the passage of time and uncovered corruption within the Boston Police Department in the 1990s compromised their ability to convict Ellis again. They maintained, however, Ellis was guilty.
Rosemary Scapicchio, Ellis's defense attorney, said earlier this month on GBH she is working to reverse a remaining conviction for Ellis: a related gun charge.
Rollins told The Boston Globe she has some concerns with the outstanding conviction.
"No longer are we going to be legally right and morally wrong," she said. "And I have significant questions about whether we are legally right, with respect to the gun."
On Sunday, Rollins said that beyond simply watching the Netflix series, her office can look at files from Ellis's three trials and the four total Supreme Judicial Court opinions related to the case — two regarding Ellis and others regarding Terry Patterson.
Patterson was also convicted for Mulligan's murder, but his conviction was overturned on appeal and he eventually received a reduced charge of manslaughter in 2006. He was sentenced to serve 22 years in prison but was soon released based on time already served and good behavior.
"I am deeply invested in this case," Rollins said on WBZ. "I think it's a brand on our city, and not a good one."
Rollins also noted that Mulligan's 1993 murder came during a "terrifying time" in Boston.
Years earlier in 1989, Charles Stuart infamously and falsely claimed a Black man shot and killed his pregnant wife in Mission Hill although Stuart — who later took his own life — killed her himself. And two years later in 1995, prosecutor Paul McLaughlin was assassinated by Jeffrey Bly, a leader of the Theodore Street gang, in West Roxbury.
Still, Rollins dismissed the notion the city has completely changed since that time.
She pointed to the ongoing fallout spurred by the corruption convictions of Sonja Farak and Annie Dookhan, for stealing or tampering with evidence at drug labs; the Massachusetts State Police overtime pay scandal; and the nine current or former Boston Police officers accused of committing over $200,00 in overtime fraud.
"Don't dismiss this as corruption is gone — and it's not just limited to the police," Rollins said. "Every profession has people that will take advantage of a system. We just need better oversight and audit functions so we catch it prior to having the FBI and U.S. attorney come in."
Get Boston.com's browser alerts:
Enable breaking news notifications straight to your internet browser.