Local
Live updates: The latest coronavirus news from around New England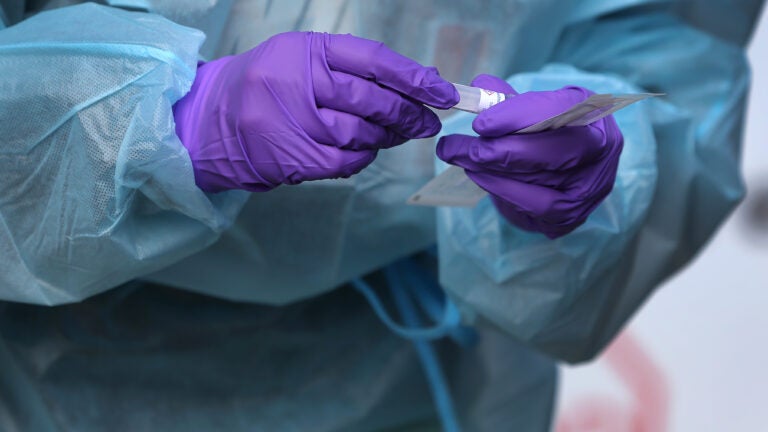 Ambulance service to help deliver at-home COVID-19 tests to residents in 8 communities (Dec. 4)
An ambulance service plans to provide at-home COVID-19 tests to residents of eight communities.
Beauport Ambulance Services worked with the Broad Institute at MIT and Harvard to begin providing the tests on Monday, according to a press release. The eight communities include Gloucester, Rockport, Hamilton, Essex, Manchester-by-the-Sea, Rowley, Ipswich, and Wenham. 
The tests will be available by appointment between 8 a.m. and 6 p.m. seven days a week.
The tests cost $175. Anyone in those communities can request a test, but the company believes the service will be used by people like students coming back from school, those with health concerns, those who need to travel for work, or those without transportation.
The fee can only be paid for by credit or debit card, but those who are showing COVID-19-related symptoms may be able to have the cost of their test covered by insurance, through their primary care doctor, according to Beauport.
"The purpose of this is to allow people to stay home, not expose themselves to sick individuals and give them an additional testing choice," Beauport president and owner John Morris said. "This program will also help to support efforts to reduce long wait times and lines at other testing sites in the area."
State wants special needs students back in the classroom (Dec. 4)
BOSTON (AP) — The top education official in Massachusetts is urging public school districts in the state's three largest cities to bring high-needs students back to the classroom for in-person learning.
Jeffrey Riley, commissioner of elementary and secondary education, ordered the Boston, Worcester and Springfield school districts in letters released Friday to submit within 10 days their plans to bring students with disabilities and special needs back to school.
"For these particularly vulnerable groups of students, it is vital to have a plan for providing in-person instruction as soon as possible," Riley wrote.
Riley did not specify when he would like classrooms to reopen.
Unsatisfactory responses could spark an audit "to assess overall efforts to provide in-person instruction and to ensure your remote learning program is consistent with state and federal laws and regulations," according to the letter.
Boston is providing in-person learning for fewer than 200 students at four schools, representing less than 1% of the more than 51,000 students in the system. Springfield and Worcester do not currently have any in-person instruction, according to the state.
Riley and Gov. Charlie Baker have urged districts to keep students in classrooms even if a community is designated high risk for coronavirus spread. Districts should switch to remote education if there is evidence of in-school spread of the virus, they have said.
Boston has assembled a task force to devise a plan for opening more classrooms to students with significant learning needs but has not released a timeline.
The Worcester School Committee said Thursday it stood by a decision made last month to extend remote education into January so school buildings can be made safer.
Medford officials contact tracing 2 'separate and significant' COVID-19 clusters (Dec. 4)
The Medford Board of Health says it is contact tracing "two separate and significant" COVID-19 clusters.
One stemmed from a "potentially oversized gathering" at Raso's Bar & Grille on Mystic Avenue, and the other is connected to a large Thanksgiving gathering at a private residence, according to an update posted on the city's website.
"For the cluster linked to Raso's, there are several dates where employees and patrons may have been exposed," the update, posted Thursday, says. "If you dined at or ordered takeout from Raso's anytime between Monday, November 23rd and Monday, November 30th, please contact the Medford Board of Health Resource Line as soon as possible by calling 781-475-5644. Leave a message, and a staff member will return your call."
On Wednesday, Medford recorded 54 new positive cases — the city's third-highest case toll for a single day since the start of the pandemic, officials said.
These are the Mass. schools where mobile testing units found COVID-19 clusters (Dec. 3)
Thirteen communities across the Commonwealth have reported COVID-19 clusters and received state testing services as of Dec. 1, according to officials.
Massachusetts' Executive Office of Education told GBH News that the state has deployed rapid mobile testing units to schools in Boston, Worcester, Lawrence, Braintree, Acton/Boxborough, Milton, Malden, Rockland, Southwick, Haverhill, Winchester, Billerica and Marshfield. 
The affected schools, according to the station, could be regular public, charter, private, or parochial, though officials did not disclose any names. 
Since late August, Mass. has offered the testing units to schools that meet certain criteria and request them. 
The rapid response units are sent to districts when there is evidence that COVID-19 transmission may have occurred within a classroom or school within the past 14 days, according to a release from the Massachusetts Department of Elementary and Secondary Education. 
School officials are then required to consult with a state epidemiologist, and if testing is approved, the state's COVID-19 Command Response Center deploys the unit to provide free testing for asymptomatic students, teachers, or staff. 
Mayor Marty Walsh said during a press conference Tuesday afternoon that he expects to share a plan for reopening schools in the next few weeks.
Though he noted it's likely public schools won't fully reopen until after the holiday break. 
"I know there are parents all across the city… saying, 'Reopen schools,'" Walsh said. "I support you. But right now today, we are not prepared for that."
COVID-19 cluster stemming from private club under investigation in East Bridgewater (Dec. 3)
Public health officials in East Bridgewater say they expect the number of positive COVID-19 cases to rise "significantly" this week due to a cluster believed to have come from the Commercial Club, a private club in the town.
Commercial Club has since been closed, and is expected to remain shuttered until Dec. 15, according to a press release.
While members have been notified, officials are urging anyone who visited the social club between Nov. 16 and 27 to get a COVID-19 test. The club is undergoing a deep cleaning.
While East Bridgewater had an average daily case rate of 13 per 100,000 residents, according to state data released last week, officials say they anticipate this number to rise with the cluster partially to blame. Estimates put the number of cases associated with the club at at least 35, according to WCVB.
"We have been contacting identified cases and contacts as quickly as possible, however, we realize there may be many more people yet to be identified and we hope residents do the responsible thing and quarantine in order to stop the spread of the virus for the sake of the entire community," Susan Mulloy of the town's Board of Health said in the release.
Schools go remote as Nantucket notches 46 cases over two days (Dec. 3)
NANTUCKET, Mass. (AP) — An upsurge in new confirmed coronavirus cases on Nantucket has brought a plea from leadership at the island's hospital for residents to protect themselves and prompted community schools to shift to remote learning.
Nantucket Cottage Hospital reported 46 new confirmed cases of the disease on Monday and Tuesday, "by far the largest number of new cases we have reported over a two-day span," hospital President and CEO Gary Shaw said in a statement Wednesday.
A total of 81 new cases have been identified over the past week, and the seven-day positivity rate for the island is now at 7.6%, he said.
"This represents a significant spike in transmission of the virus on Nantucket, and we must take this situation extremely seriously," he said.
Shaw urged residents on the resort island to cooperate with public health officials and contact tracers and to quarantine themselves if they have been exposed.
Nantucket Public Schools Superintendent Elizabeth Hallett said island schools will switch to remote learning for the rest of the week, and all sports events and school-related activities have been cancelled for the week.
Nantucket has about 11,000 year-round residents, according to the town's website.
Officials respond to 15 deaths, dozens infected at N.H. Veterans Home (Dec. 3)
CONCORD, N.H. (AP) — Senate Democrats in New Hampshire are pressing Republican Gov. Chris Sununu to address a COVID-19 outbreak at the New Hampshire Veterans Home that has left 15 residents dead.
Senate Minority Leader Donna Soucy and Sen. Lou D'Allesandro, both of Manchester, sent a letter to the governor Thursday saying they are deeply disturbed by what they view as a lack of action at the 250-bed nursing home in Tilton.
Since the virus was first detected at the home Nov. 10, 53 residents and 64 staff members have tested positive, and 15 veterans have died.
The senators called for the implementation of a plan to prevent further spread of the virus, address staffing shortages and ensure the availability of personal protective equipment.
"The staff at the New Hampshire Veterans Home are risking their health and safety simply to do their jobs and care for our veterans," they wrote. "This is unacceptable."
Sununu's office said he did take immediate action when the facility saw its first case, requesting help from the Department of Veterans Affairs.
"An infection control team along with five additional medical personnel have been dispatched to assist the Veterans Home and review best practices," the office said in a statement. "The Commandant and her team are doing a phenomenal job and should be applauded for their incredible efforts during this very challenging time."
The outbreak at the veterans home is one of a dozen active outbreaks at long-term care facilities around the state.
Malden plans memorial for victims of COVID-19, frontline workers (Dec. 3)
Malden officials are planning to establish a memorial to recognize the lives lost to COVID-19 in the city and the "community members who stepped up to aid them." 
City Councilor Debbie DeMaria told WCVB the hope is to build the memorial, which would be publicly funded, in the next six to eight months.
"This is something that our children, our grandchildren and the future will always remember," she said. "We can't forget not only those that we've lost, but all our first responders: our police, our firefighters, our nurses and our doctors that have kind of kept us all afloat."
The City Council is considering two possible locations for the memorial —  the Forestdale Cemetery and the newly-redeveloped Malden River area — and soliciting community feedback on the proposal.
Harvard to allow more students to live on campus this spring (Dec. 2)
Harvard has announced that all 3,100 of its bedrooms for undergraduate students will be filled this spring, The Harvard Crimson reports.
This is a major increase in the number of students allowed to stay on campus in comparison to this fall. Harvard had only allowed about a quarter of students to stay on campus in person – freshmen and some upperclassmen, the Crimson reported in the past.
For the upcoming semester, seniors and juniors enrolled at the university will be the main focus for housing.  Classes are planned to continue virtually, the student newspaper said.
Since June, the university has seen 274 total positive cases, but just 27 were undergrads.
State again opening COVID-19 recovery sites as cases surge (Dec. 2)
BOSTON (AP) — Massachusetts public health officials are planning to open another facility to help house residents who have tested positive for COVID-19 and need a safe and therapeutic space to recover while isolating from others.
Early in the pandemic, the state established a network of hotels for individuals who lived in housing situations that made it difficult for them to safely isolate while recovering from the disease — including homeless individuals, people who live in group housing and residents who live with someone who is at high risk.
The recovery sites ended up serving more than 900 individuals from Boston to Pittsfield, according to Secretary of Health and Human Services Marylou Sudders.
Even as the need vastly decreased during the summer, the state maintained a single location in Everett.
Now as Massachusetts experiences another surge in COVID-19 cases, the state is again expanding the program. Last week a facility opened in Taunton and next week a third location will open in Pittsfield, Sudders said Tuesday at press conference.
Over the weekend, the existing sites in Everett and Taunton served 122 people, she said.
The state is prepared to launch additional sites as needed, Sudders added.
Holyoke Soldiers Home reports new COVID-19 cases (Dec. 2)
BOSTON (AP) — Three staff members and a veteran resident of the Holyoke Soldiers Home, who has been living in a satellite unit, have all tested positive for COVID-19, state officials said.
The three staff members do not provide direct care or interact closely with residents of the state-run facility for aging and ill veterans, state public health authorities told Masslive.com on Tuesday.
They tested positive following routine testing which was instituted after a coronavirus outbreak in the spring took the lives of 76 veterans at the facility. Two former top administrators at the facility have pleaded not guilty to criminal neglect charges.
The resident who tested positive was moved to Holyoke Medical Center in a special unit designed to protect residents who were not believed to be infected in the outbreak. The veteran was exhibiting symptoms of the disease and has been isolated and is being treated, officials said.
All in-person visitation has been suspended since Nov. 20.