Local
Real-life 'Toy Story' plays out in N.H. as Home Depot workers help lost Woody toy get back to owner
The employees launched a social media campaign to find the owner of the lost sheriff.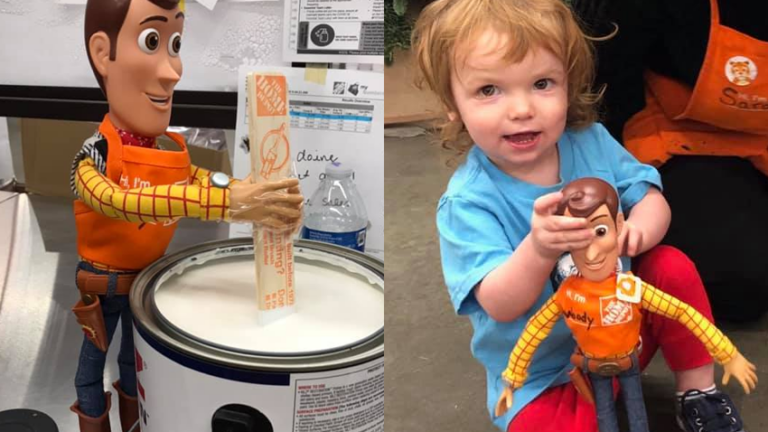 A real-life "Toy Story" — you know, the critically acclaimed Pixar series where anthropomorphic toys have to go through a series of adventures to reunite with their owners — just played out at a Home Depot in New Hampshire.
Workers at the Plaistow Home Depot found the owner of a lost Sheriff Woody doll Tuesday after the toy was found in the parking lot last week. Their tactic: Stage amusing photos with the cowboy throughout the store, share them on social media, and hope that they spread far enough to catch the attention of a parent.
"It's a lot like a Pixar movie… just around the holidays," employee Connor Ferguson told WBZ this weekend. "Got to get Woody home for Christmas."
The first batch of "Woody's Home Depot Adventures" posted on Facebook Friday show the sheriff mixing paint, cutting lumber, working the service desk, and sanitizing work stations, complete with a tiny orange apron.
"He is a jack of all trades at this point," Ferguson said.
The cowboy cut down a miniature Christmas tree, rode a toy horse, and played hide and seek throughout the store in a follow-up post Sunday.
Eventually, the mother of Woody's owner saw the photos on Facebook and knew it belonged to her toddler Desmond, WBZ reported Tuesday. His father Jason told WBZ that they were sure it was the right doll because of his missing hat — and because they had been to that Home Depot recently.
For his part, Desmond made sure to reunite the cowboy with his one-time rival and eventual comrade Buzz Lightyear.
"His face just lit up, it was the cutest thing," employee Sarah Huberdeau — who posted the images online — told WBZ. "It made my whole day."
Get Boston.com's browser alerts:
Enable breaking news notifications straight to your internet browser.