Local News
Driver gets glass lodged in eye when snow and ice from truck crashes through his windshield
"As we enter the winter and snow season, PLEASE CLEAN YOUR VEHICLES OF ICE AND SNOW!"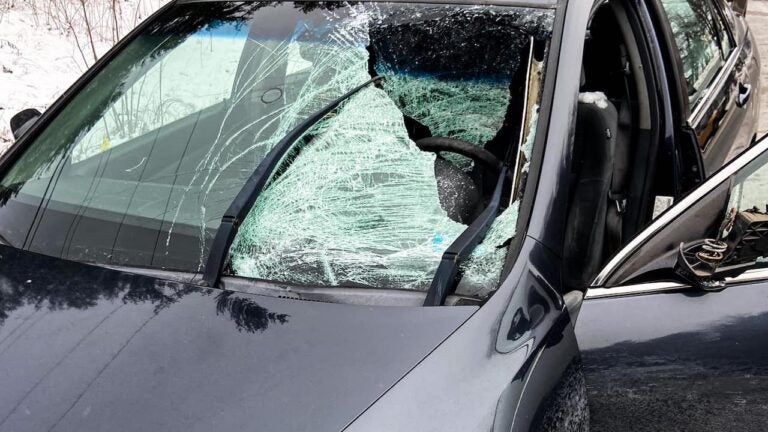 A 22-year-old New Hampshire man suffered serious, nonlife-threatening injuries Wednesday afternoon when snow and ice reportedly flew off a box truck and went through his car's windshield.
Now, the driver of the truck could face a violation and/or a misdemeanor charge for not clearing his vehicle properly, police said in a press release.
Londonderry emergency personnel responded to Route 102 near Young Road around 1:35 p.m. for a report of a traffic crash with an injury, according the release. On scene, they found that "a large chunk" of snow and ice had reportedly fallen off a box truck traveling westbound and gone through the windshield of an eastbound Honda Accord.
The frozen chunk reportedly struck the 22-year-old driver, of Londonderry. The truck driver, meanwhile, continued toward Hudson before a witness caught up with him and told him what had happened. He then returned to the scene and waited for authorities to arrive, the release said.
The 22-year-old was brought to a nearby hospital, and police were later told he had cuts to his face as well as "glass lodged in his eye." He was set to undergo "additional surgeries" to remove the glass and repair his eye, the release said.
Once the investigation is complete, the truck driver could face a violation of negligent driving and/or a Class A misdemeanor charge for vehicular assault, according to authorities.
"As we enter the winter and snow season, PLEASE CLEAN YOUR VEHICLES OF ICE AND SNOW!" police said.
New Hampshire State Police recently responded to a similar incident on I-95 when ice flew off one vehicle and crashed through the windshield of another.
Get Boston.com's browser alerts:
Enable breaking news notifications straight to your internet browser.