Local News
How car crashes in the Boston area changed during the pandemic — for better and worse
"The actual bad news is where those collisions ... were occurring."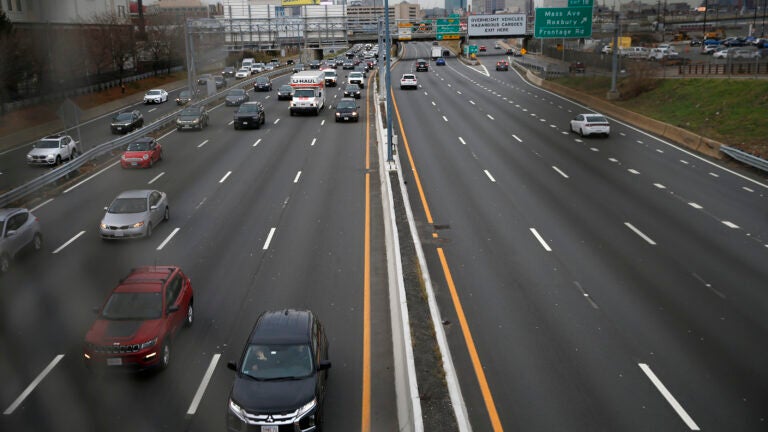 When traffic plummeted this past spring due to the COVID-19 pandemic, the Boston area — not unlike other metropolises  across the country — saw car crashes decrease even more than travel volumes.
But as traffic has rebounded over the course of the summer, a new report shows that Boston was one of the few areas where car accidents stayed relatively low — at least on highways.
"Whenever you talk about collisions and stuff like that, it's almost always bad news. Anything more than zero is bad, but that's relatively good news for Boston," Bob Pishue, a transportation analyst for the mobility data company INRIX, told Boston.com an in interview.
According to an INRIX study released last week, 18 of the country's 25 biggest metro areas saw collisions per mile decrease from April to July compared to the same period in 2019. For example, the Boston area saw vehicle miles go down 35 percent and collisions decrease 43 percent.
The study also found that Boston was also one of just three metro areas where the collisions remained relatively low as traffic ticked back up; from August to October, collisions in the Boston area were down 19 percent, while vehicle miles traveled were down 16 percent compared to 2019 levels.
"The actual bad news is where those collisions, while reduced overall, were occurring," Pishue said.
And also, perhaps, how they were occurring.
According to the study, Boston saw the widest disparity in the location of collisions. Over the seven-month period studied, collisions on interstates dropped 38 percent. But they dropped just 8 percent on arterial streets.
Boston also saw the largest increase in vehicle speeds since August, tied with San Francisco — up 45 percent compared to 2019.
According to Pishue, the combination adds up to a concerning distinction. Compared to highways, arterial roads are where more non-motorized travel occurs, raising the risk of more severe accidents.
"Bikes, pedestrians crossing quiet roadways, and things like that," he said. "And speed — which we noticed in Boston is still up significantly — has a much larger effect on the severity of the collision."
The report comes amid federal data showing that traffic fatalities between April and June dipped by just 3.3 percent, despite the large drop in vehicle miles traveled. In fact, the number of fatalities adjusted for travel volumes increased by 31 percent during that period, according to INRIX. And the National Safety Council estimated that motor vehicle fatalities were up by 4 percent from January through August.
The national statistics "paint an unpleasant picture of what is happening on U.S. roadways" wrote the authors of the INRIX report. While the pandemic saw many cities, including Boston, implement new "shared streets" initiatives, the report said the spike in fatality rates "adds to a volatile time in transportation," among other sectors of society.
"It is understandable that with increases in speeds (and therefore, reduced congestion) in urban areas collisions may decrease per mile traveled, but with an increase in speeds, fatalities may increase per mile traveled," the report said.
The Boston area has only three of the 250 most collision heavy roads, according to three years of data analyzed by INRIX. And the region's road with the highest risk rating, I-93, scores just 2.77 on INRIX's 1-5 grade scale.
"There's a road in Washington, D.C., that's a five," Pishue said.
However, he says the nature of the accidents in Boston could be something policymakers should address, even if the raw decrease in collisions this year is welcome news.
"Where those collisions are down is a little bit concerning," Pishue said.
Get Boston.com's browser alerts:
Enable breaking news notifications straight to your internet browser.