Local
The MBTA is changing its plan to impose service cuts next year. Here's how.
Officials are reversing course on some of the previously proposed cuts, while the ones that remain would be implemented earlier than planned.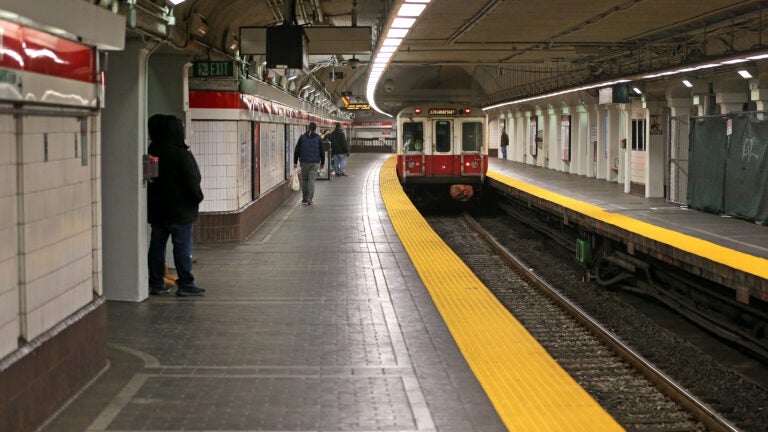 Following a public backlash, the MBTA is rolling back some of its proposed service cuts in response to the pandemic-induced budget crisis — at least for now.
According to the new plan presented Monday, buses and subways will continue to run past midnight until 1 a.m., partial ferry and weekend commuter rail service will be maintained, and trolleys on the Green Line's E branch will keep going all the way to Heath Street. Fewer bus routes would be suspended and Blue Line service wouldn't be reduced as much as other rapid transit lines.
That doesn't mean that MBTA officials are entirely walking back the cuts, which were initially proposed last month to address a projected budget gap in the next fiscal year estimated to be several hundred million dollars due to the drop in ridership and fare revenue due to the pandemic.
MBTA General Manager Steve Poftak acknowledged Monday that there will "inevitably" be riders who still lose service under the new plan. There's also the possibility that officials could impose steeper cuts next year, as they wait to see how the rollout of COVID-19 vaccines affects ridership or whether federal lawmakers pass additional relief legislation.
During a conference call Monday with reporters, Poftak said the new plan focuses on reducing service frequencies, rather than eliminating service or decreasing operating hours, after the initial plan was met with concerns that the temporary changes would lead to a widespread loss of access and a lasting contraction of the MBTA system.
"In each case, we are restoring some level of service across each mode," Poftak said Monday, after the broadly unpopular cuts came under intense scrutiny from local riders and leaders.
"One of the themes that we heard in the feedback … was a desire for us to preserve span and access over frequency, with the idea that frequency, in many cases, is easier to restore," he said.
The scaled-back plan will also be implemented sooner while ridership is still low, after concerns that the previous plan would impose cuts in the midst of a post-vaccine rebound in ridership (state officials hope the vaccine will be widely available by April) According to the MBTA,  most service reductions on the commuter rail and ferry would begin in January, with cuts of bus and rapid transit beginning in March.
"This is about three months earlier than we originally proposed," Kat Benesh, the chief of operations strategy, policy, and oversight for the MBTA, said Monday.
The new plan proposes to maintain bus service after midnight, as well as reduced service on five of the 25 routes that the initial plan proposed to suspend. Overall, officials say the bus system would run between 85 and 90 percent of its usual levels.
The new plan would also maintain late-night service on the system's Green, Red, Orange, and Blue rapid transit lines between midnight and 1 a.m., which last month's plan proposed to cut.
The plan would also only reduce train frequencies on the Blue Line — which even amid the pandemic is sometimes at capacity during the morning commute, according to Benesh — by 5 percent. The other three lines would still see a 20 percent cut, which Poftak downplayed as the difference between four-and-a-half and five-and-a-half-minute average wait times on the Red Line.
For now, T officials are not moving forward with the previous plan to cut short the Green Line's E Branch by six stops at Brigham Circle.
"We are now proposing to continue to operate the E line to Heath Street and serve all stops," Benesh said. "This would mean that there would be no change to our subway footprint."
Officials said Monday that they also plan to retain some ferry service, which after the initial plan to suspend all service received vocal backlash from South Shore residents. The new proposal would still suspend the Charlestown ferry, as well as the ferry route that travels directly between Boston and Hingham. But it would retain limited weekday service on the route serving Boston, Hingham, and Hull — potentially focusing on peak commuter hours.
On the commuter rail, the MBTA is still planning to suspend weekday service after 9 p.m. and weekend service on all but five lines. According to officials, partial weekend service will continue on the Worcester, Providence, Newbury/Rockport, Middleboro, and Fairmount lines, which represent two-thirds of all weekend ridership.
The MBTA still plans to reduce commuter rail frequencies during both peak and off-peak hours; the new proposal amounts to a 30 percent reduction in service across the network, which has also seen the most dramatic drop in ridership due to the pandemic. The plan also closes nearly a half dozen commuter rail stops, though one change is that the Cedar Park stop in Melrose would remain open due to a lack of alternative options.
Officials repeatedly stressed Monday that the proposed systemwide cuts are not as drastic as the actions currently being considered by other major transit agencies. Poftak pointed to the Washington, D.C. area, where officials are proposing to entirely eliminate weekend service and roll back to 30-minute weekday headways on their subway system.
"Some transit authorities around the country are proposing what have been referred to as doomsday cuts — cuts that you would never make if you actually were trying to, if you could afford to run the service that your riders need," Transportation Secretary Stephanie Pollack said during the conference call Monday. "I do not see what the T is proposing as anywhere close to a doomsday scenario. This is a service adjustment, which is providing more than adequate service for the number of riders we have — and expect to have — for the remainder of the current fiscal year."
Poftak noted Monday that the rebound in ridership has stalled and even slightly declined this fall, amid the pandemic's resurgence. And he told reporters that the MBTA believes ridership will recover only "incrementally" as businesses and riders make individual decisions about returning to transit.
Pollack referred to the new proposal as the MBTA's "redefined base service" for the current fiscal year, which runs through June, leaving open the possibility of additional changes to be made during the 2022 fiscal year budgeting process in February.
According to Poftak, it's too soon to say whether or not additional cuts will be necessary.
"We want to see what we learned over the next few months," he said. "There's a great deal of uncertainty around ridership trends, the persistence and timing of how work from home will persist."
The new plans come after numerous protests from local transit advocates and elected officials. In an earlier press conference Monday, Reps. Ayanna Pressley and Stephen Lynch argued that the MBTA shouldn't finalize any cuts as the federal delegation fights for additional emergency aid. While the MBTA received $800 million from the CARES Act last spring to cover lost fare revenue this year, officials are still bracing for a budget hole of up to $600 million in the 2022 fiscal year.
Pressley blamed Republicans in Washington, D.C. for blocking additional large relief packages, but pledged to keep fighting for increased transit investments, with President-elect Joe Biden set to take office next month.
"Hopefully, we're signaling to the MBTA that the money will be there," Lynch said
But as Poftak noted Monday, his agency has watched lawmakers at the federal level come close to a deal before, only to see it fall apart.
"We've gone through kind of the ebb and flow of potential federal funding several times," Poftak said. "Right now, I sort of feel somewhat like Charlie Brown winding up to kick the football on that one. And I think there's still significant ambiguity on that. And if it resolves by February, I think we'll be in a much better position to make decisions."
Get Boston.com's browser alerts:
Enable breaking news notifications straight to your internet browser.