Local
'She's a miracle': Rower severely injured in Holy Cross crash completes 1-mile run
"I've come so far from not being able to walk. It was a big deal to be able to run."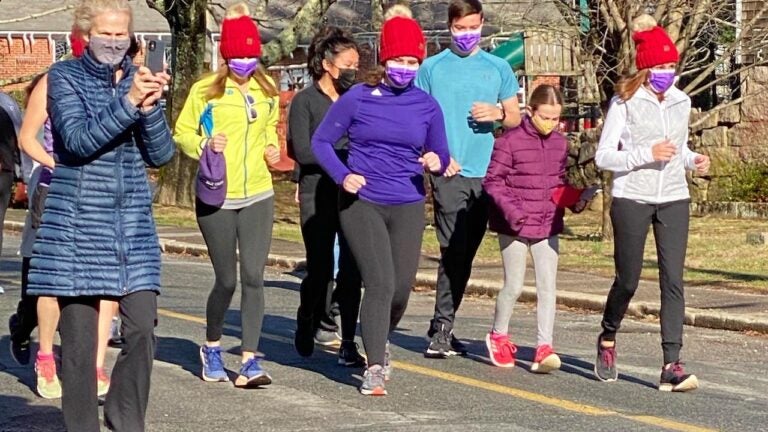 Last January, a crash involving members of the Holy Cross women's rowing team left Hannah Strom of Marion with severe injuries, including a traumatic brain injury and hearing loss.
Now, less than a year later, Strom is not only back on her feet and preparing to head back to school, she also completed a one-mile run surrounded by those who helped her get to where she is today.
Strom completed her run over the weekend; a video from WCVB shows her being cheered on by members of the community. Some of her physical therapists, as well as coaches, ran alongside her.
"It felt really good," Hannah told Boston.com in a phone interview Wednesday. "I've come so far from not being able to walk. It was a big deal to be able to run."
The crash happened on Jan. 15 down in Vero Beach, Florida. The team was completing winter training there. The van was transporting 11 student athletes when it collided with a pickup truck. The crash killed rower Grace Rett and left multiple other members of the team with varying injuries.
"She's a miracle," Gail Strom, Hannah's mom, told Boston.com.
She detailed how her daughter spent several weeks in an intensive care unit and then was sent to Spaulding Rehabilitation Hospital for four months. There, Hannah began to walk again, starting with using a standing machine, progressing to a harness, and then on to taking her first steps since the crash.
On the day of her run, Hannah and her team wore red hats and purple masks, a tribute to the red and purple hearts that were up around Marion in support of Hannah after she was injured – red for Tabor Academy, where she attended high school, and purple for Holy Cross. At the finish line, Hannah's dad, Tom Strom, waited with Ruthie, her new puppy she'd been wanting since last Christmas, her mom said.
Now that Hannah has completed her run, she has her mind set on heading back to Holy Cross for the spring semester and hopes to row with her team again in the spring, she said.
"I'd like to be back on the rowing team if I could," Hannah said.
Gail said her daughter will be living in an apartment with three other girls who were in the van involved in the crash.
"They've all been through this ordeal with her," Gail said.
Hannah will also continue her rehabilitation while she's at school, according to her mom.
"We have a lot of people who are helping her," Gail said. "They're like her angels."
Get Boston.com's browser alerts:
Enable breaking news notifications straight to your internet browser.