Local
A traveling Boston family is stranded on a boat in France they can't sail during 2nd COVID-19 lockdown
"You try your best to go ahead and just make the best of things, just so that you know that you have a good story to tell afterwards."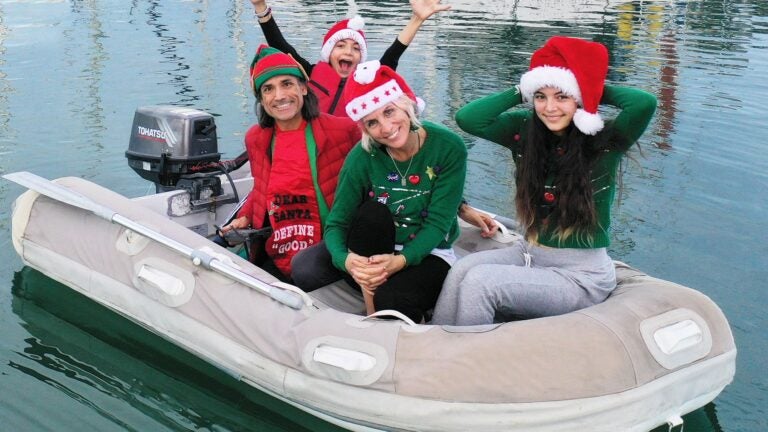 It was the end of August and it would be their first night sleeping on the sailboat, tied to a dock in France. The weather was still warm and the family of four — Will, Jessica, Avalon, and Largo Sueiro — sat outside wearing tank tops.  
Teenagers Avalon and Largo popped a bottle of champomy, a sparkling apple juice often reserved for kids on festive occasions in France, and the adults uncapped a bottle of Prosecco for themselves. 
The family had been traveling the world together since 2014 and at the end of every journey along the way, they've always taken a moment to commemorate the beginning of whatever's coming next. 
"So we had this moment, we did some cheers, we said 'look guys, another dream accomplished.' Now we're not off the dock, we haven't even spent a night here yet," Jessica Sueiro said, "But it's baby steps. And you dream about these things, and then you start to educate yourself, and you dream some more … then finally it all comes together."
And it did come together. 
Yet that night while celebrating with bubbly drinks onboard their vessel for the first time since buying it, everyone was still unsuspecting that they would be stranded on that dock for months to come, unable to walk further than one kilometer from portside as the country shuttered for a second coronavirus lockdown.
Since leaving their Milton home six years ago, Jessica and Will Sueiro, who run the YouTube channel WorldTowning, have visited 70 countries with their kids as part of a quest to provide them with a global education while building a deeper bond as a family. Along the way they've found themselves hiking 580 miles along the Camino de Santiago Trail in Spain, RVing for two and a half years through every country in Europe, spending a moment of pause during the first COVID-19 lockdown in Japan surrounded by lush cherry blossoms, and most recently, investing $160,000 on a sailboat in France.
Even years later, Jessica Sueiro said she and Will still share glances with each other in shock of their adventures so far.
Born and raised in Maine, Sueiro is a native New Englander. She moved to Central New York at age 17 to attend university and by the time she was pregnant with Largo, she and Will mulled over moving to a Boston suburb because she remembered how wonderful an area it was to experience the change of seasons. 
After falling in love with Milton, they settled in and were just about ready to call it their forever home. 
"In our mind this was like 'Alright, this is where the kids are going to call home and we're just going to go ahead and have a warm fireplace always glowing, and we're going to have the ability to say, 'remember when the kids were this young?' And now they're coming home, bringing their boyfriends and girlfriends in," Will Sueiro said. "That was our mindset at the time." 
Five years later they downgraded from their house to an apartment in Cambridge before deciding to leave it all and travel the world, Jessica Sueiro said.  
"We're kind of a funny story because a lot of travelers we meet, they just hated their life in their home country. A lot of Americans, they didn't like their life or they didn't like certain aspects of it and they just wanted something different," she said. "We did not leave because we were miserable, we left because travel and living out in the world and educating our kids in the world, and making memories over buying stuff and connecting deeper as a family was calling us more than the life we had in Boston." 
Since Avalon and Largo were still young, their sense of normal was still in flux, Sueiro added. Now their typical day has transformed into a lifestyle of travel. 
But after RVing through Europe and settling in Japan, the pandemic unfurled. 
"So we had a family discussion, we said what are we going to do? It looks like we are going to have to slow down or pause travel, which was really difficult for everyone in the family to even kind of imagine," she said. 
Avalon suggested that if they weren't heading back to the U.S., then they would need a project to keep everyone busy. 
"We didn't want to be kind of sitting in like a two bedroom or one bedroom apartment in France climbing the walls," Jessica Sueiro said. At the same time, they felt a fire under them to make their next choices quickly because while they expected a second wave, and lockdown close behind it, they didn't know it could come as soon as the end of October. 
One of the most important things, she added, was to make sure they were set up in the best position to support everyone's mental health. The sailboat, they figured, would be the perfect opportunity to continue growing and learning without feeling stuck in place, and it happened to be just within their budget.  
"Our endgame was always a boat," she noted, adding how it felt like their ticket to freedom.
"It sounds kind of crazy but the planets really did align," Sueiro said. "When you are looking at buying boats, typically you figure out what you want, and then you have to fly to it and look at it because it's not always in your backyard."
But this one happened to be within their budget, within reasonable distance away, and had been well-maintained, Will Sueiro said. 
"The crazy part is things were actually looking really really really sunny," he added. "Not only were we in Southern France where it was amazing and now we had this boat, there was no lockdown and everyone was sort of enjoying life." 
The only thing left to do was learn to sail. But just 48 hours before the family's sailing instructor was scheduled to meet with them for training and certification, France re-entered lockdown. 
"Our desire to at least learn to sail and practice through another lockdown was brought to a complete halt," Jessica Sueiro said. "And that's kind of where we are today."
Even still, she said they don't regret their choice.
"We see a lot of people learning new skills and trying to keep moving forward during these really awful times. And I think that's the time where we all have to come together, not only to be safe and protect others, but also to keep our mental state and our learning moving forward and not let this defeat us," she said. "Even though we're sitting here on the boat looking out at the water going 'when are we going to get to sail? When are we going to go out there?'"
And as owners of a travel-based business, Jessica and Will Sueiro said they felt defeated, heartbroken, and "like we were treading water" after needing to cancel all the trips they would normally lead throughout 2020.
"You try your best to go ahead and just make the best of things, just so that you know that you have a good story to tell afterwards," he said. 
The pair traded comments seamlessly as they weighed the hardships their adventures have come with during the last year. 
"Our story is no different than anyone else that's lived stationary life or travels: everyone is missing people," Jessica Sueiro said, adding that the hardest part about being indefinitely tied to a dock in France is "not necessarily 'Oh boohoo we can't sail,' because we will get to sail when the pandemic is over, it's just not being able to connect with people."
That in-person bond is something the pandemic has proved irreplaceable. 
"Sitting down and meeting with people in-person and listening to someone's story in Morocco about how their mom created this restaurant or listening to another traveler's story about how they hiked this mountain with their kids is really profound, and we don't get that connection now," she said. 
Will Sueiro balanced the perspective, offering a silver lining: "so much worse could have happened given our inability to be patient sometimes … We're kind of lucky that we're getting locked down because I don't think that we would have slowed down to actually learn how to be proper sailors." 
And even though they haven't kicked off the dock yet, he said he's certain the next chapter of their journey will be something special "because of the fact that it's no longer 'what's next?' it's 'how are we going to get there?'" 
Jessica Suiero said the family has been fast-moving for years now, and this pause allowed them to talk deeply with their kids and consider what direction their business would take. It's also given them time to wrestle with the yin and yang quality of the past year. 
"I would assume everyone kind of has these feelings," she said. "Like we can see the good that's coming out of it individually as a family, but I would give away all that good in a heartbeat just to not have COVID here and people losing their lives at the end of the day."  
And as restrictions ease in France, it seems their situation may be turning another corner as Suiero said their instructor expects to see them for the start of their nine-day sailing lessons by the beginning of January. 
"There's a happy ending here," she said. "At least there's going to be one."