Local News
Let us know: What would you pick as the top stories for Greater Boston in 2020?
And what was YOUR personal top story?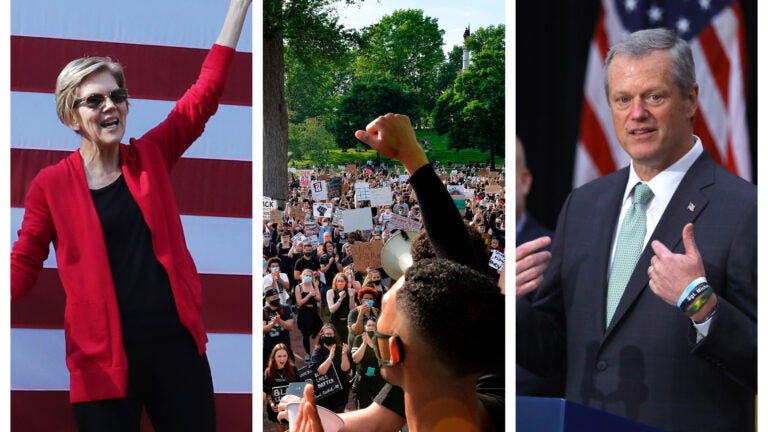 It was quite a year. How's that for an understatement?
Like the rest of the country and the world, Greater Boston was rocked by a global pandemic in 2020 that threatened our health, our livelihoods, and so many of our beloved institutions — like attending the St. Patrick's Day Parade, running the Boston Marathon, enjoying a show, dining out, or viewing an exhibition in a city usually overflowing with them, to name a few.
And as it progressed, unemployment, food insecurity and devastating blows to local businesses in terms of lockdowns and new COVID-19 regulations became all too common.
Then, this summer, Greater Boston found itself among the many cities throughout the U.S. embroiled in public protests over the death of George Floyd while in police custody in Minneapolis, and grappling with calls for racial justice and police reform — efforts that may come to some fruition as lawmakers try to finalize a reform bill in the coming weeks.
Unique to Massachusetts, we saw Sen. Ed Markey fend off a serious primary challenge from Rep. Joe Kennedy III; Sen. Elizabeth Warren ended her bid to become the Democratic presidential nominee; and stalwart Patriots quarterback Tom Brady announced he was headed to Tampa Bay. Meanwhile, sharks swarmed our beaches, two women of color threw their hats into Boston's mayoral race, and the Red Sox announced an unlikely comeback.
Here at Boston.com, we covered these stories — but you lived them. That's why we're asking you: What do you consider the top stories for 2020? You can choose from the list below — including several different aspects of what was sometimes an all-encompassing pandemic — or add your own under "Other."
We'd also like to hear what your personal top story was — what milestone, experience or development was the most remarkable for you during this unusual year.
Take the survey below (or here), or email us at [email protected], and we'll share your responses in an article before the end of the 2020.
Get Boston.com's browser alerts:
Enable breaking news notifications straight to your internet browser.