Local
Most of the Charles River gets high marks for cleanliness — except for one Boston tributary with a 'D-'
The Muddy River, which flows from Jamaica Pond to the Charles, is by far the dirtiest part of the watershed.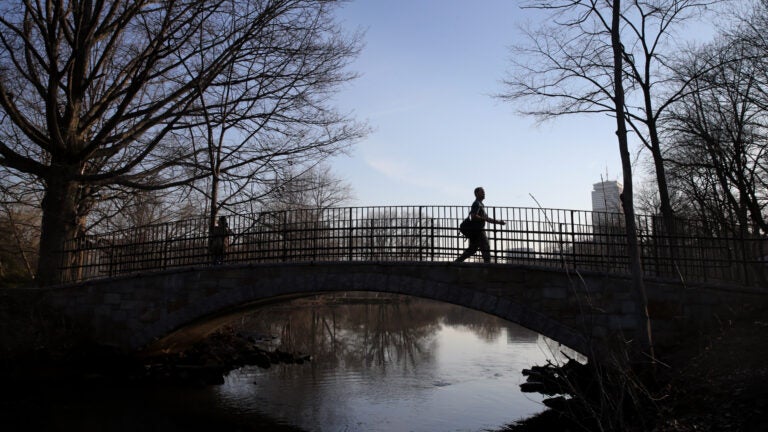 Love that mostly clean water.
The Charles River, once known for alarming pollution levels, is looking pretty good these days, according to a new report card published by the EPA and the Charles River Watershed Association Monday. It's the first time that the EPA is evaluating the entire Charles River watershed, instead of just the well-known lower basin that runs from Watertown to the harbor.
As a whole, the river gets high marks. Three sections of the watershed reaching as far as Hopkinton score between an "A-" and an "A." Grades are primarily based on measurements of E. coli bacteria in water samples, and the grade reflects how often a particular section of the river meets Massachusetts standards for swimming and boating.
The lower basin, which lies in the most urbanized part of Greater Boston from Watertown to the city, is slightly worse at a "B," the same as the previous year. ("B" means it meets standards for almost all boating and some swimming.) That's lower than the "A-" the basin got in 2017, but still a far cry from the "D" it received 25 years ago when the EPA first evaluated the river.
But there's one newly-evaluated tributary of the Charles that locals won't want to swim in. The culprit is the Muddy River, which got a "D-" and isn't much of a "river" at all. It's the narrow meandering brook that snakes its way from Jamaica Pond through the Back Bay Fens and under the MassPike, Commonwealth Avenue, and Storrow Drive before reaching the main Charles River basin.
The report card says that the rating of the basin and the Muddy River is lower than the rest of the watershed because it flows through high-density urban areas, where pollutants from roads and buildings can flow directly from storm drains into the Charles without filtering through soil. The lower basin needs upgrades to stormwater infrastructure to improve the health of the water, according to the report card.
Karen Mauney-Brodek, president of the Emerald Necklace Conservancy, said in a statement that a restoration project of the Muddy River and Charlesgate Park will improve its water quality with new vegetation along the shore.
Get Boston.com's browser alerts:
Enable breaking news notifications straight to your internet browser.