Local
Boston removes Park Square statue of Abraham Lincoln and kneeling slave
City officials blamed the statue's "role in perpetuating harmful prejudices and obscuring the role of Black Americans in shaping the nation's freedoms."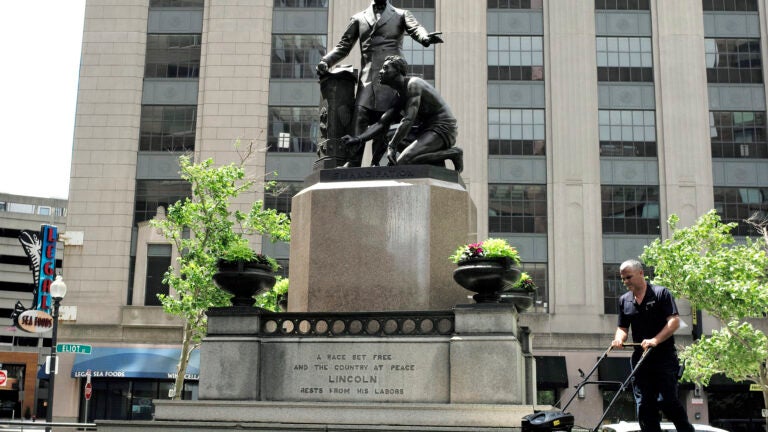 After 141 years, the Emancipation Group statue has left Park Square in downtown Boston.
As city officials consider a new location and replacement, crews removed the bronze depiction of former President Abraham Lincoln standing above a kneeling Black slave from the monument's longtime location near Boston Common on Tuesday, after it became a subject of scrutiny amid racial justice demonstrations this past summer.
Contractors were seen Tuesday morning removing the statue with a crane before it was carried away by flatbed truck. The Boston Art Commission voted unanimously in June to remove the Emancipation Group statue and officials plan to put in it temporary storage until they determine "a new publicly accessible location where it could be better explained."
"Over the course of two public hearings that allowed hundreds of residents to express their feelings, and after taking into account the petition from local artist Tory Bullock that gained more than 12,000 signatures to remove the statue, we're pleased to have taken it down this morning," a spokesperson for Mayor Marty Walsh told Boston.com in a statement Tuesday.
Grateful to witness this monument to white supremacy taken down, and glad to have played a small part in it. Thanks to @ToryShiloh and the @ArtsinBoston Commission for making it happen. Full story: https://t.co/3LWeho6DwT pic.twitter.com/QyrMjZDP0h

— Raul Fernandez (@raulspeaks) December 29, 2020
The statue, installed in 1879, is a replica of the Freedmen's Memorial, a nearly identical Washington, D.C. statue created three years earlier by Boston artist Thomas Ball and funded by donations from formerly enslaved people (though commissioned by an all-white group). Intended to commemorate Lincoln and the abolition of slavery, the statue depicts the former president holding the Emancipation Proclamation alongside a mostly undressed Black man with broken shackles "rising from his knees," according to the city of Boston.
However, the both monuments have faced criticism in recent years for their implied racial power dynamics — a clothed white man standing above a subservient-looking Black man.
"This insulting memorial honors Lincoln, yes, but at whose expense?" Raul Fernandez, a Brookline Select Board member and Boston University administrator, wrote in 2017. "The unnamed, nearly-naked man is but a prop used to provide a sense of perspective — Lincoln looming even larger because of the figure below."
In the wake of the national protests following the police killing of George Floyd in Minneapolis this year, an online petition by Dorchester native Tory Bullock in June calling for the Park Square statue to be replaced garnered 12,000 signatures. Walsh also quickly signaled support and the Art Commission officially approved the decision to remove the statue less than three weeks later.
"Changing the inscription is not going to change the visual power of what art does," Robert Freeman, an Art Commission member, said at the time, after hearing that local Black children saw themselves represented by the kneeling Black man.
In a public letter earlier this month, the Mayor's Office of Arts and Culture and the Boston Art Commission announced the statue would be removed by the end of the year, explaining that the decision was based on "the statue's role in perpetuating harmful prejudices and obscuring the role of Black Americans in shaping the nation's freedoms."
According to Walsh's office, the statue is being stored in a controlled storage facility in South Boston until a new location is determined.
"As we prepare for this move and continue the public conversation, we invite you to share your vision for the future of Boston's public art and cultural storytelling," officials wrote in the Dec. 18 update. "Starting this winter, the City of Boston and Boston Art Commission will begin a series of virtual panel discussions and short-term art installations examining and reimagining our cultural symbols, public art, and histories."
During a GBH radio appearance in June, Walsh noted that the city had been "looking in the archives and finding that there might have been sketches that the freed slaves have done" on what they wanted the statue to look like. However, his office now says they are unaware of any such sketches.
No official decision has been made on the site's future. The city is encouraging local residents to submit written or video feedback or to send an illustration of their proposed replacement.
Get Boston.com's browser alerts:
Enable breaking news notifications straight to your internet browser.