Local News
Report: Boston police sergeant who said he hit people with car during protests was accused of sexual assault in 2005
The sergeant's remarks were caught on body camera video footage collected during protests earlier this year.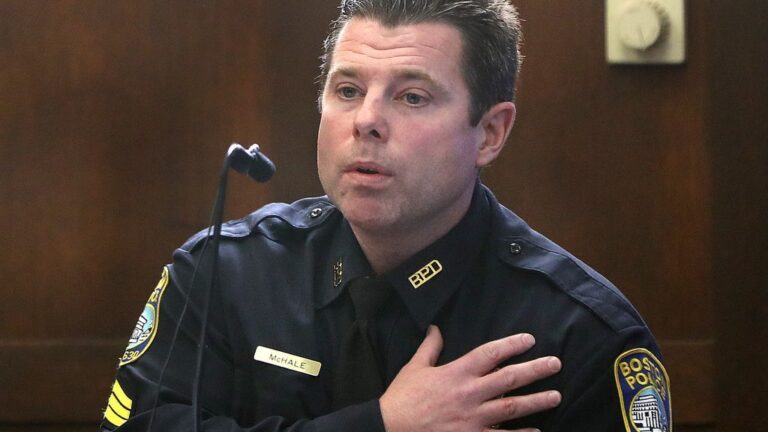 A Boston police sergeant who was captured on body camera video footage talking about hitting people with a car during demonstrations against police brutality in the spring was previously accused of sexually assaulting a woman 15 years ago, The Boston Globe reported Wednesday.
Clifton McHale, who has served on the force for 23 years, was accused of the assault in 2005 and later agreed to serve a one-year, unpaid suspension after an internal investigation, according to the newspaper.
McHale has not been identified by city or department officials as the sergeant who made the remarks on camera during the May 31 and June 1 overnight protests, which were spurred by the killing of George Floyd, who died in police custody in Minneapolis. The Globe, however, cites "two people briefed on the matter" who identified McHale in its report.
"Dude, I f***ing drove down Tremont (Street)," McHale said in the body camera video while standing near Downtown Crossing. "There was an unmarked state police cruiser they were all gathered around …Then I had a f***er keep coming, f***ing running. I'm f***ing hitting people with the car."
The video was among several unearthed from the night and published by The Appeal earlier this month. In others, officers are seen using force against nonviolent protesters and pepper-spraying crowds.
Collectively, the clips have sparked controversy and prompted calls for investigation into police behavior at a time when both local and state officials have worked to create new mechanisms of holding law enforcement transparent and accountable.
According to Boston police officials, the department has launched an internal investigation based off the videos and has placed a sergeant involved on administrative leave. The department has not identified the sergeant and have not indicated whether the sergeant seen on video is the one who is now on leave.
In its report, the Globe said McHale was 32 years old when he was accused of sexually assaulting an intoxicated woman.
On July 17, 2005, McHale was in uniform and working a paid detail at The Purple Shamrock near Faneuil Hall when he offered to drive a woman he met to her hotel in an unmarked police cruiser, according to the Globe.
McHale, however, stopped in an alleyway instead of heading directly to the hotel, according to an internal police investigation cited by the newspaper.
The woman reported to authorities that she passed out and found McHale assaulting her when she came to, the Globe reported.
At the time, Thomas Drechsler, an attorney representing McHale, told the Associated Press McHale denied any wrongdoing and was "absolutely innocent," and a Globe report stated McHale maintained the incident was consensual.
Prosecutors considered charging McHale, but ultimately decided against doing so due to insufficient evidence, according to the Globe.
Still, McHale agreed a year later to accept a one-year suspension from the force when an internal investigation found that he had "inappropriate sexual relations with the highly intoxicated woman," the newspaper wrote at the time. McHale also acknowledged he broke department rules regarding the take-home police vehicle and failed to secure his weapon properly.
McHale later returned to the department and went on to be promoted to sergeant, the Globe reported.
His father is a former Boston police deputy superintendent.
In the body camera video, McHale is seen describing hitting people with a car before the officer equipped with the camera pushes the sergeant's face away from the lens, turns, and walks away from him.
The officer looks back and says, "This (thing) is on."
McHale replies: "Oh, no no no, I know, what I'm saying is, though, that they were in front, like, I didn't hit anybody, like, just driving. They're throwing s***. My windows were closed, the s*** was coming in."
According to the Globe, attempts to reach McHale for comment were not successful, and a family member directed questions to the police department. The Boston Police Superior Officers Federation, a union representing sergeants, did not return messages from the newspaper.
Mayor Marty Walsh defended the department last week.
On Wednesday, Walsh said he could not identify the officers in the videos and cited the ongoing investigation.
"I'm very confident that … the Boston Police Department can police themself," Walsh said during a press conference, adding that officials are working to establish the Office of Police Accountability and Transparency (OPAT), an agency that would be charged with investigating allegations of police misconduct.
The Boston City Council passed an ordinance earlier this month to create OPAT. Walsh, whose administration worked on the legislation after receiving recommendations from the Police Reform Task Force, has said he is reviewing the measure.
"All of that is work that we've been working on for a long time," Walsh said. "But obviously, the sense of urgency this year has stepped up in a different way since the killing of George Floyd. And I'm proud of the task force the work they've done. I'm proud of the work that we continue to do here.
"I mean, I think that there's going to be individual cases all, you know, with the police department here in Boston and around the country, there's gonna be individual cases in different areas, that we're going to have been watching and monitoring closely," he added.
The videos were given to The Appeal by attorney Carl Williams, who is representing four people arrested by police that night.
Authorities made 53 arrests during the protests, 18 bystanders were hospitalized, and nine officers were treated for nonlife-threatening injuries.
Williams told the Globe on Tuesday McHale's conduct was disturbing.
"I'd say there's a pattern of behavior here," Williams said. "There's a lot of things going on that make you say, 'Not a great employee.' It's worrisome."
Get Boston.com's browser alerts:
Enable breaking news notifications straight to your internet browser.