Local News
A federal appeals court upheld the right to secretly record police officers working in public in Mass.
The "decision is vitally important for both free expression and police accountability," the attorney who argued the case said.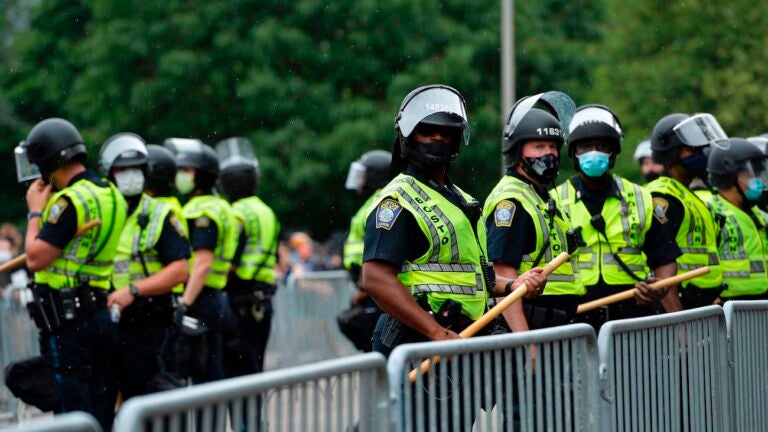 A recent ruling by the U.S. First Circuit Court of Appeals upheld a decision that allows for the right to secretly record police officers while they are on the job in public in Massachusetts.
The court, however, maintained that that right does not extend to recordings of government officials, who can be openly recorded, but not discretely, without consent, according to a legal analysis penned by Michael Lambert, an attorney at Boston First Amendment law firm Prince Lobel.
The decisions — both surrounding the state's "wiretap" law that prohibits secret audio recordings — come as the result of two cases filed in 2016.
One filed by two civil rights activists, K. Eric Martin and René Pérez, who were represented by the American Civil Liberties Union of Massachusetts, sought to challenge the state's wiretap law as it applied to police in Martin v. Rollins. The other case, involving the law pertaining to public officials at large, was brought by Project Veritas, a controversial, right-wing political group.
In Martin v. Rollins, a federal district court initially agreed that the Constitution gives the right to secretly record officers performing their duties in public, but the decision was appealed by the Suffolk County District Attorney's Office in June 2019, according to the ACLU.
"People's recordings of police interactions have started crucial conversations about police reform, and we all suffer when fear of retribution or prosecution stifles these movements," Jessie Rossman, an ACLU staff attorney who argued the case, said in a statement after the First Circuit Court upheld the decision on Dec. 15. "As the First Circuit explained, and as our clients understand, secret recording can uncover abuses and foster better police behavior, which is why today's decision is vitally important for both free expression and police accountability."
In the decision, U.S. Circuit Judge David Barron, a former journalist, wrote that the ability to record police is important for "informing the public about how police are conducting themselves, whether by documenting their heroism, dispelling claims of their misconduct, or facilitating the public's ability to hold them to account for their wrongdoing."
"A citizen's audio recording of on-duty police officers' treatment of civilians in public spaces while carrying out official duties, even when conducted without an officer's knowledge, can constitute newsgathering every bit as much as a credentialed reporter's after-the-fact efforts to ascertain what has transpired," Barron wrote.
Meanwhile, the court rejected the argument that the state's wiretap law should be struck down, maintaining that "most of its applications are constitutional," Lambert wrote.
"It also declined to decide whether the law improperly prohibits the secret recording of other government officials and individuals who lack an expectation of privacy," Lambert wrote.
According to Lambert, there are still many questions surrounding how the law is applied to government officials.
He notes some may be answered when the state Supreme Judicial Court (SJC) takes up a case brought by Somerville Mayor Joe Curtatone against the sports and culture blog, Barstool Sports.
In 2019, Curtatone was recorded in a telephone interview with podcaster Kirk Minihane, who pretended to be a Boston Globe columnist.
An initial lawsuit filed by Curtatone was dismissed in January 2020, but the SJC announced in November it plans to take up the matter from a lower appeals court. Oral arguments are set for Feb. 1, according to Lambert.
Get Boston.com's browser alerts:
Enable breaking news notifications straight to your internet browser.