Local
A Mass. lawmaker will soon propose an official state dinosaur — and you can vote for which one
Surely the most important election of the Jurassic period.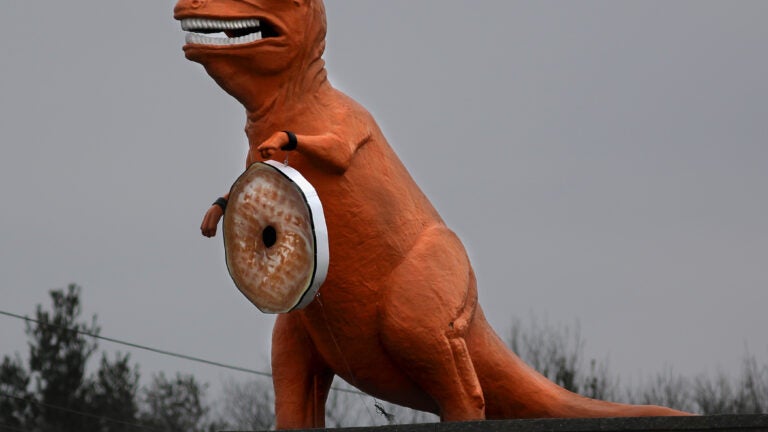 In September, we had Kennedy vs. Markey. November asked us about Question 1 and Question 2. And now, Massachusetts residents face perhaps the most important state election yet: Podokesaurus vs. Anchisaurus.
Rep. Jack Lewis, the Massachusetts Democrat who represents Ashland and part of Framingham in the state legislature, announced Monday that he will file legislation on Jan. 15 to designate an official state dinosaur for the Commonwealth. He's seeking input from the public with a poll asking residents to choose between a pair of dinos with local connections, which he describes as "two of his oldest constituents."
"The purpose is to explore this thing that many of us once loved, to better understand prehistoric Massachusetts, but also to help young people connect the dots between their current or previous interests and career opportunities," Lewis told Boston.com. "And I want to make sure folks have an accessible way to understand the legislative process."
The two Jurassic candidates, selected with the help of local paleontologists, are Podokesaurus holyokensis, a small bipedal carnivore first discovered by Mount Holyoke, and Anchisaurus polyzelus, a slightly larger long-necked herbivore found in Springfield.
"Neither are the huge animals we see in movies, neither are a household name, but they are two species that we have found in Massachusetts, found by people who lived here and worked here, and their fossil remains exist here," Lewis said.
Podokesaurus is notable for being named by Mignon Talbot, the first woman to name and describe a dinosaur, while Anchisaurus is among the oldest dinosaur remains found in North America.
Over 7,500 people have responded to the poll as of Tuesday afternoon, Lewis said. He implied that Podokesaurus had a comfortable lead so far thanks to an outpouring of support from the Holyoke community.
"I'll admit I had no idea there would be such a hunger for a bill like this," he said. "There's an appetite to learn more about the legislative process, but there's something about dinosaurs that take many of us back to a simpler time in our lives."
Lewis himself is a lifetime dinosaur enthusiast, dating back to watching "The Land Before Time" as a kid. He said he carried that childhood interest into adulthood by taking an elective class on dinosaurs and volunteering in the paleontology lab at the University of Utah and visiting dig sites in the Western U.S. and the Australian outback. He said he was inspired to file the bill while brainstorming pandemic-safe activities with the Cub Scout den he leads.
"My kids didn't embrace dinosaurs when they were younger, so we have a joke in the family that my love of dinosaurs is probably enough for all of us," Lewis said.
Twelve other states and Washington D.C. already have their own official dinosaurs. Colorado claims the Stegosaurus while Wyoming prefers the Triceratops.
Legislation for designating state symbols is typically put forth to educate children or appease constituents and local industries. Other Massachusetts state symbols promoted by schoolchildren are the ladybug, the cranberry, the tabby cat, the corn muffin, and the Boston cream pie.
Vote for your pick for Massachusetts' official dinosaur
here
, and let us know who you voted for in our Boston.com poll below.
Get Boston.com's browser alerts:
Enable breaking news notifications straight to your internet browser.