Local News
Marty Walsh: 'I'm not going to Washington alone. I'm bringing Boston with me.'
In potentially his final State of the City address, the Dorchester Democrat says he leaves Boston "confident" the city's COVID-19 response will continue smoothly.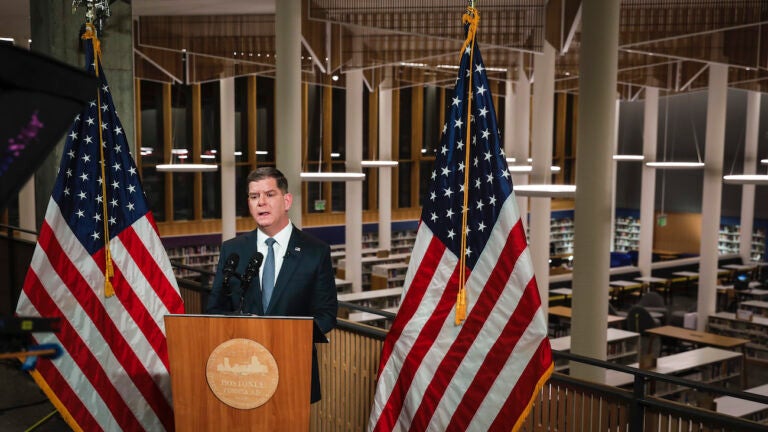 No crowds greeted Mayor Marty Walsh at his potentially final State of the City address on Tuesday night.
But the people of Boston, who encouraged the Dorchester native and son of Irish immigrants before and during his tenure within the city's halls of power, were on his mind — a farewell of sorts as Walsh prepares to leave his post for Washington D.C. in the coming weeks.
"The truth is I'm not going to Washington alone," the mayor said. "I'm bringing Boston with me. This city is not just my hometown, it's my heart."
Addressing the city on a COVID-19 pandemic-friendly remote livestream from the recently renovated Roxbury branch of the Boston Public Library, Walsh reflected on the challenges — and successes — of a turbulent year ravaged by the coronavirus and bolstered by widespread calls for taking on systemic racism that's long strangled the city.
In the dawn of 2021, Boston, with those issues and others still rolling on, is also now poised to undergo a leadership transition as Walsh is expected to depart his office as President-Elect Joe Biden's pick for secretary of labor.
The mayor has already spoken to City Council President Kim Janey, who will become acting mayor — should Walsh be confirmed by the U.S. Senate — until his successor is elected.
The transition has begun, he said.
"I am confident that the operations of city government, including our COVID response, will continue smoothly," Walsh said. "And I want you to know, the work we have done together for the past seven years has prepared Boston to build back stronger than ever."
A teary-eyed Walsh grew emotional as he looked back across his two terms — an acknowledgment of his pending departure and possible goodbye to the city that raised him.
"I believe in Boston," the mayor said, before taking a long pause. "This is the city that welcomed my immigrant parents. This is the city that picked me up when I needed a second chance. This is the city where I fought side by side with you for marriage equality, immigrant rights, addiction treatment, criminal justice reform, education funding, and good middle-class jobs.
"We have faced down big challenges together, just as we are doing with COVID," he continued. "We have always prevailed, and we're not about to give up now. In eight days, we'll have friends and allies in the White House who believe in cities and share our values. As a member of that Administration, I will work to make sure it's the best federal partner Boston and America's cities ever had."
Walsh pledged Boston will live in his heart, from his mother and father in his boyhood home on Taft Street and the teachers and clergy who guided him to "every kid I coached in Little League, CYO, or at the Little House," he said.
"In the end, I carry with me the people of Boston, from every neighborhood: every child who shared a dream with me; every senior who shared a memory; every business owner who welcomed me in; every nonprofit or community leader I worked with; and everyone watching right now who cares about their family and the future of this city," Walsh said.
"Seven years ago, at my first inauguration, I said, 'I will listen, I will learn, I will lead. We are sworn in together and we are in this together – all of us.' I meant it," he added. "Every minute of every day in this job, I spent listening to you, learning from you, working with you and working for you. I will never forget it, and I will forever be grateful."
At times within his 22-minute speech, Walsh touched on the city's response to the ongoing health crisis, recalling "decisions I never thought I'd have to make," such as closing schools, converting a convention center into a field hospital, and calling off the Boston Marathon for the first time ever. As of Tuesday, 1,060 residents had died from COVID-19, he remarked.
Other difficult decisions lie ahead, he said. But he also outlined priorities to help provide vaccine access, to have students safely return to Boston Public Schools, and to build back Boston's economy, touting that the city still managed to create potentially 35,000 new jobs in 2020.
Last year, the death of George Floyd sparked an outcry across the city and country to take on racial injustices across American society, which Walsh referred to as "a long-overdue reckoning with racism."
"The gravity of this moment weighed on me," he said. "I'm proud of the work we've done in Boston. But doing better than before isn't enough. We need to address all the ways systemic racism hurts people in our city."
In June, the Walsh administration shifted $12 million from the Boston Police Department's overtime budget into trauma, counseling, mental health, housing, public health, and other community services. Walsh also appointed a chief of equity, a new position, and, with the City Council, passed the creation of a new agency with subpoena power tasked with investigating complaints against police.
"The pandemic made it clear: A community crisis demands a community-wide response," Walsh said. "So I'm asking all of us to accept this responsibility as our own and commit to fighting racism. It's our deepest moral obligation — and it's our greatest opportunity for growth."
Boston has "tough days" ahead, the mayor said. But the city has always rebounded.
"In 2021, Boston will rise up again," Walsh said. "We will leave no one behind. And our city will be stronger than ever."
Get Boston.com's browser alerts:
Enable breaking news notifications straight to your internet browser.