Local
Massachusetts is dropping its flu vaccine requirement for students
Here's why.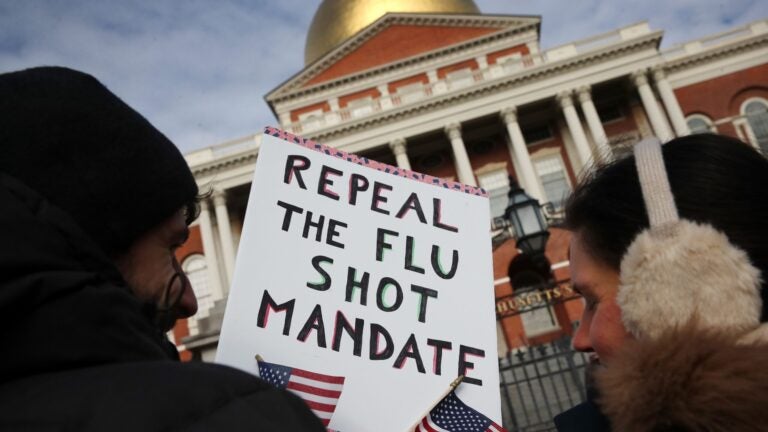 Less than a month after extending the deadline to comply, Massachusetts is now dropping its statewide flu vaccine requirement for students.
The state's Department of Public Health said Friday afternoon that it is removing the vaccination requirement — which applied to all children over the age of 6 months attending Massachusetts child care, pre-school, kindergarten, K-12, or college — due to the "mild" flu season and the fledgling efforts to administer the COVID-19 vaccine.
"Preliminary data show that this has been a mild flu season to date, presumably as people have received their seasonal flu vaccine and have been adhering to mask-wearing and social distancing due to COVID-19," DPH said in a statement. "Given the intensive Commonwealth-wide efforts regarding COVID-19 vaccination, DPH wants to alleviate the burden to obtain flu vaccination and focus on continuing our COVID-19 vaccination efforts."
Massachusetts became the only state in the country to impose the flu vaccine requirement back in August, due to concerns that the traditional influenza season coinciding with the second COVID-19 surge could overwhelm hospitals.
However, while the coronavirus has indeed seen a significant resurgence through the fall and winter, health experts have said that business restrictions and social distancing due to COVID-19 has suppressed the transmission of other less-contagious respiratory diseases.
The state set a Dec. 31 deadline for students to get the flu vaccine, but extended it last month until Feb. 28, before dropping it Friday. The mandate had also incited some small but passionate protests from some parents and activists.
Though no longer required, DPH officials say they continue to "strongly recommend" that everyone over the age of six months receive a seasonal flu vaccine each year. Experts worry that the mild flu season could spell a rebound in flu cases later on (that exact situation already appears to be playing out in Australia, as The Washington Post reported Tuesday)
"Because we have not been exposed to them as much this year, they may take their toll next year," Dr. Katherine Gergen Barnett, program director of Boston Medical Center's Department of Family Medicine, told NBC Boston earlier this week.