Local News
'It's still hard to think about': Jacob Lemay shares what living under Trump has felt like for transgender youth
"I've been very scared for all the four years. It's just so relieving that it's all over now."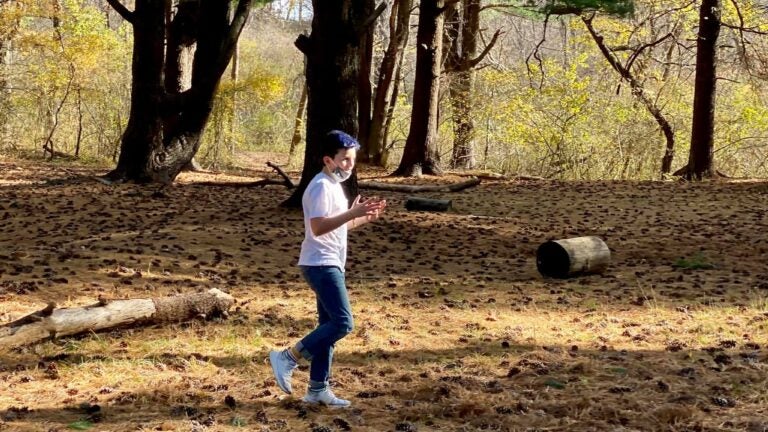 Ten-year-old Jacob Lemay was in the back of his parents' car when the 2020 presidential election was called for Joe Biden. 
Within minutes, he shared with his mom, Mimi, how he felt about the news: free. 
So free, in fact, that he "couldn't feel his shoulders."
When his mom asked what he meant, he explained. It felt like such a weight had been lifted, it was as if his shoulders weren't there anymore. 
"I felt so so so relieved," the 10-year-old, who is transgender, told Boston.com in a recent interview with his mom. "Everybody was at the edge of their seats. We didn't know if it would stay the same or if the country would be better. And then, we really were excited for if Biden was president that there would be more equality."
For Jacob and his family, the last four years under President Donald Trump have been filled with stress and fear due to the administration's consistent efforts to restrict and roll back transgender rights and protections, as well as those more broadly for the LGBTQ community. 
"We've had to fight — we've had to fight these entire four years," Mimi Lemay said.
Lemay, who wrote the memoir "What We Will Become" in 2019 about Jacob and her family's story, recalled that the night after Trump's election, she looked desperately for her son's birth certificate, since they hadn't legally changed his name yet and he didn't have a passport. 
Remembering that frantic and fear-filled search is etched in her mind, she said.
"It was just a moment of horror that didn't lift in the coming days and months," she said. 
A month into Trump's time in office, his administration withdrew federal protections for transgender students. The move was followed by others through the years, ranging from allowing homeless shelters to turn away transgender individuals based on physical appearance to reversing Obama-era  health care and health insurance protections for LGBTQ people.
For Lemay, the first action signaled early on that the administration was "out to get trans kids."
"The horrors and the reversals of rights continued for these four years, and we've had to fight harder than we've ever had to fight before," Lemay said. "And it has been — like my son says — it has been a huge weight."
For Jacob, the last four years have been "terrible," he said. 
He feels grateful that he lives in Massachusetts, where he feels safe because there are protections for transgender individuals. But he has been afraid for other kids like him living in less progressive states. 
And he has still worried about his own future based on the direction taken by the federal government — what if he wanted to go to college in a different state? 
"I wouldn't fully be accepted as I would here," he said. "And it's terrible that many trans kids who live in red states have to go through that. It's very very bad."
Kids shouldn't have their rights taken away for no reason, the 10-year-old said. Removing federal protections for transgender students just doesn't make any sense to him.
"I've been very scared for all the four years," Jacob said. "It's just so relieving that it's all over now."
Jacob and his family aren't alone in what they've experienced under the outgoing Trump administration. 
Brittany Jordan-Arthur, a staff psychologist at the McLean Anxiety Mastery Program, told Boston.com that she was conducting clinical work in an intensive outpatient and partial hospital program for youth after the 2016 election. She'd never before seen so many adolescents struggling with such intense anxiety in the same moment as what she witnessed during her program's first group therapy session held after Trump's election.
Young people in Black, Indigenous and People of Color (BIPOC) and LGBTQIA communities were afraid for their safety and described in the session how they were being subjected to aggressions unlike any they'd experienced before. 
"They expressed fears that all of their goals for the future (e.g., education, jobs, marriages, parenthood), the lives they envisioned for themselves, and often the motivators that kept them fighting on the hardest days, were in jeopardy," she wrote to Boston.com. "They were rattled and it was clear that they perceived the systems in our country, in place to keep them safe, were crumbling around them and they felt helpless to stop it."
Those conversations about heightened fear and anxiety continued to arise in her work with youth in the last four years.
Of great concern to Jordan-Arthur is that historically, systemic issues already resulted in poor access to quality care for BIPOC and LGBTQIA+ communities, and those inequities have been exacerbated by changes under the Trump administration. For example, threats to immigrant communities make it more dangerous for them to seek treatment, and the establishment of the Conscious and Religious Freedom Division made young people worry they could be denied medical treatment, she said. 
Racism and discrimination are known to be associated with poor health outcomes and put people at risk for chronic health conditions, according to the psychologist. Micoaggressions, too, have been demonstrated to have statistically significant impacts on health and mental health outcomes. 
"Constant messages of threat, subtle or overt, have concrete and demonstrable impacts on a person's body and life," Jordan-Arthur said. "These factors can also impact access to care and the quality of care delivered."
For young people, that early adversity and chronic stress can be toxic to their developing brains, she said. (It is strong positive relationships with adults, early intervention, and behavioral health interventions that can protect against such resulting risks, she said.)
It is evident to the psychologist that the lives of young people are impacted by politics every day, both through policies and rhetoric.
"Kids take away so many lessons from our leaders, from how they are valued as people, to how to resolve disagreements," Jordan-Arthur said."They are watching to see if they should treat everyone well or only people who have something to offer them. There are daily lessons on whether they should play by the rules and their values or win at any cost. Kids are tuned in and taking notice."
Lemay said that over the last four years, she has felt that Jacob and her two other children were forced to grow up quickly. 
Initially, she tried to keep a lot of what was happening under the Trump administration from her son, hoping to protect him. It was only during the 2020 election, for example, that she decided to tell him that the administration had banned transgender individuals from serving in the military. 
But even in attempting to shield her children, the impacts on her family have been clear, she said.
"My youngest daughter has been affected by having her parents be involved in advocacy and having to take the time and the energy and to see our worry," she said. "Jacob has been worried, not only having to see us devote our energies to this, but also having some fear for his future as a trans kid. And my eldest recently came out as non-binary this summer, and I feel that part of the struggle for them to come to terms with their own identity has been forged by worrying."
Not worried about what would happen inside their home, but what could happen to them outside the four walls of their house, Lemay said.
Building a community of people advocating for rights across different groups, from the Black Lives Matter movement to immigrant rights groups, was critical to helping her family feel less alone and feel empowered over the years, she said. Having so many groups come together has been the "silver lining" through all the fear.
"We have tethered our boats together and I feel like we have risen together …  I hope that continues with this new administration," Lemay said. 
Biden's election, with his promises to reinstate protections for transgender kids and advance LGBTQ rights, and the results of the Georgia senate runoff have lifted a collective weight for the entire Lemay household, the mother and son agreed. On Tuesday, Biden announced he will nominate Rachel Levine, Pennsylvania's Secretary of Health, to serve as his assistant secretary of health. Levine would become the first openly transgender federal official to be confirmed by the U.S. Senate. 
But even with the hope for the future, the trauma of the years past remains.
"It's still hard to think about," Jacob said of the last four years.
The 10-year-old said he wants more people to understand the importance of transgender rights and protections as a new administration takes over with Biden's inauguration on Wednesday. 
"Me being trans doesn't make me different from any other kid in any way," he said. "Trans kids — it's not fair how their rights are getting taken away. And if your kid comes out as trans, then definitely accept them because they may already not be able to get accepted if they need to go to the hospital or go to a college. Or even the movie theater."
The 10-year-old had a particular directive for the new president, providing a specific message to Biden ahead of his inauguration. 
"I hope you can do everything you can to make trans kids be protected and feel safe everywhere," Jacob said. 
Get Boston.com's browser alerts:
Enable breaking news notifications straight to your internet browser.