Local
MassDOT Secretary Stephanie Pollack is heading to the Federal Highway Administration
Registrar of Motor Vehicles Jamey Tesler will serve as acting secretary, Gov. Charlie Baker announced Thursday.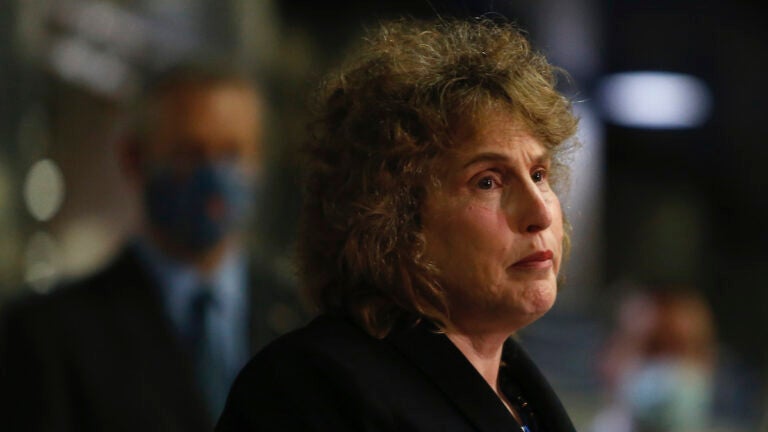 Massachusetts Department of Transportation Secretary and CEO Stephanie Pollack is stepping down from her post next week, when she will head to Washington, D.C., to begin as deputy administrator of the Federal Highway Administration, Gov. Charlie Baker announced Thursday.
Pollack, who has helmed MassDOT since 2015, will be temporarily serving as the FHWA's acting administrator under the Biden Administration until a permanent administrator is confirmed by the U.S. Senate, according to a press release from Baker's office.
Her final day in her current role will be Jan. 26. She begins her federal position the following day.
With the change-up, Baker has tapped Registrar of Motor Vehicles Jamey Tesler to serve as acting secretary.
"It has been a privilege to lead MassDOT's exceptional team these last six years and to work with the MBTA's senior leadership and the Fiscal and Management Control Board," Pollack said in a statement. "The governor and Lt. Governor (Karyn Polito) have my deepest gratitude for entrusting me with the stewardship of MassDOT and their leadership as transportation champions.
"Massachusetts has become a leader in delivering a transportation system that puts people first and provides them with safer and better choices for walking, biking, using transit, or driving and I am confident that Jamey will be able to continue that good work," Pollack added.
Baker, in a statement, praised Pollack for leading the department "through many difficult challenges over the past six years," from historic blizzards that wreaked havoc on the MBTA to the resurrection of the Green Line Extension project.
The governor also noted the turmoil at the RMV in the wake of a deadly New Hampshire crash that killed seven people in 2019. The incident exposed administrative failures at the registry for processing infractions committed by Massachusetts drivers while out of state — incidents that should have kept Volodymyr Zhukovskyy, the driver with a long rap sheet who authorities allege was responsible, off the road.
"(Pollack) has provided MassDOT with stability and leadership through the last six years, serving longer than her three predecessors combined," Baker said in a statement. "She has allowed the agency to focus on long term efforts developing the (Fiscal Management Control Board) and upgrading the MBTA's infrastructure, service and customer relations and much more. We are so grateful for Stephanie's service to the Commonwealth and congratulate her on her new appointment. I am confident that Jamey will step into this important role ready to lead on day one."
Tesler, who was previously the chief operating officer, chief of staff, and assistant secretary for procurement for MassDOT, was elevated to his position at the RMV following the resignation of Registrar Erin Deveney among the revelations of the RMV's failure to act on Zhukovskyy's driving record.
"I am honored by the trust the governor and lieutenant governor are placing in me," Tesler said in a statement. "Working with Secretary Pollack for most of the last five years has been a master class in transportation policy, and I am happy to be able to use that knowledge to continuing advancing the programs and policies we have been working on together for so long."
Tesler enters his position during a tumultuous time. Last month, the MBTA's Fiscal Management Control Board opted to move forward with controversial service cuts in an effort to slow financial hemorrhaging — a move necessary amid budget shortfalls during the COVID-19 pandemic, officials say.
With Tesler soon to take up the chief position at MassDOT, Baker tapped Deputy Registrar and Chief Operating Officer Colleen Ogilvie to serve as acting registrar.
Get Boston.com's browser alerts:
Enable breaking news notifications straight to your internet browser.