Local
What's actually the difference between being mayor and acting mayor?
It's a question that's about to become very relevant in Boston.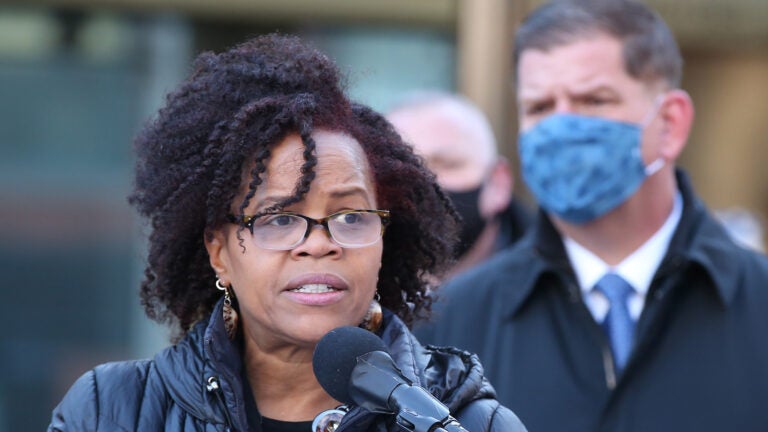 Boston City Council President Kim Janey is set to make history as the first woman and the first person of color to lead the city, if and when Mayor Marty Walsh leaves office to become President Joe Biden's labor secretary.
But Janey won't officially be mayor, at least not yet.
Instead, Janey will serve as Boston's "acting mayor," a distinction with some slight differences. And depending on whether officials decide to nix a potential special election to replace Walsh ahead the regular mayoral elections later this year, she could hold the position for the better part of 2021.
So what exactly is the difference between mayor and acting mayor?
According to the city charter, the acting mayor cannot make permanent appointments and can only perform tasks that are urgent — or "not admitting of delay."
Still, an acting mayor's authority is "incredibly broad," according to a Walsh administration adviser. Janey would still be able to take actions to respond to the COVID-19 pandemic.
"Those are timely consequential decisions, and that work has to continue," the adviser, who asked to not be named to discuss the subject, told Boston.com this week.
An acting mayor can also sign (or not sign) ordinances passed by the City Council, as well as carry out a plethora or other administrative duties, from dealing with the city payroll to signing off on government contracts and grants.
Acting mayors can also make temporary appointments for city agency or department roles, who serve until an elected mayor is sworn in.
"What the charter really tries to do is just ensure continuity … and that the government isn't lurching back and forth," the adviser said. "It's a decision making position, and the acting mayor is going to have considerable authority to do the work of the mayor."
During a City Council meeting last week, Councilor Matt O'Malley expressed concerns that having an acting mayor "for a longer period of time," if city and state officials approve a proposed home rule petition to override a special election requirement, "could potentially result in some complications" as a result of the position's limited power. 
But in practice, Walsh's adviser says such complications haven't really played out (O'Malley's office did not respond to a request for comment this week).
The last time Boston had a long-term acting mayor was 1993, when then-City Councilor Tom Menino ascended to the position that July, following Mayor Ray Flynn's appointment to become U.S. ambassador to the Holy See.
Menino did make at least one controversial move. That summer, he temporarily appointed Alfreda Harristo to fill a vacancy on the Boston School Committee. And he subsequently faced a lawsuit from the Boston Teachers Union challenging his powers, after Harris cast a decisive vote in the School Committee's rejection of a teacher contract proposal.
However, a judge dismissed the suit for lack of standing. After winning the November election, Menino made Harris's appointment permanent that December — and went on to serve as Boston's mayor for a record 20 years.
The phrase "matters not admitting to delay," which appears in other city charters, does remain up for some interpretation.
But the only apparent example of it being used to overturn an acting mayor's power is a 1912 eminent domain court case over the construction of a street in Cambridge.
In the case, the city's acting mayor — who was filling in for a mayor who was out sick for two months — signed off on an order to construct the street. However, a local landowner, whose property would have been taken to lay out the street, sued the city arguing that it wasn't an urgent matter. A state court sided with the owner, concluding that the order could have waited until the elected mayor, who was assumed to recover, resumed his duties.
But in the midst of a pandemic, Walsh's adviser said it would be highly unlikely for a judge to rule against the City Council and mayor's effort to address the crisis. Following the announcement of Walsh's cabinet appointment, Janey said she was "ready to take the reins" and "ensure a smooth transition."
Get Boston.com's browser alerts:
Enable breaking news notifications straight to your internet browser.