Local
Weymouth High students file dueling petitions over 'thin blue line' flags in school
The flags make students of color uncomfortable, some say. Others argue the flags honor Weymouth Police Sgt. Michael Chesna, who was killed in the line of duty.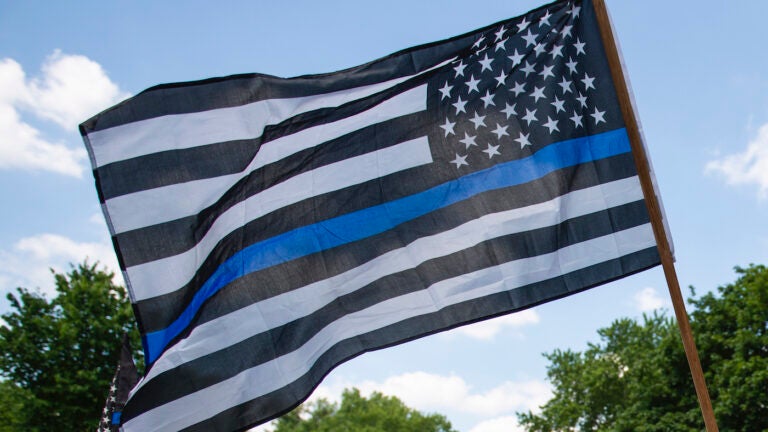 Students at Weymouth High School have filed dueling petitions arguing both for and against removing the "thin blue line " American flag from campus.
The initial petition, created by senior student Bodhi Kolwaite, was launched because students of color feel "upset, uncomfortable, and threatened by displays of police flags," the online petition reads.
Black Americans have faced longstanding discrimination from police, the petition says.
"Having such symbols distracts from learning and contributes to a negative and charged school culture of hate," the petition reads.
Kolwaite told Boston 25 News on Sunday he feels "overwhelming disgust, overwhelming anger and frustration at the fact that this is everywhere in our school."
His petition makes note that some students have made the flag their profile pictures on the Google Classroom platform as they conduct remote learning.
"There are teachers and nurses with masks of the flag, in teachers' classrooms with the flag and, most notably, the Weymouth High School football team runs out every game with a gigantic flag," Kolwaite told the news station.
Luke Seto, a junior student who created the petition with Kolwaite, told the outlet: "You have a student body of people of color, minorities, saying we feel uncomfortable by this. There are people out in the world getting killed by the very police force that are supposed to protect them.
"Whether you like it or not, it's a symbol of hate, fear, intimidation," Seto added. "It represents corruption, racism, oppression. Whether you like it or not, it's scaring students. People don't feel safe in their own schools."
But the effort to remove the flags has been matched by that of another student, Ryan Lindblom, who created the "Keep Thin Blue Line Symbolism in Weymouth High" petition on Change.org.
Lindblom told Boston 25 News he does not think the flag is a political symbol, but rather is a way to honor Weymouth Police Sgt. Michael Chesna, who was killed in the line of duty in 2018.
"I just don't see their argument [for] not liking police," Lindblom said.
His petition asserts Chesna "died as a hero."
"The flag is not an example of racism, the flag is is to honor our fallen heroes killed in the line of duty protecting residents of Weymouth," the petition says.
"Law enforcement isn't politics," Lindblom said. "Politics is presidents, mayors, senators, it's all that. Police don't get voted to do that job, they selected to do that job and they support what you do in the town."
Kolwaite told the news station that his petition is not arguing against honoring Chesna, but rather is simply asking to remove a symbol that makes students uncomfortable.
Since he posted the petition, he has received racist threats and has faced harassment, including at his home, according to Boston 25 News.
"Someone put a box of fireworks on our front yard and blew them up at 3 o'clock in the morning, waking us up," he said. "Until people look into their souls and think about listening and caring for other people of color, then this world will not change."
As of Tuesday afternoon, Lindblom's petition had garnered 7,700 signatures, while 2,319 people signed onto the one launched by Kolwaite. It was unclear how many of the signatures belonged to students of Weymouth High School, although Kolwaite's petition encouraged parents and other members of the community to sign on, citing the flag's presence at school football games, which are public events.
According to Kolwaite, school administrators met on Monday to discuss how educators will proceed in light of the two petitions.
"We were recently made aware of student petitions being circulated in the community regarding expressive speech and symbolism," Superintendent of Schools Dr. Jennifer Curtis-Whipple said in a statement to Boston 25 News on Monday. "We understand the differing perspectives surrounding modern social topics and the resulting profound emotions and feelings. We will continue to have conversations around these complex issues. We are committed to provide a safe and supportive learning environment for all of our students and staff in the Weymouth School District."
The flags have faced controversy throughout Massachusetts in the past year as the nation grappled with the death of George Floyd in Minneapolis police custody last spring, and with far-reaching and deep-seated systemic racism.
In Hingham, flags installed to mark the anniversary of Chesna's death were removed from fire trucks in July following a citizen complaint — a move that faced sharp criticism. In response, firefighters across the state vowed to fly flags on their own apparatuses.
In Weymouth, Kolwaite has doubts whether school officials will take action to remove the flags.
"I'm not very confident in their abilities to actually make our full demands met, and we will not rest until all of them are met," he said. "I have heard reports of certain deans, certain teachers who have said extremely racially insensitive things toward the students, and when these are brought up to higher powers, nothing happens. So I'm very concerned anything will actually happen."
Get Boston.com's browser alerts:
Enable breaking news notifications straight to your internet browser.