Local
Why the Boston City Council is looking to cancel a possible special election to replace Marty Walsh
"These past 10 months have been the definition of unusual."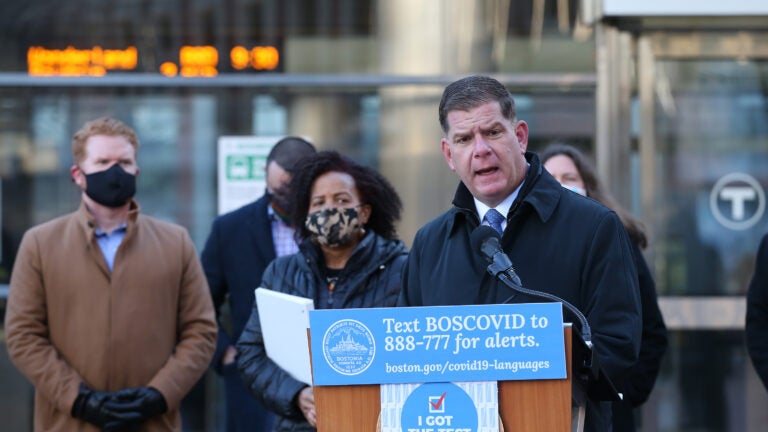 Typically, canceling an election isn't seen as the democratic thing to do.
But in the case of the potential pandemic-era special elections to replace Boston Mayor Marty Walsh ahead of the city's regularly scheduled mayoral elections this year, many local officials and advocates say that's exactly what it is.
"Today we're taking the unusual step of trying to convince you that skipping a series of special elections would in fact be the most democratic decision you would make," Cheryl Clyburn Crawford, the executive director of the voter advocacy group MassVOTE, said during a City Council meeting Tuesday afternoon. "It may be unusual, but these past 10 months have been the definition of unusual."
During the four-hour meeting, a clear majority of residents and activists spoke in support of a recently proposed home rule petition to override the Boston city charter provision requiring a special election if Walsh, who has been appointed to be President Joe Biden's labor secretary, leaves office before March 5.
City councilors also appeared to be leaning in favor of the petition, which will be voted on next Wednesday after technical details are ironed out later this week.
With the city already scheduled to hold a preliminary mayoral election in September followed by a November general election, and the race already underway, supporters of the petition said the prospect of an additional special election — likely consisting of a preliminary and general election in June or July — threatens to confuse, disenfranchise, and even endanger voters amid the ongoing pandemic.
Councilor Ricardo Arroyo, who sponsored the proposal, noted that the additional elections could result in Boston being led by four different individuals in less than a year: Walsh; Boston City Council President Kim Janey, who is set to become acting mayor; the winner of the special election; and then the winner of the November election.
"It's also for the stability of the city, to ensure that we're not doing multiple turnovers and multiple transitions in a state of emergency," said Arroyo.
An additional election would also incur financial costs at a time when the city's budget has already been strained by the pandemic. City election officials said Tuesday that the combined cost of holding a preliminary and general special election would be at least $1.5 million, not including additional costs of COVID-19 safety measures. The city would also be required to staff a minimum of 1,600 poll workers.
Home rule petitions face a number of hurdles — including approval by the council, mayor, state legislature, and governor. However, the city of Lawrence recently had a similar petition quickly approved by the state and Gov. Charlie Baker recently signaled that he wouldn't stand in the way if Boston followed suit.
Massachusetts Secretary of State Bill Galvin, the state's top election official, also backed the petition, arguing that multiple rounds of elections in the span of less than six months would be a disservice to voters. Supporters are particularly concerned about the potential effect on low-income voters and communities of color, given the advantage that older, white voters have traditionally had in low-turnout municipal elections.
Arroyo's office has said from the beginning that they were confident the petition would pass the Council.
However, at a meeting last week, several councilors raised concerns that the chamber could be seen as putting its thumb on the scale of a race in which several of their colleagues are running.
Those concerns were more muted Tuesday, as the petition's supporters on the 13-member council reached a total of six. Before taking public testimony, Councilor Lydia Edwards also indicated she favored the petition
"Does four elections in a pandemic make us more democratic or not? That's the question," Edwards said. "And I, so far, have not had an answer as to how we are more democratic that way."
No one on the Council signaled outright opposition to the petition. And even Councilor Frank Baker, who most forcefully raised previous concerns about the optics of canceling special elections, said he was "totally undecided."
The race's two declared candidates, Councilors Michelle Wu and Andrea Campbell, say they'll vote in favor of the petition. Campbell announced her position Tuesday evening.
"The additional burden on voters and the City to hold possibly four municipal elections in less than 6 months during a pandemic is a risk we don't need to take," Campbell said. "And politics aside, it's in the best interest of all Bostonians that the next mayor of Boston is elected by a resounding majority of an enfranchised electorate, which is most likely in our regularly scheduled fall elections."
Janey, who is considering running for a full term, also announced her support of the petition for the first time Tuesday.
"The only disagreement I have heard are from individuals on this body, who seemed more concerned about perceived advantages or disadvantages for councilors who may run, than the disenfranchisement of voters, the health risks due to COVID, the financial costs, or the instability to our city," she said. "Ultimately, our focus must be what's best for the residents that we represent and serve, not what will help or hurt council candidates."
Political observers have speculated that Janey would theoretically benefit, if she runs, if the potential special election is cancelled, as it would give her a longer runway to increase her recognition and prove herself as acting mayor.
However, officials and advocates urged the Council to focus on how canceling would impact voters, not candidates. Some also challenged the premise that Janey would necessarily benefit. State Rep. Russell Holmes, who has proposed getting rid of special elections, testified that Janey would still have to "go and do a good job" to ultimately win, if she runs.
"All this noise that you're hearing about who's advantaged and who's not — who cares? Who cares?" Holmes said. "Because none of you can game out this system."
Get Boston.com's browser alerts:
Enable breaking news notifications straight to your internet browser.