Local
Dennis White vows to see through reforms as Boston's police commissioner
"I know this will not be easy, but I am confident that the Boston Police Department will get the job done."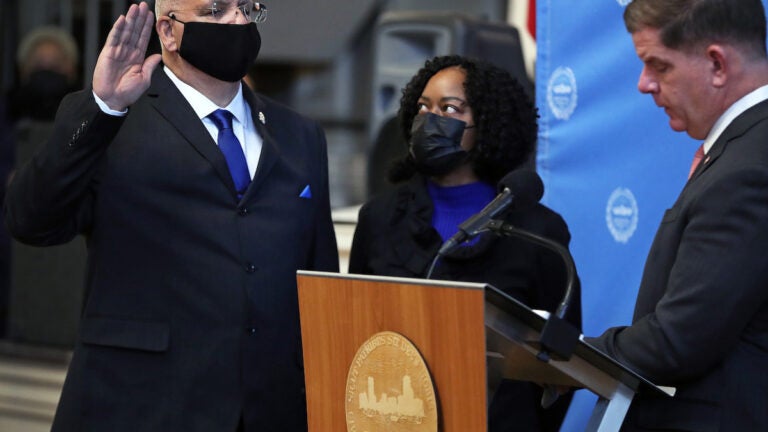 Dennis White vowed to make good on police reforms presented by a city task force last fall as he was sworn in as Boston's 43rd police commissioner on Monday.
The Dorchester native himself served on the board convened by Mayor Marty Walsh amid the push for racial justice and change in law enforcement as the country grappled with the death of George Floyd in Minneapolis last year.
"It will be my duty and honor as Boston police commissioner to see that all the recommendations under my direction are implemented," White said at a ceremony held at Faneuil Hall. "I know this will not be easy, but I am confident that the Boston Police Department will get the job done."
The task force put forth several recommendations aimed at diversifying the department's rank and file, clarifying and enhancing use-of-force policies, expanding the body-worn camera program, and adopting record and data practices to boost accountability and transparency.
In January, city officials also acted toward that goal with the creation of the Office of Police Accountability and Transparency — an independent agency armed with subpoena power to review and resolve civilian complaints against police.
"I am confident (White) will continue the Boston Police Department's reputation as a leader in community policing and advance the department's commitment to accountability and transparency, and help lead the Boston Police Department into a new era," Walsh said.
Bringing about those policies during a time of heightened tensions between the nation's law enforcement agencies and communities of color will be among the first charges White will face in his tenure. He also steps into the role as the COVID-19 pandemic is still ravaging Boston and cities across the United States.
"The Boston Police Department has been tested this past year," White said. "The COVID pandemic has strained our resources with our officers working long hours in difficult situations. Still, the Boston Police Department has answered all the calls for service without hesitation to our citizens."
Walsh tapped White, a 32-year veteran of the force, to serve as commissioner last week, as Commissioner William Gross announced his retirement.
Hailing from Nottingham Street, in the four corners section of Dorchester, White said he is living proof of the old saying, "It takes a village to raise a child."
He spoke of his community as a place where "all families knew each other."
"Instilled in me as a child was respect for others. Disrespect was not an option," he said. "If any parent in the neighborhood saw us misbehaving, you knew it was only a matter of time before your parents knew."
White, who is Boston's second African American to serve as commissioner following Gross, began his career as a South Boston patrol officer, before going on to become a sergeant patrol supervisor in Roxbury and a sergeant detective in the South End. He later became a lieutenant and duty supervisor in several districts and, in 2014, was elevated to deputy superintendent in the Office of Superintendent-in-Chief.
As superintendent, he previously served as Gross' chief of staff.
White, who was sworn with his wife, Jackie, by his side, thanked Gross for his "continued support and trust."
"You have led this department through a difficult year," White said. "We never wavered in your commitment to the well being of the men and women of the department. Your commitment has also been shown in your love for the citizens of the city. I wish you the best commissioner in your next chapter of life, my brother."
White's ascension to his current role is nothing short of a dream for his own mother, he said.
When he was sworn in as deputy superintendent, his mother, fighting lung cancer, attended the ceremony in a wheelchair with an oxygen tank, White recalled.
"When I kneeled to her, she pinned my badge on me, kissed me, and whispered in my ear, 'God can take me now,'" White said. "She was so proud of my accomplishments."
That day, she spoke of a dream she had. Her son, she said, would meet President Barack Obama and someday go on to helm the department he served for so long.
Five months later, she died.
White met the then-president the following year.
"So today, Feb. 1, 2021, Beverly's dream came true for her favorite child — yes, I was her favorite," an emotional White said to laughter. "She told me so while smiling and laughing with me and my siblings. As proof to my siblings … mom's dream came true today, and therefore mom never lied to us."
White said he will prioritize building trust between the city's police force and the communities it serves — work authorities will see through, but work that will nonetheless require changes.
"I look forward to working closely with the members of the department, communities, and all our partners to continue to make the Boston Police Department the best department in the country," he said. "We will continue to strive to be the best because of dedicated men and women who wear the uniform along with our talented civilians who support the mission to serve our communities."
Watch the swearing-in ceremony and full remarks:
Get Boston.com's browser alerts:
Enable breaking news notifications straight to your internet browser.