Local
The glowing green bridges of the Emerald Necklace will stay through March
No reports on whether the bridges find it easy being green, but they sure look cool.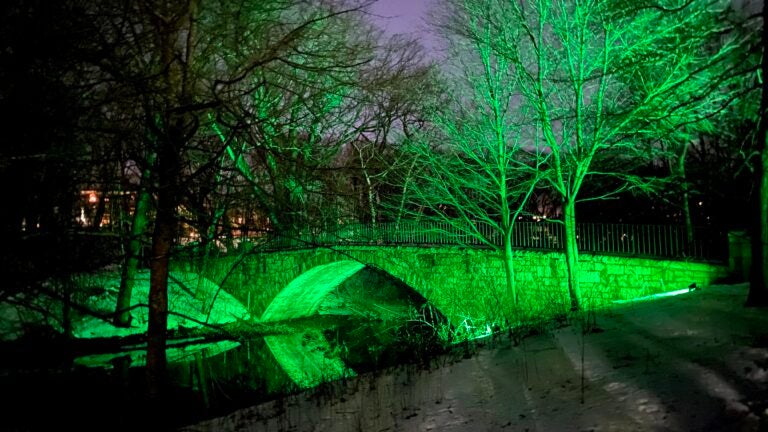 March 3 update:
By popular demand, "Lights in the Necklace" will extend until March 31, the Emerald Necklace Conservancy said Wednesday. It was originally scheduled to wrap up March 13, so that means there will be plenty more green in Boston parks on St. Patrick's Day come the 17th.
The conservancy is also encouraging visitors to enter a social media contest to win a branded baseball cap. To enter, they ask that you follow @EmeraldNecklaceConservancy on Instagram and use the hashtag #NecklaceLightsPhotoContest in one of three categories: Best Selfie, Best Pet, and Best Creative Picture. Winners will be announced in April.
The original article from Feb. 11 is below.
—
The walls of Fenway Park and the seats of TD Garden. That big T-rex statue that hangs outside the Museum of Science. Nearly the entire population of Southie during the St. Patrick's Day Parade.
The color green permeates all of Boston, perhaps most literally with the Emerald Necklace, the series of green spaces stretching from Boston Common to Franklin Park. And beginning on Saturday, the Emerald Necklace Conservancy will celebrate the city's iconic chain of parks by lighting up several of its bridges in — what else? — a bright green hue.
Why? The conservancy wants to commemorate the city's green spaces and their ability to connect communities and bring them together, but the primary reason is pretty simple: It's just fun.
"Our winters are already long, and this winter especially we need light, hope and safe opportunities and destinations to continue to enjoy the outdoors with limited daylight," said Emerald Necklace Conservancy President Karen Mauney-Brodek in a release. "We hope this limited-time installation will do just that – give folks an excuse and a reason for an enjoyable outing after hours."
Several bridges throughout the Emerald Necklace, include ones in the Back Bay Fens, the Riverway, Olmsted Park, and Franklin Park, will be awash in a green glow every night from dusk to 9 p.m. from Feb. 13 to March 13.
So don't be surprised if you soon spot strange glowing auras during your evening jogs through Brookline and Jamaica Plain. You're not about to be abducted by aliens or stumble upon a pool of radioactive waste. No need to worry — it's just a lovely bridge.
Exact locations are subject to change, so check the installation's website to make sure you're hunting down the right spot if you want to snap a pic.