Local News
Mass. AG finds no civil rights, criminal violations in alleged 'road rage' incident involving DA Rachael Rollins
The incident has been referred to the State Ethics Commission.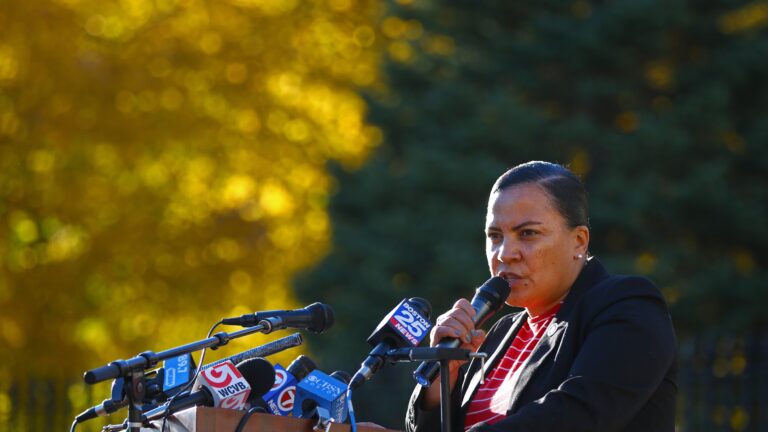 The Massachusetts attorney general's office did not find any civil rights or criminal law violations committed during an alleged road rage incident involving Suffolk County District Attorney Rachael Rollins on Christmas Eve in Dorchester.
The findings were outlined Thursday in a letter written by First Assistant Attorney General Mary Strother to the State Ethics Commission, which will now take up the matter. The letter was first reported by Boston 25 News.
"After conducting interviews and reviewing the available documentation and videos, we find no civil rights violations or violations of criminal statutes," Strother wrote. "We are closing our review and referring the matter for such action as the State Ethics Commission may deem appropriate."
#Breaking No charges against @DARollins ssys @MassAGO in connection with an incident at South Bay Mall. Matter handed over to State Ethics Commissio. @wbznewsradio pic.twitter.com/4xVgmVniIL

— KarynRegal (@Karynregal) February 11, 2021
In a complaint filed with Boston police, Katie Lawson, of Dorchester, alleged that Rollins threatened to give her a ticket and activated the blue lights and siren equipped in her vehicle when she tried to merge into a lane Rollins was occupying in the South Bay Shopping Center parking lot. Rollins has denied she behaved improperly.
In her letter, Strother said the attorney general's office interviewed Lawson and received a written statement from Rollins on the incident as well as additional written statements from both parties.
The facts of what happened are "undisputed, with a few key exceptions," Strother wrote.
"In summary, Lawson admits that although DA Rollins had the right of way, she attempted to merge into the outgoing lane of slow-moving parking lot traffic," Strother wrote. "According to Lawson, DA Rollins used her Chevy Tahoe to block Lawson's vehicle, said, 'Don't try me today lady, today is not the day,' threatened to issue her a ticket, and used her emergency lights and siren. DA Rollins denies making any statement about a ticket but does acknowledge briefly using her emergency alerts to try to avoid a collision."
Lawson said Rollins left the parking lot onto Massachusetts Avenue and "drove straight through a red light in a right turn only lane," Strother wrote. Lawson also said the police report contained an inaccurate detail and that she never told the detective she spoke to that Rollins had her blue lights on while driving through the intersection, according to Strother.
Officials reviewed security camera footage from within and around the shopping plaza, she wrote.
"While we identified some footage showing the interaction between the two vehicles, we did not find footage showing the exact moment at which Lawson's and DA Rollins's vehicles converged," the letter reads. "Nor does the video footage show whether or not blue lights or strobe lights were used at that time. The cameras focused on the area where this incident occurred were either poor quality, far away, or were not functioning."
Video footage does show a Chevy Tahoe "with the same distinct wheel rims as DA Rollins' vehicle" enter the parking lot as well as both Lawson's vehicle and the Tahoe turning onto Massachusetts Avenue, according to Strother.
"The footage also shows the Chevy Tahoe, with Lawson's vehicle behind it, drive straight through an intersection at Massachusetts Avenue and Newmarket Square from the right turn only lane," she wrote. "However, the footage does not show conclusively whether the traffic light was red at the time. As DA Rollins and Lawson confirmed, we did not observe any use of blue lights at that intersection."
In a statement on behalf of the district attorney, Rollins' counsel Ronald. S. Sullivan Jr. said the findings back up Rollins' story. "We are glad the Attorney General's office took this seriously and conducted a thorough and independent investigation," he wrote. "Their findings confirm what District Attorney Rollins has said from the beginning: she had the right-of-way and took necessary actions to avoid an accident. The Attorney General concluded that there were no civil rights or criminal law violations."
The statement added that DA Rollins "welcomes" the pending review by the state ethics commission, and "expects a quick resolution."
Rollins, first elected to serve as district attorney in 2018, is reportedly among the short list to replace Andrew Lelling as United States attorney for Massachusetts. Lelling announced on Wednesday that he will step down from his position at the end of the month.
"DA Rollins looks forward to continuing the fight for justice and upholding her sworn duties on behalf of the people of the Commonwealth," the statement from Rollins' counsel concludes.
Get Boston.com's browser alerts:
Enable breaking news notifications straight to your internet browser.