Local
To escape deadly Lowell fire, a young mom dropped her toddler out a window to officers below
"There's no messing this up."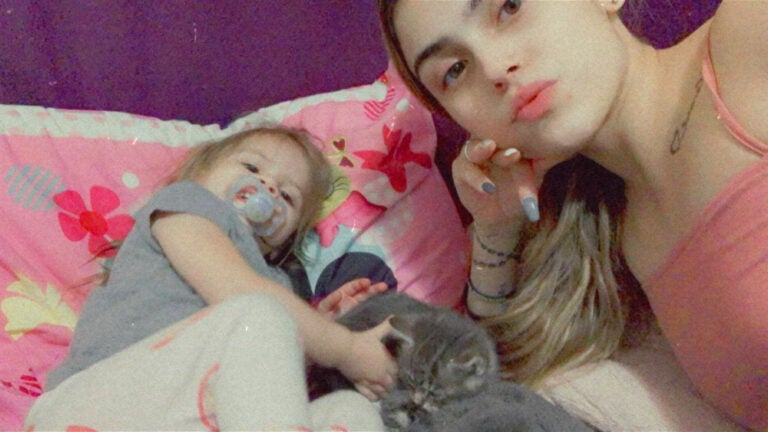 A dramatic rescue from a fatal fire at a home in Lowell involved a young mother dropping her toddler out a second-story window to police officers on the ground who caught her.
The city's police and fire departments were called to 98 Westford St. just after 3:13 a.m. Wednesday for the blaze, which struck three alarms and had spread to two nearby buildings, according to a press release.
A 77-year-old man ultimately died in the fire, and three other people, two women and a man, were brought to Boston hospitals for serious injuries, authorities said. More than 25 people were displaced.
During the fire, 20-year-old Julie Collentro was trying to figure out a way for her and her 2-year-old daughter, Kehlani, to escape. She went to a window and saw a police officer standing below, according to The Boston Globe.
Via shouts back and forth, Collentro and Officer Joshua DeLisle, along with another officer who arrived, Leang Chhor, agreed that Collentro would drop little Kehlani out the window, Boston 25 News reported.
"There's no messing this up," Chhor told the news station.
Collentro told the Globe that her daughter asked her to hold her.
"She was holding my shirt," Collentro told the newspaper. "And I was hesitating. But I knew that it was the best thing for her."
She let go, and Kehlani landed safely in the officers' awaiting arms. Collentro then took a blanket and tossed it to the officers to wrap the child in. Then it was her turn, and two officers, Chhor and Warren Greenhalgh, were there to catch her, too. The two were taken to a nearby police cruiser to stay warm, according to the Globe.
In another rescue, Officer Walter Varey was the first officer to arrive. He heard screaming coming from the second floor and took off into the building. On the second floor, he had to crawl due to the smoke's intensity and found a couple with their child, the release said.
"Officer Varey carried the child downstairs to safety and returned to the second floor where the heavy smoke was matched with intense heat," according to the release. "Although he was only able to see about six inches ahead, Officer Varey was able to assist both adults out of the building before being overcome by smoke and having to be assisted out by Officers Andres Bolivar and Matthew Trani."
The officers were commended for their life-saving work that night.
"Today's fire is a tragedy for the victims, their friends and family and all those who have been displaced during a time when many in our communities are already struggling," Middlesex District Attorney Marian Ryan said in the release. "I am grateful for the brave and quick actions of the members of the Lowell Police and Fire departments who responded this morning and showed great courage in acting, no doubt, to save the lives of multiple residents."
Kehlani and her mom, meanwhile, are OK, according to the Globe. The toddler was given a clean bill of health by a doctor, Collentro said.
A GoFundMe has been established for the family. The investigation into the fire continues.
Get Boston.com's browser alerts:
Enable breaking news notifications straight to your internet browser.